On Saturday I fancied going somewhere a bit different with the children.  We always head West so I decided that we would go East this time and looked up places to visit.  Portsmouth Historic Dockyard stood out as being somewhere with lots of things to do, so we loaded up the car and set off.
The weekend was promising to be a hot one and the traffic coming into Bournemouth was horrendous so I was quite relieved to be heading in the opposite direction.  We did hit some traffic going into Portsmouth which I later found out was because of their University open day so we arrived a little later than planned, but the signposts were clear and we found it with no problem.
We parked up and walked to the dockyard, the kids stopping to pose with various nautical equipment that was displayed on the pavement outside.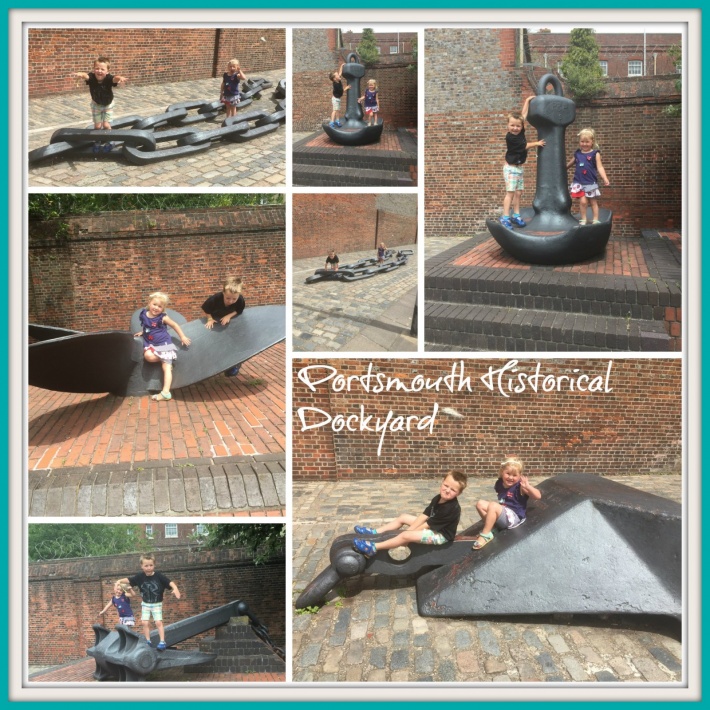 The website promises that a visit to the Dockyard takes you on a journey through time, allowing you to step onboard historic ships and understand the Royal Navy, past, present and future.
There is so much to see that it is hard to know where to start and we certainly didn't see everything the dockyard had to offer, but we had a brilliant time.  We started out in Nautalica where we learned how ships were built through the ages beginning with wood and then moving on to iron. The ships built and harboured at Portsmouth Historic Dockyard led the way in terms of technology and innovation and how they changed the world.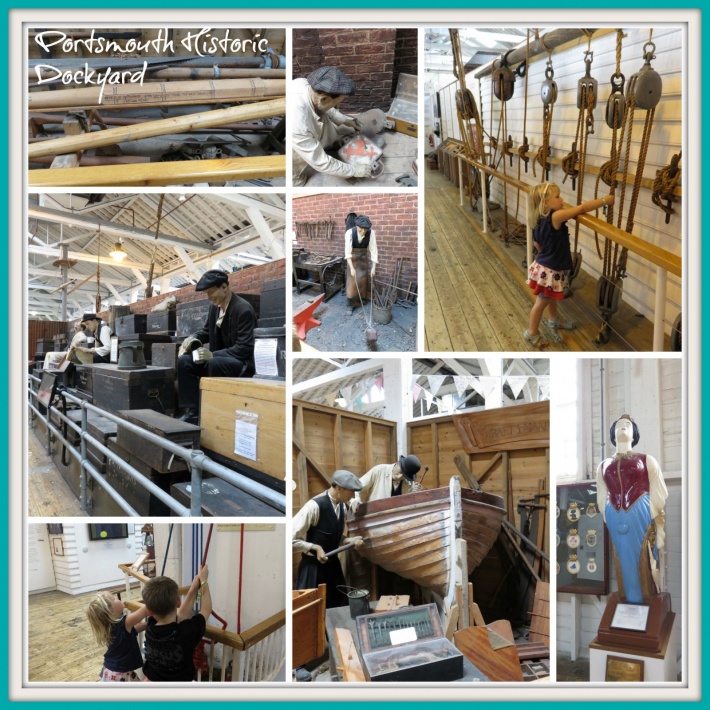 Museums can be boring to little ones but there were plenty of interactive things on display to keep Isaac and Eliza happy. They loved trying out the pulley system to lift heavy weights and I was impressed that Isaac instantly recognised the nautical flag alphabet where they had to figure out the message as spelt out in flags.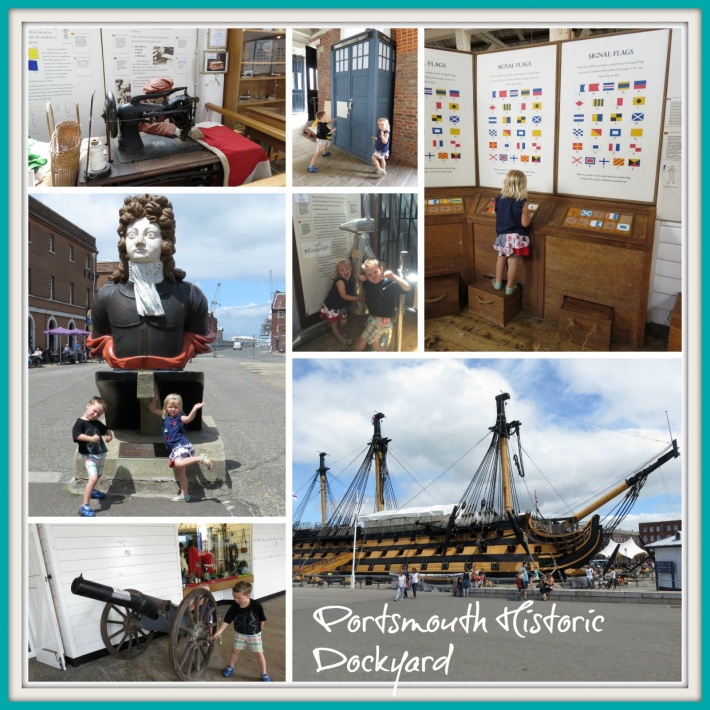 The dockyard is well spaced out and was fairly quiet on the day we visited and we enjoyed just wandering around looking at everything there is to see – we even found the Tardis.  We spotted HMS M.33 which is not only the sole remaining British veteran of the bloody Dardanelles Campaign of 1915-1916, but also of the Russian Civil War which followed. The ship is one of just three British warships from World War I still in existence but is not open until the public until August 2015.  So we headed to the dockyard's other famous resident – HMS Victory.
HMS Victory is the Royal Navy's most famous warship. Best known for her role in the Battle of Trafalgar, the Victory currently has a dual role as the Flagship of the First Sea Lord and as a living museum to the Georgian Navy.  There is some wheelchair access aboard, however, it is not somewhere you can take a pram / pushchair if you are visiting with young children.  The steps are very steep and there is quite of lot of climbing up and down to see everything there is see but this didn't put the kids off.  In fact they scampered up and down the stairs with ease whilst I concentrated on getting Sebby up and down safely.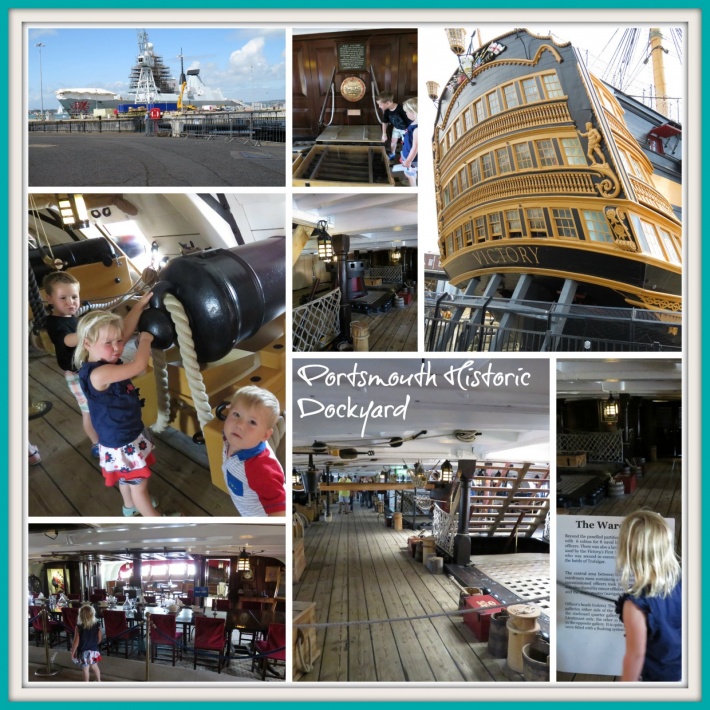 HMS Victory is fascinating for young and old and gives you a really good idea about what living conditions would have been like. There were plenty of staff aboard that were happy to chat and answer the barrage of questions that Isaac was throwing at them.  It was lovely seeing both him and Eliza take a real interest in history.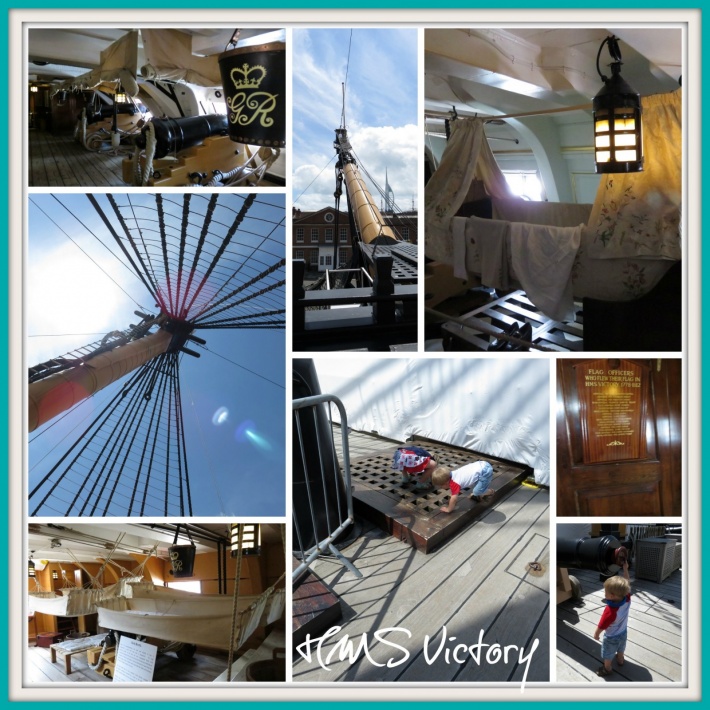 The death of Nelson onboard HMS Victory during the Battle of Trafalgar is an iconic moment in world history and there is even a plaque that marks the spot where he fell on the upper deck.  As you go down into the depths of the ship it does get quite dark but your eyes soon adjust.  We were shocked to learn that there are 104 guns aboard (The Navy call them Guns and the Army call then Cannons) and Isaac even got taught how to fire one.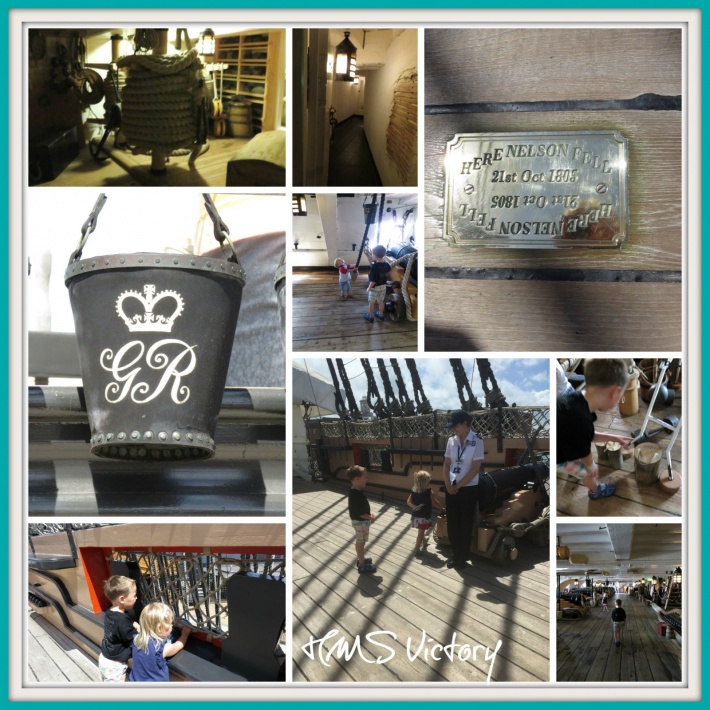 By the time we disembarked HMS Victory it was time for lunch.  There are plenty of places to eat at Portsmouth Historic Dockyard but I had brought a picnic which we ate in a covered picnic area just outside HMS Victory.  Next to this was the Mary Rose which is housed in a purpose-built award-winning museum which reunites her with many of her artefacts and crew, capturing the moment in time when she sank over 470 years ago.
I remember the Mary Rose being raised from the bed of the Solent in 1982, making me Isaac's age.  It sticks in my memory as our school didn't allow televisions but one was brought in purely for that occasion.  Tudor History is my favourite age but we didn't get to spend as long in this museum as I hoped as Isaac and Eliza were keen to move on, it is very hard to visualise the ship as it would have been, although they did enjoy the interactive cannons.
By this time information overload had begun to set in and as we wandered into another museum the assistant asked if we were there for the play area.  We weren't but it was a welcome detour and distraction.  It was a small room but was packed full of toys related the sea.  We were most impressed by the crochet decorations too.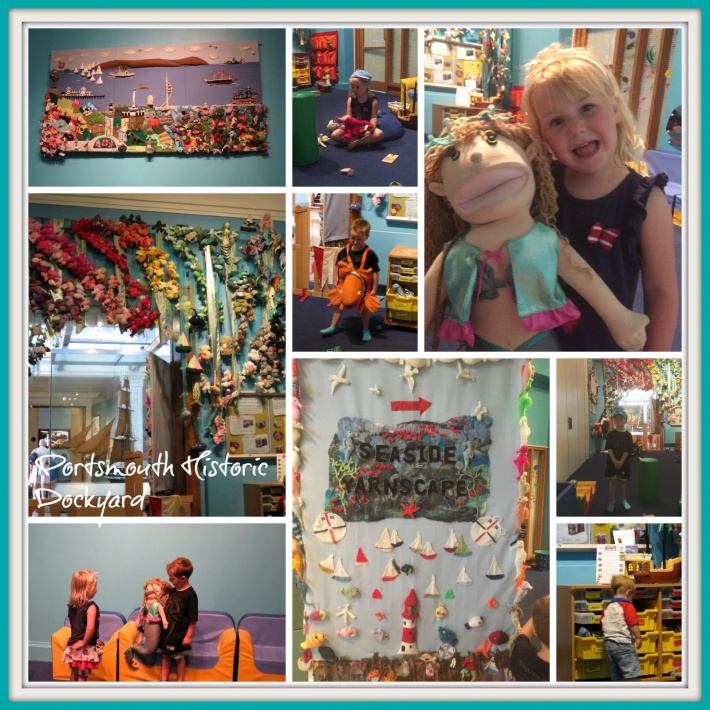 Playtime over we had a brief look around the museum and got to play with the sails on a model yacht to see how fast it would go, however the kids were keen to look around HMS Warrior.  As we wandered past another building that was set back from the rest the Isaac spotted some kids on small motorised boats and asked if he could have a go, so we took a slight detour.  I was a little horrified that they cost £10 per session on a small lake, but noticed we were right outside a building called Action Stations so we went in to have a look.
If we had found this building first I think we would have stayed here all day.  Action Stations features a unique series of physical challenges, simulators and technological experiments, which gave us a practical and fun modern naval experience.  Our first stop was the climbing wall which Isaac found a bit of a challenge at first but soon got the hang of it.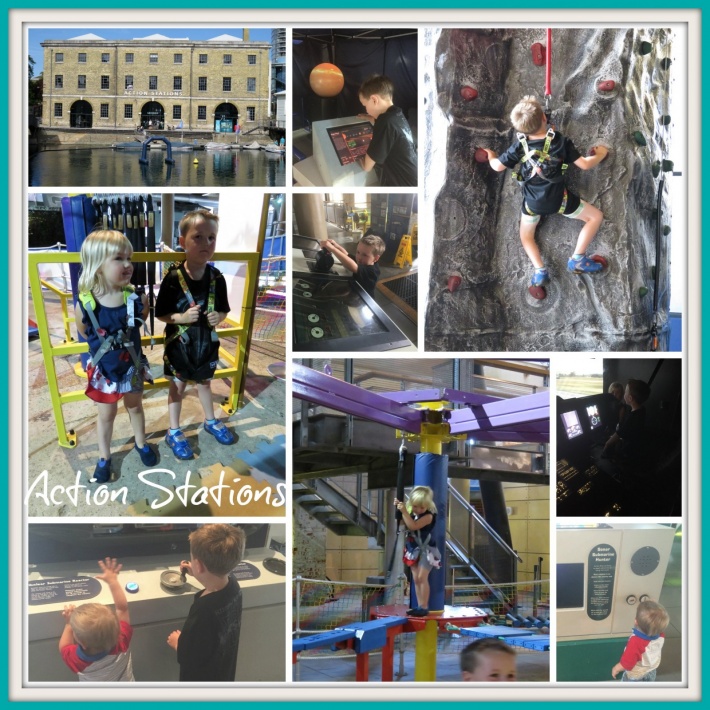 Upstairs is a science area where Isaac, Eliza and Sebby got to conduct experiments with propellers, flight wings, balance, sonar and much more.  It was all very hands on and they really enjoyed getting stuck in.  Back downstairs was another climbing area which even Sebby could join in with, as well as Laser Quest, batak boards and several simulators which were all free to use.  By this time it was almost time to leave but we did get a turn in a helicopter simulator and after watching every child that had a go crash, I was really proud when Isaac took off and flew like an expert – a future pilot maybe?
We never did make it to HMS Warrior but it was such a fun and varied day out that we will be back very soon.
An all attraction family ticket (2 adults and 3 children) costs £68 online (£85 at the gate) and gives you one year unlimited entry which is outstanding value with the amount of attractions on offer.  Included in this are The Mary Rose, HMS Warrior 1860, HMS Victory, Royal Navy Submarine Museum, National Museum of the Royal Navy Portsmouth, Explosion Museum of Naval Firepower, Royal Marines Museum, Action Stations.  Tickets for each individual attraction can also be purchased separately.
Disclaimer:  We were provided with a family ticket to Portsmouth Historic Dockyard for the purpose of a review.  All opinions are our own.