Since the film Despicable Me, Isaac and Eliza have gone Minion mad.  In fact I would rather like to have one in our house as by definition they are a loyal servant of another, and to have one help clear up after the kids would be amazing.
The Minions have been so popular that they now have a film of their very own called, Minions!
Evolving from single-celled yellow organisms at the dawn of time, Minions live to serve, but find themselves working for a continual series of unsuccessful masters, from T. Rex to Napoleon. Without a master to grovel for, the Minions fall into a deep depression. But one minion, Kevin, has a plan; accompanied by his pals Stuart and Bob, Kevin sets forth to find a new evil boss for his brethren to follow. Their search leads them to Scarlet Overkill, the world's first-ever super-villainess.
Of course with the launch of any good film comes a plethora of merchandise too and we have been lucky enough to test out our favourites.
1. Minions Top Trumps – One of our favourite games and perfect for travelling, each card contains a list of numerical data, and the aim of the game is to compare these values to try to trump and win an opponent's card. It is a brilliant game to keep the kids occupied and isn't based on skill, purely luck which gives the youngest play as much a chance of winning as the oldest.
2.  Minions Headphones – I have been after a pair of headphones for the kids to use in the car with the iPad as I already know all the words to the episodes of Peppa Pig and Ben & Holly that they watch on our journeys and they always tell me to turn my music off.  This fit most smart phones, MP3 players and portable CD players with a 3.5mm Stereo jack and feature; acoustic sound and super bass system, soft ear pillows and also have an adjustable headband.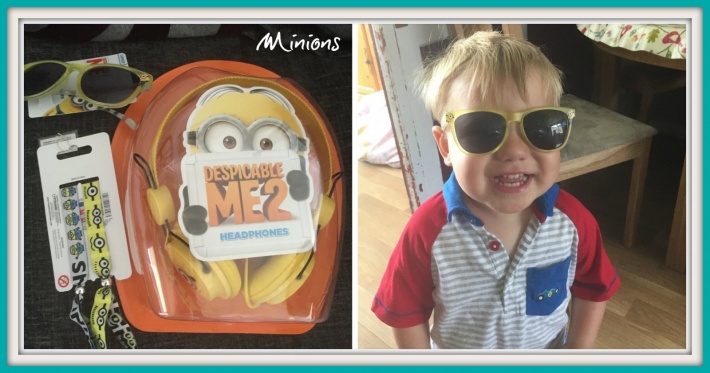 3. Minions Sunglasses – As modelled by Sebastian although Isaac has taken ownership now.  Super cute and important protection from the sun.
4. Minions Festival Bracelet (2 pack) – Made from a woven fabric, Isaac and Eliza couldn't wait to put them on.  There was an initial squabble over who wanted which one but they soon came to an agreement and at £3.50 they won't break the bank.
5. Minions Colour Alive Colouring Book is a whole new way of colouring. Colour Alive allows you to bring your coloring to life with bright, vibrant colour in the physical world and special colour effects in the virtual world, now with MINIONS!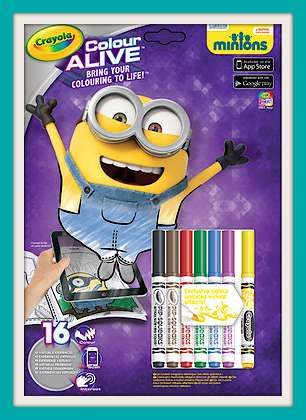 Watch your colouring come to life with 16 unique, interactive pages and 7 Crayola crayons – including new a Special FX Crayon that unlocks virtual colour effects.
Thank you Claires.co.uk for our Minion accessories – they are a big hit!
Are you kids minion mad?