When we were invited to review a new innovative learning system, Tiggly, I was intrigued to know more. I am not normally a fan of learning apps for children as I find that I pay to download them and they rarely get played with.
Tiggly comprises of three sets of chunky physical letter /shape/number which are designed to work with a number of learning apps which work on iPad and Android devices. The use of physical letters, shapes and which have magnets on the bottom to help your device recognise them as if touching the screen with a finger, alongside the apps promotes motor skills and helps embed the learning taking place too.
We received Tiggly Word and Tiggly Math to try.
Tiggly Word is designed for children aged 4-to-8 years old and is the company's first learning system for early literacy. Tiggly Words is a set of five vowel toys (a, e, i, o, u) designed by educators to interact with Tiggly's three new iPad apps: Tiggly Submarine, Tiggly Tales and Tiggly Doctor. Learning language skills is an exciting milestone for every child, and Tiggly Words focuses on helping preschoolers recognize phonics, construct sounds and learn words.
The best way to show how it works is to show you and their YouTube videos describe it perfectly.
Tiggly Math is designed for children aged 3-7 and is inspired by classic cuisenaire rods which are used in Montessori education. These five colourful counting toys interact with 3 Tiggly learning apps; Tiggly Addventure, Tiggly Cardtoons and Tiggly Chef. These apps help children develop their number sense, counting skills and maths operation – adding and subtracting.
The final Tiggly product is one that I want for Sebby as it is aimed at ages 2-5 years old. This set contains 4 shapes, and works with three apps like the other two products: Safari for shape recognition in a possible 10 languages; Stamp for story composition; and the musical app Draw where shapes play the sound of different instruments to help with creativity.
We only received our Tiggly sets last weekend but so far Eliza and Isaac are really enjoying them and I am happy that they are continuing their learning whilst on school holidays. The addition of the toys is a real bonus and they come with little carry bags with a drawstring so are easy to take with you whilst travelling or just to keep everything together at home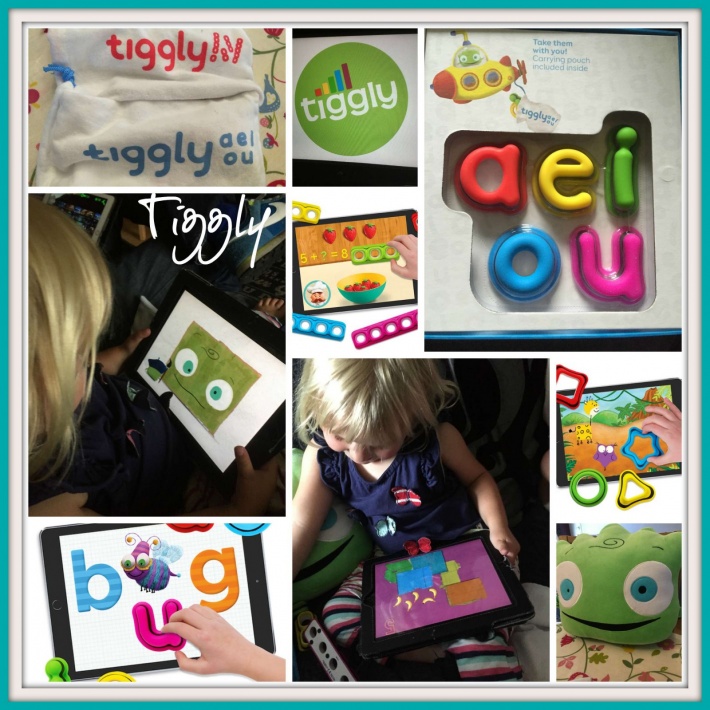 We are going to use both the apps to prepare Eliza for starting school in September. My only dislike is that I would like the opportunity to change the language settings to English rather than American English as I find the accent a little off putting.
The apps are available to play without the toys and can be downloaded and paid for from the app store, but come free when purchasing the sets.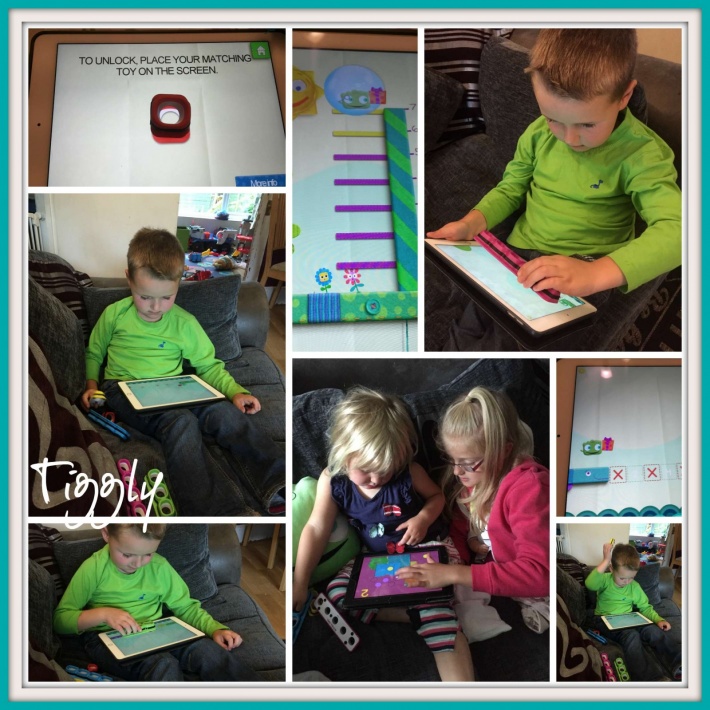 Tiggly products are priced from £24.99 per set, and are available through the Amazon, Apple.com, Currys and QVC where it is part of their Christmas in July promotion, and currently has 20% off!