I don't know about you but my children adore having a den to play in.
We did have a gorgeous Princess Castle Tent, but 3 years of being battered by my children and the ones I look after and with one child that attempted to climb through the window and ripped it, we needed a new one.
I have been looking at teepee's for a while as they are perfect for both boys and girls and can be set up as a den in the garden, or as a reading corner in a room for when the weather turns cooler.
Great Little Trading Company do a fabulous range of teepee's and sent us the Red Star Wigam to review.
We took it over to Nanny's house as were having a barbecue for Mollie's birthday and set it up in the garden for the kids to play in. It was easy to assemble and took around 5 minutes.  It is made of good quality fabric and comes packaged in a sturdy box for storage. Once up it is easy to move around to get the right position too – we put the mesh window at the back to stop the sun shining through.
The teepee comes with an integral base with ties and window with flap and once we let the kids in, we couldn't get them out.  It was a "Kids Only" tent and they made it very clear no adults were allowed inside.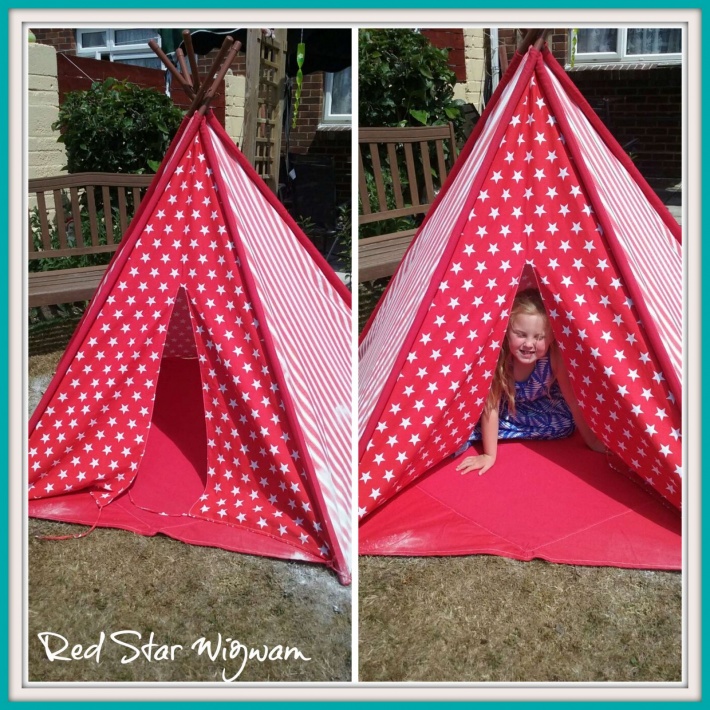 It was plenty big enough to hold two 7 years olds, a 4 year old and a 2 year old and all you could here from the tent were them playing role play games with lots of giggles or reading Sebby a story.
We cannot wait to have more adventures with the Wigwam this summer.  I have bought cowboys and indians costumed for Camp Bestival and I am sure there will be some fun role play games when we return and put the wigwam back up in the garden.
The Red Star Wigwam has an RRP of £85 but is currently on offer at just £72.25 which, having looked at many wigwams in my search, is very reasonable.