I grew up in West Sussex and one of my favourite places to visit was Arundel. Not only does it have a stunning Castle and Cathedral, but it is also home to the Arundel Wetland Centre where you can see hundreds of exotic ducks, spot water voles from the boat safari, hand feed rare geese at World Wetlands and stroll gentle pathways to quiet spots to watch Sussex wildlife.
Arundel is a 65-acre haven for wildlife in a picture-book setting in West Sussex. At its back are steep woodlands, topped by the ancient and dramatic Arundel Castle; at its borders are the pretty River Arun and a historic mill stream; all around are the scenic South Downs.
My plan was to set off early and spend the whole day there. Getting to Arundel normally only takes just over an hour from Bournemouth but the traffic was against us and two broken down cars on the A31 and then hold-ups at Chichester added an extra 2 hours to our journey.
We finally arrived just after lunch and the kids were eager to stretch their legs. Sebastian's face was a picture as we walked outside and he charged off pointing and shouting "Duck" over and over again. I had been nervous that the waterways would be open, but the majority are safely fenced off to stop children getting an accidental dunking!
There was a chance to feed the ducks as we walked in and Isaac, Eliza and Sebastian all got stuck in, alongside big brother Callan and his girlfriend Gemma who had come to join us.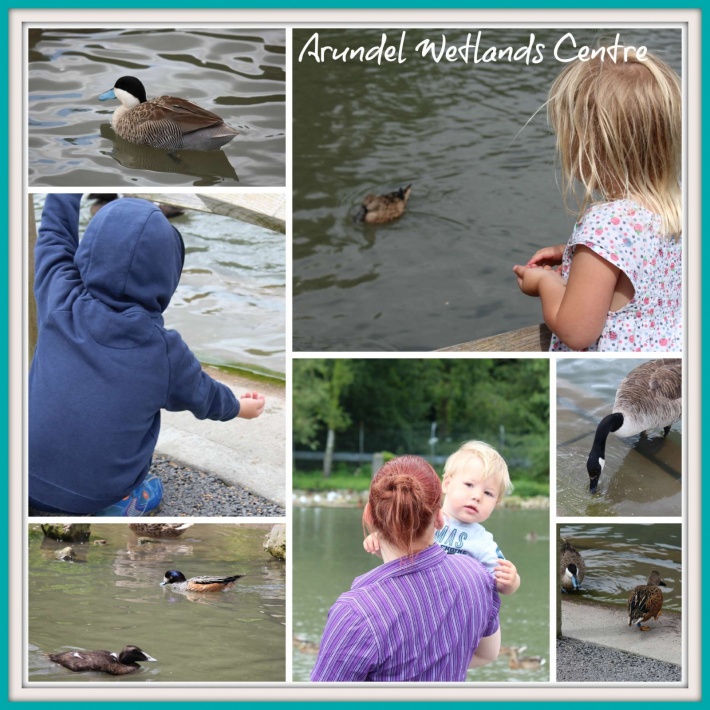 It was a struggle to tear them away but we were keen to explore the lakes, reed beds, channels and waterfalls which support a rich array of British wildlife favourites as well as a large and varied collection of international wildfowl, many of them under serious threat in their native countries.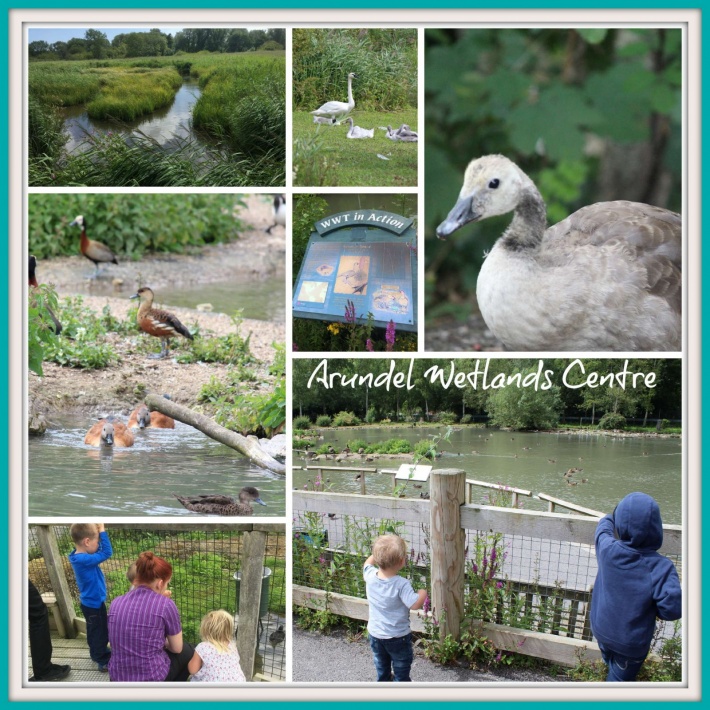 As we wandered along the path we were treated to seeing lots of wildlife. Sebby was only interested in the ducks though although wasn't too sure when they got too close. There were also lots of hides to go into, packed full of information on wildlife that had been spotted in the last few days, as well as the chance to view the lakes. We were lucky enough to spot an Egret who was busy fishing.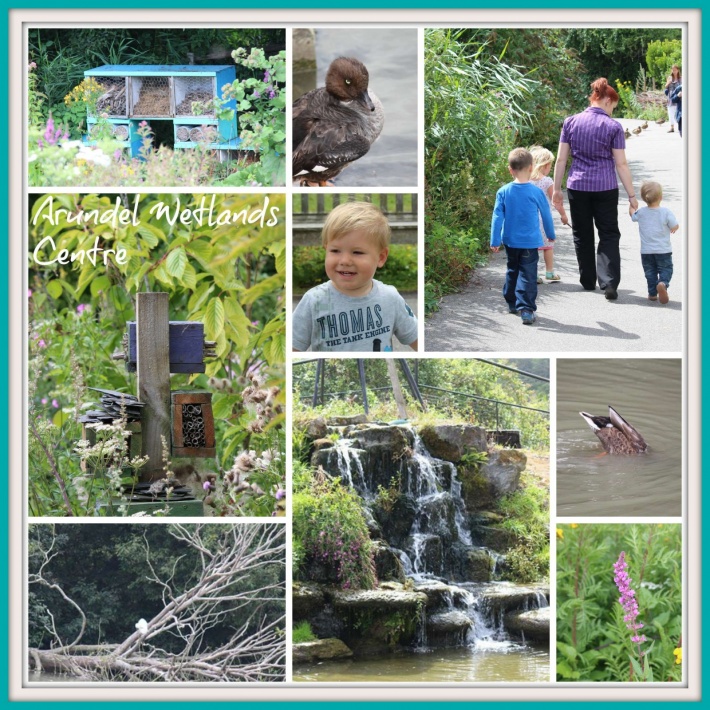 Visiting and resident British species include bats, bee orchids, cuckoos, dragonflies, grass snakes, pochard, swans, very many small birds, such as reed and sedge warblers, and three species of woodpecker. We were keen to do the boat safari in quiet electric boats through the reedbeds in the hope of seeing a vividly-coloured kingfisher or glimpse a water vole. Sadly we didn't see either but the boat ride was enjoyable nonetheless and we managed to spot some fish as well as the ducks. Onboard the boat we learned that this was the worst season to see the ducks as the males had lost all their vibrant plumage that they have over the winter / spring months for mating – I had wondered where the more exotic birds were.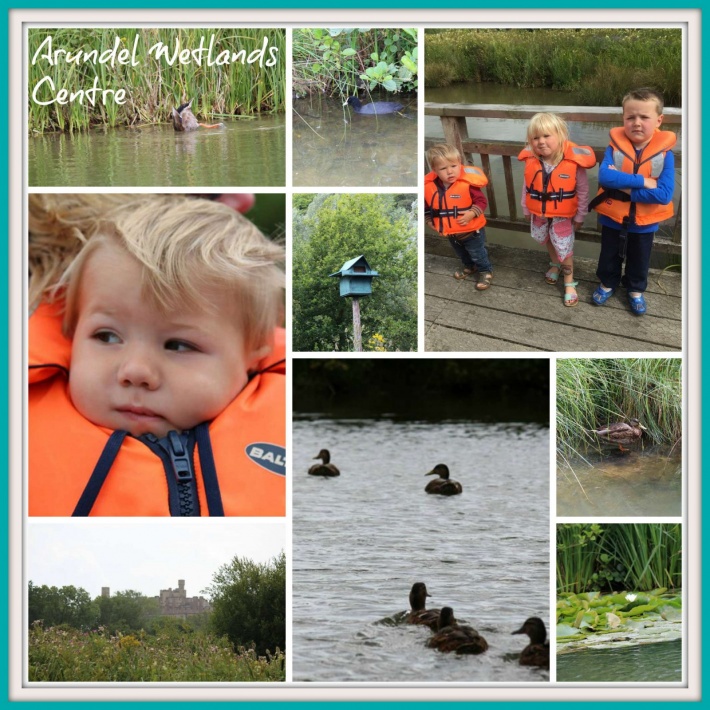 After the boat ride we headed to one of the cabins to do some crafting but it was full, so we headed to the Pond Skaters play area instead.  Isaac, Eliza and Sebby loved leaping over the wooden lily pads, walking the wobbly fish log and climbing the frog and dragonfly ladders to slide down the ducks, children learn what lives above and below the water.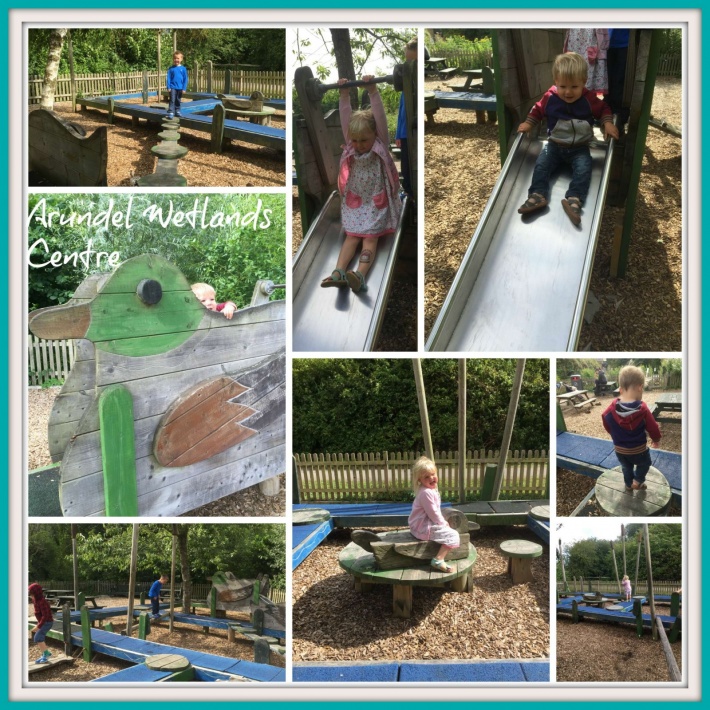 We heard a familiar rumbling overhead and got treated to an arial display of a different kind – a majestic Spitfire was performing right over our heads.
We only had time to explore one half of the centre and missed the Meadow Maze which allows children to wander the meadow path to view the world as an insect and another play park where they would have had the chance to swing on a massive bird feeder inspired lard ball.
We had bought a family ticket to visit the centre but enjoyed it so much that we upgraded it to an annual pass for the family for an extra £30 which means we can visit anytime.  I cannot wait to go back and try to spot an elusive Kingfisher and see the rest of the centre that we didn't get time to explore.