We have been fans of Bournemouth Oceanarium for many years and I am the proud owner of an annual pass and take Sebastian to see his favourite turtles regularly. In its old form however, it only took around an hour to walk round so we were really excited when they announced their expansion plans last year and now it is finally open.
We did get invited to a preview event, but we were at Camp Bestival so I used our passes and went yesterday. We have been going regularly for 6 years and I have never, ever seen a queue out of the door to get in, especially just after opening time – these penguins are obviously popular!
Thankfully the queue moved quickly and we were soon inside.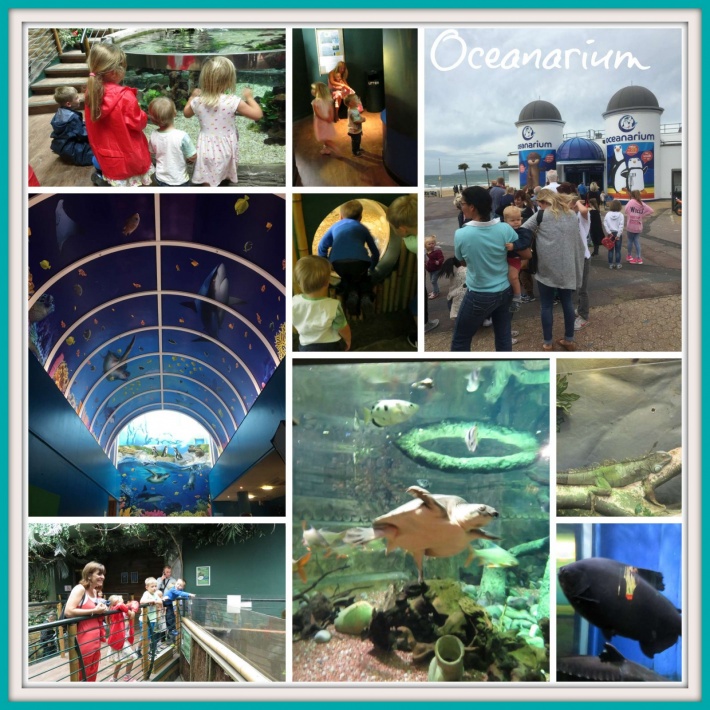 We had hoped to see the Otters being fed as it is such fun to watch as they zoom around their natural oasis but by the time we got there they were all snoozing after having a belly full of food, so we headed around the corner to the new Penguin Beach Encounter to watch them being fed instead.
We were so looking forward to it but felt somewhat disappointed as we turned the corner. The brand new custom-built exhibit 'Penguin Beach Encounter', which was specifically designed to replicate the birds' natural habitat with a deep pool, beach and rockery looked fabulous and we could see the ten Humboldt penguins and a couple of diving ducks, however they had not thought out the viewing area very well. It was rammed, so much so that one of the children burst into tears because they couldn't move as it was so over-crowded.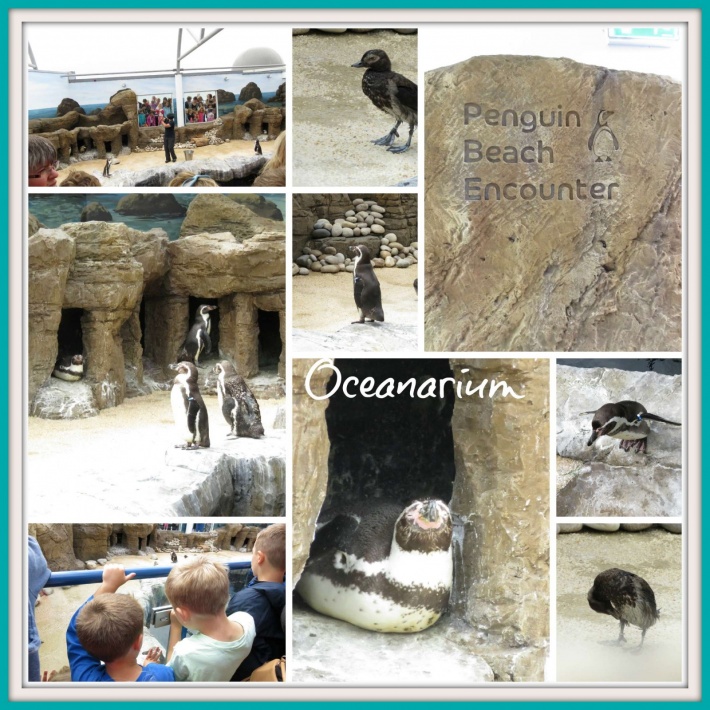 We managed to squeeze the children in to see the penguins through the glass panels in front of some adults, but as everyone was standing 4 / 5 people deep and with children on shoulders we couldn't see much ourselves. The open viewing area was only on two sides of the exhibit, with a wall with a window on the other side. They should have built a small tiered area where people could sit and view the penguins to keep the walkway clear as we had no chance of walking around it to get out either. The keeper however did give an informative talk before taking questions from the crowd.
Once the talk finished the crowd started to clear and we discovered an open cafe area on the opposite side with a wall of penguins where the children could measure themselves against different species of penguins. I can't believe how tall some are!
We could have headed downstairs at this point to the new play area but we chose to continue around the rest of the upstairs of the Oceanarium and through the tunnel as the girls wanted to see the sharks. Sebby always spends ages looking at the corals display as it is full of bright colours and this time the creatures that live amongst it were being fed so we got to see more than we have before.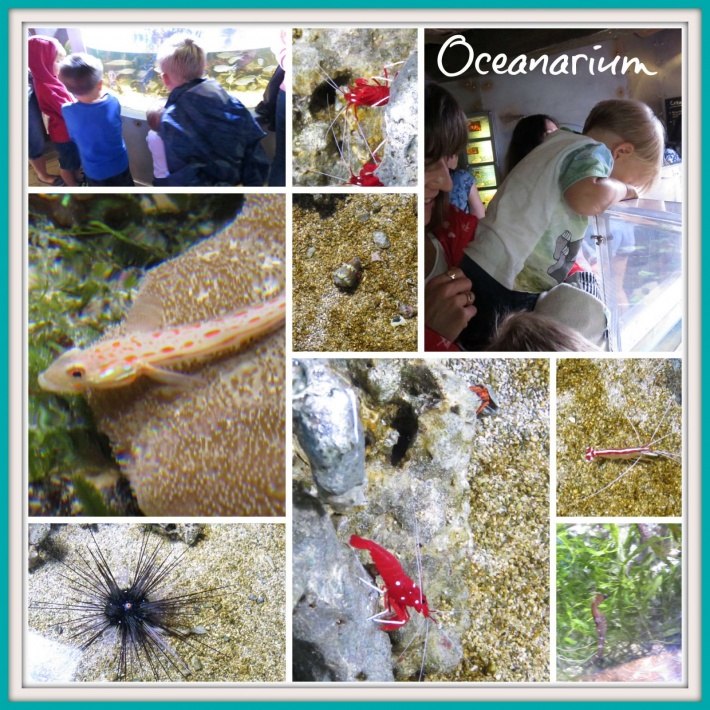 We then headed down the stairs towards the tunnel and hit another problem. People were queuing down the stairs to get through the tunnel. It was so bad that the staff eventually had to intervene and open another door to move people through a different way. We did persevere with the queue for the tunnel, but instead of being able to stop and look as we normally do we were shepherded through very quickly by the staff.
Our next stop was the new play zone which was framed by a giant glass wall where you go see the Penguins swimming. Sadly today they obviously didn't fancy it but the kids were more than happy to play on the new play equipment.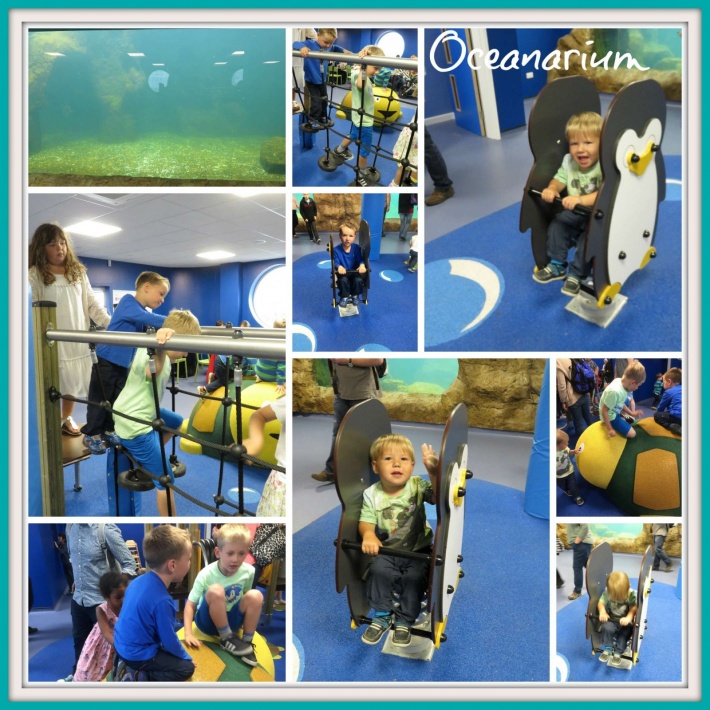 The play zone isn't big enough to spend a great deal of time but they have tables and chairs and a small hatch serving refreshments if you want to stop for a tea or a coffee and let the kids run off steam.
Our final stop was the Key West display where Sebby got to see his favourite turtle.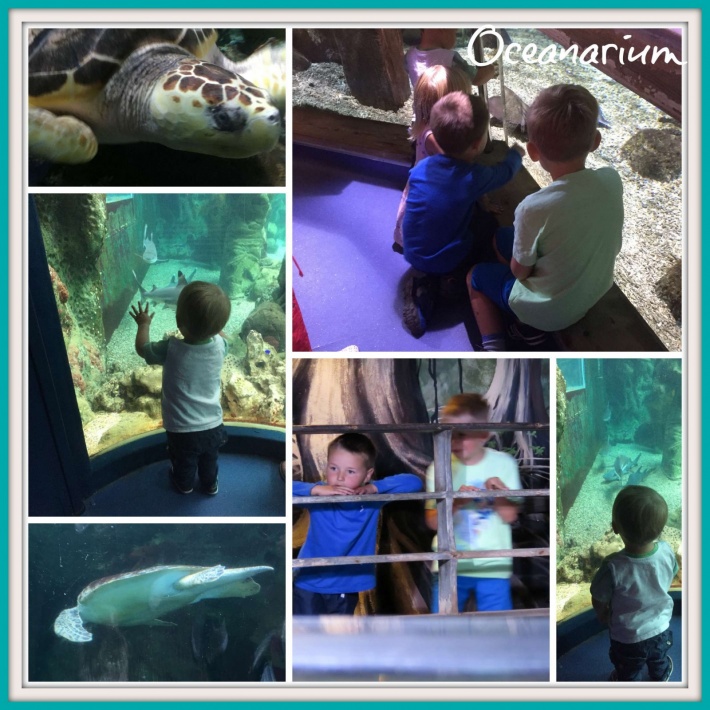 The addition of the Penguin Beach Encounter adds about an extra hour onto an Oceanarium visit and I am looking forward to coming back after tourist season when it will be much quieter. I do think that on this particular visit it was over-capacity and they should have stopped people coming in but the queue as was left was as bad as when we arrived.