During term time I look after children from 6am prior to them starting school just before 9am and when I get home from the school run I like to make my breakfast and relax with a cup of tea whilst Sebby watches his favourite programs on television – Bing Bunny and Twirlywoos. There is something about these two shows that really capture his imagination.
If you are not familiar with the Bing television series it is a cartoon which authentically mirrors a young child's experience and celebrates the noisy, joyful, messy reality of pre-school life. When you're two and three, life is certainly dramatic. Young children feel intense joy, disappointment, rage and delight when they are doing even the smallest things; they're a bit ultra-human this way.
For grown ups, sharing your life with a terrible two or a troublesome three year old is no less dramatic. Relating to very young children as they grow, learn and develop can be as stressful as it is joyful as you deal with the complex range of new, often challenging, behaviours that occur at this age. The Bing TV series celebrates the realities of loving a pre-school child and acknowledges that sometimes things don't go according to plan. Using the power of simple stories to explore strategies, in a gentle non "teachy-preachy" way, for both children and grown ups to help when confronting similar situations in their own lives and now there are cute Bing toys to be your "Bingster's" best friend too.
We were sent My Friend Bing to review and he was an immediate hit with both Eliza and Sebastian as he loves to run and play, just like he does on the television.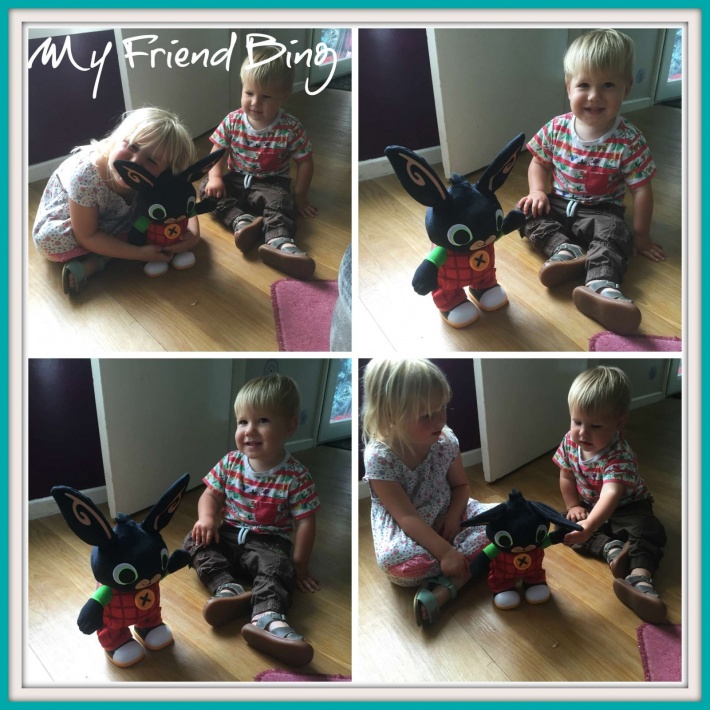 Press the button on his chest and Bing invites Sebastian and Eliza to play his favourite games like; standing statue still without wobbling, tip-toeing slowly, and seeing who can be the quietest!
Bing can run too fast and fall down but it's no big thing as Bing will recognise when he has toppled over and will ask the child to help him up again! As Bing talks and plays, his ears will wiggle and move up and down just like they do on the television show and he loves to sing too.
Playing with new friends… it's a Bing thing!
My Friend Bing is available from Smyths Toy Store priced at £39.99