Living near the Jurassic Coast has had a real effect on Eliza and Isaac. They adore the fabulous beaches that Dorset has to offer with one of their favourite hobby's being fossil hunting.
At the Spring Tide festival back in May I was introduced to the Go Jurassic! Rangers club. I didn't sign up at the time, but it stuck in my head and as the summer approached I decided that it was something that would interested the kids and would give us access to special events and things to do, so signed up.
Members receive monthly newsletters, posters, stickers and, when they first join, a special folder, badge and a t-shirt. Membership costs £20 for six months, and you could buy an additional t-shirt and badge for an extra £5 per child – making it an inexpensive treat for them both!
We met Guy, who runs the club, at the Jurassic CSI area at Camp Bestival that the kids adored as they got to solve a Dinosaur crime scene.
Guy told us that they were running some beach schools over the summer, so as soon as we got home I looked them up and booked Isaac and Eliza on to one being held at Burton Bradstock and they went last Tuesday.
It was recommended that I leave them with the leaders as past experience has shown that interaction between the leaders and the children is much better if parents are not in the session or too near to the children on the beach, so I dropped them off, armed with raincoats (just in case), and packed lunches and off they went. I then took Sebby another 20 minutes up the road to visit Charmouth, which is famed for its fossil hunting and rock pooling.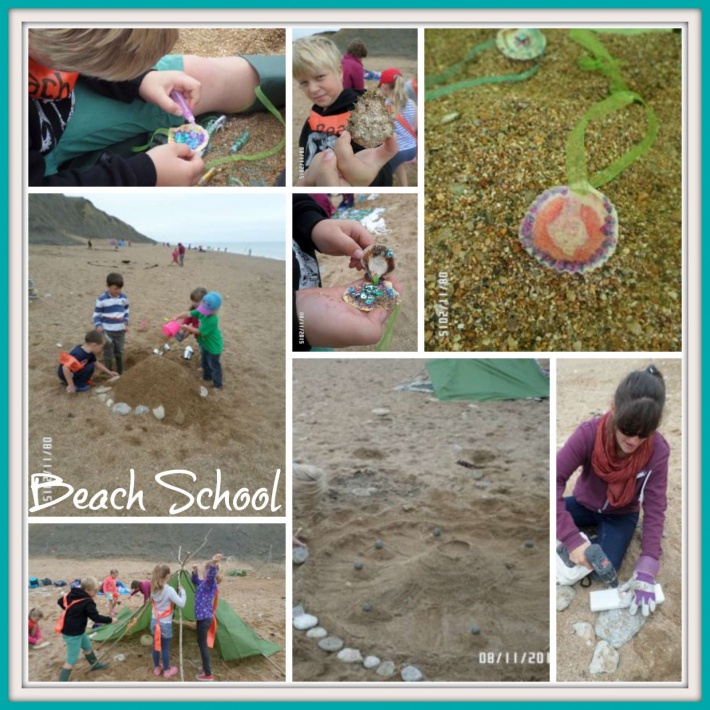 I arrived back at Burton Bradstock around half an hour before they were due to finish, so headed for where they were playing, close enough to watch what they were doing but far enough away not to be spotted, well until Sebby realised he could see his brother and sister.
The kids had built a couple of shelters from sticks and tarpaulin that were keeping the equipment dry as it had started to rain. They were running around playing games until it was time to light the fire and get treated to some toasted marshmallows.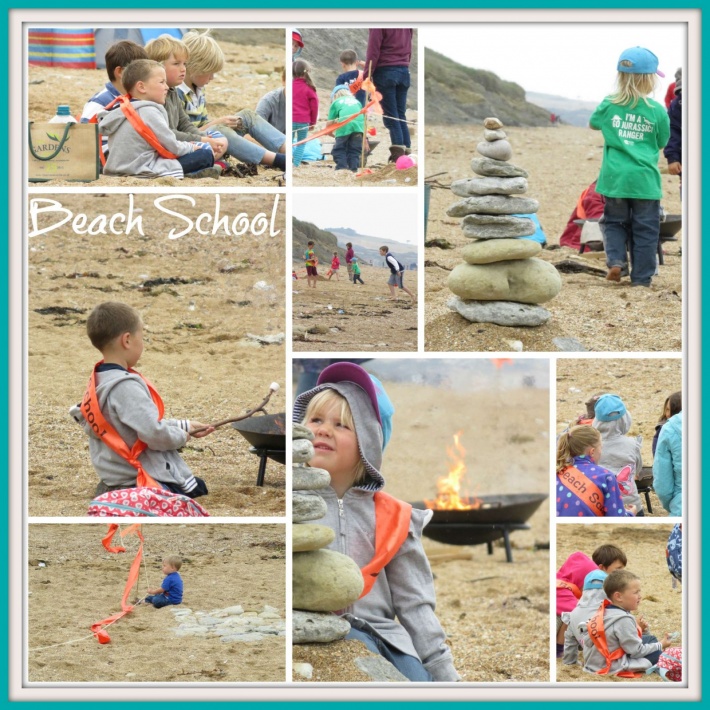 Once the marshmallows had been finished it was time to pack up and everyone was expected to help and clear everything that they had made and help carry it back to the car park. Once done I took the kids to Hive Beach Cafe where we all had an ice cream and they told me all about their day.
Isaac's favourite part was making a volcano with stones all around it, but Eliza and her new friend Evelyn knocked it back down again. Eliza loves craft and she adored making a necklace out of a shell and decorating it with sequins and glitter.
From a parents point of view they were treated to a unique session of learning, fun and adventure. I adored the tower of stones they built and will remember that for our own trips to the beach over the summer. They loved it so much that they demanded I book them into the next one at the end of the month where they will be learning all about the creatures that live in the sea and do some fossil hunting. I just hope the weather is a bit nicer for that one.
For more information on the Jurassic Coast, head over to www.jurassiccoasttrust.org and to find out when the next Beach School sessions are running check out their facebook page or head over to Eventbrite and search Jurassic Beach School.