I spent 16 years working in a supermarket with much of time being spent around the checkouts or in the home shopping department where packing other people's shopping was common place. In fact I consider myself a bit of an expert shopping packer and still use the "home shopping knot" when packing our own shopping as it stops the contents of the bag falling out all over the back of the car and is easy to undo again.
Shopping isn't an activity I particularly enjoy and anything that makes it easier is a winner in my book, so when I was invited to try out Trolley Bags I was keen to give try them for myself.
Trolley Bags are four different sized bags, connected together with Velcro along the integrated rails which can be placed open and upright in the shopping trolley, allowing you to pack and sort groceries with 2 hands as they are scanned through the checkout, halving the time it takes at the supermarket till, plus they are perfect to use with the new scan and pack system that some supermarkets are now using.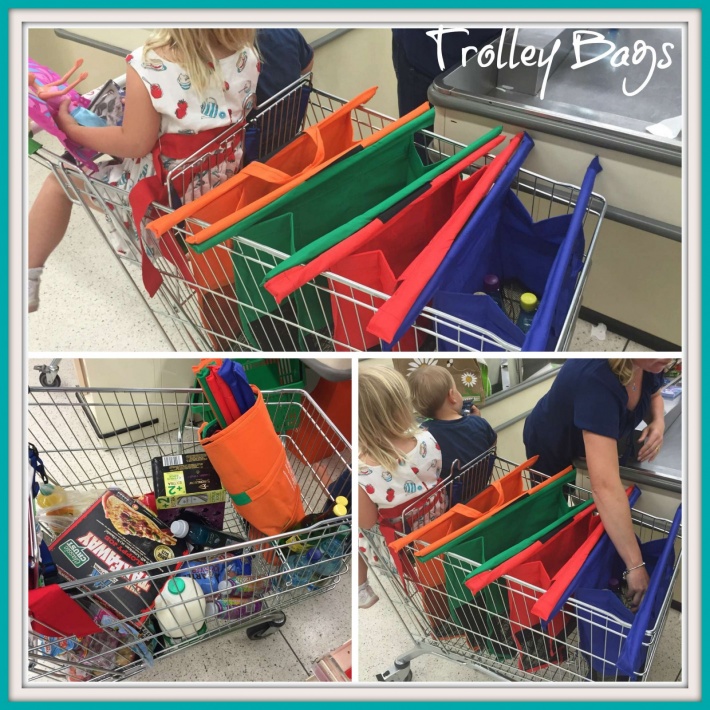 They are AMAZING!!!!
I cannot stress enough how easy they are to use. I was worried that as they are large bags I would struggle to lift them but providing you spread the heavier items as you would with normal carrier bags, they are surprisingly light and easy to lift. The bags are made from a heavy duty fabric, with netting at the bottom so you can see what is in each bag, which makes unpacking easier. I only wish I had invented them – such a great idea.
We were stopped not only by checkout staff but also other shoppers who saw us using them both in and outside the store, asking where we had got them from. They also fit in the back of my car much better than a dozen or so carrier bags and didn't roll around the back as we travelled home.
We don't have parking outside our house and Hubby and I always have to do two or three journeys to and from the car with an average of 10 carrier bags between us – this time it was one trip with these bags and it was a full weekly shop for a family of 6. When empty you simply re-attach the velcro and roll them up ready for next time.
We have the Trolley Bags Original which are for use in standard deep shopping trolleys and are priced at a very reasonable £16.99 and they also launching Trolley Bags Express size for use in shallow shopping trolleys. You can hang them on the hook on the front of the trolley as you shop, but as we have two children in the trolley we propped them up in the rear. They are available to buy online here.