Last year I followed the lovely Penny, from A Residence, adventures as a Carnival Cruise Ambassador. I was unsure whether a cruise would be a suitable family holiday but from the fun and adventures they had, she convinced me it would be.
This year the Carnival team were again looking for ambassadors in 5 different categories and as a family with adventure at its heart, we decided to apply for the Thrill Seeking family.
I am so excited to announce that my blog and family have been chosen to be Ambassadors for Carnival Cruise Lines for one year, reporting on their newest ship – the Carnival Vista!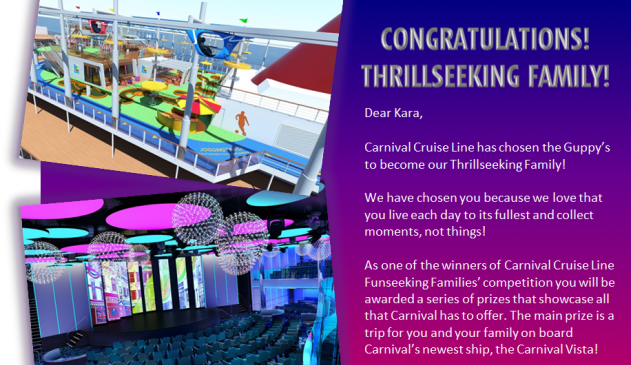 I am also thrilled to announce that we will be travelling with these lovely families too:
Sunseeking Family: Nadine Hill – Juggle Mum
Funseeking Family: Laura Seaton – Tired Mummy of Two
Foodieseeking Family: Kirsty Phillipson-Lowe – Hijacked by Twins
Chillseeking Family: Sonia Constant – Mummy Constant
As a complete newbie to cruising I shall be bringing you our experiences as they unfold and we will of course be taking part in all the exciting activities the ship, and ports, have to offer. We have been watching the virtual tour and as you can imagine, excitement levels are through the roof!
Carnival Cruise Line is "The World's Most Popular Cruise Line®" with 24 ships operating 3 to 16-day voyages to The Bahamas, Caribbean, Europe, Mexican Riviera, Alaska, Hawaii, Canada, New England, Bermuda, Australia, New Zealand and the Pacific Islands.
A "Fun Ship" cruise features day and night-time entertainment like stage shows, musical performances, casinos and more, whilst making their guests feel right at home too. We cannot wait!!