When we were chosen as Konfidence ambassadors we were sent a pack of Konfidence goodies to try out which included a Konfidence Floatsuit. As Sebastian had been having swimming lessons previously for around 18 months and was very water confident and able to swim with a woggle I was unsure if we would use it, however I packed it in our case when we went on holiday to Turkey with the intention of trying it out.
The Konfidence Floatsuit is made from comfortable soft Lycra fabric for children aged 1-5 years. They work on the same principle as the Konfidence™ Buoyancy Jackets with eight individual removable floats are worn in outer pockets which can easily be removed for tailored buoyancy as the child grows, develops and learns water confidence. They also come in a range of adorable and fun designs, and all with 50+ UPF sun protection on covered areas, making them great for holidays too.
They make two styles of Floatsuit – the traditional swimsuit style and the combination Sunsuit/Floatsuit styles which is the one we had. Both stay 'fixed' on the child, and hold the child in the correct position to aid swimming.
Sebastian wasn't sure when he put it on, after all he is used to swimming in just an aqua nappy, but once he was in the water I was genuinely shocked by the difference it made. He was off and swimming by himself!!
The suit held him in the correct position and he was off and swimming between Daddy, Kian and myself. Normally when holding him in the pool he doesn't really kick or paddle much because he knows we are holding on to him, but with this suit on he was really motoring around the pool and you could see the sheer delight in his face that he was swimming by himself.
With Sebastian wearing the Floatsuit it also made us more relaxed in the water and although he was closely supervised all the time, it meant we also had a hand free to play with Isaac and Eliza and having a 50+ UPF sun protection rating I was satisfied he was safe from the sun too.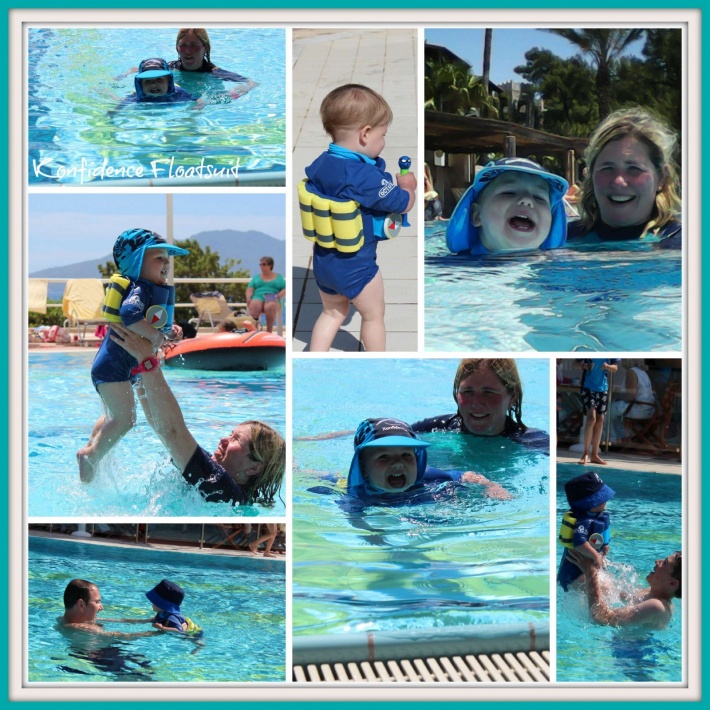 The Floatsuit is designed using quality high content Nylon Lycra that is comfortable against a child's bare skin and comes in some fabulous designs, ranging from the Breton Stripe inspired Original Floatsuits to the fun and funky clownfish UV protective Sunsuit style. Sebastian has the Octonauts Floatsuit, with Captain Barnacles on the front.
Priced at £23.99 the Konfidence Floatsuit is perfect for taking on holiday and using at the local pool to help teach your child to swim.