We have a bit of a set routine in our house in the mornings. Starting at 7am (ish) we stumble downstairs, Sebby normally demanding food or a drink immediately and I put the kettle on for the first cuppa of the day.
The TV goes on and if Eliza chooses it is always Peppa Pig or Ben and Holly, Isaac is always CBBC and Sebby preferring CBeebies. Last week this changed thanks to the launch of Bob the Builder on Channel 5, quickly followed by Thomas the Tank Engine.
We had been asked to take part in a twitter party to celebrate the launch day and on the run up to it being aired at 7.20am I took part in some chat whilst the kids did some colouring in.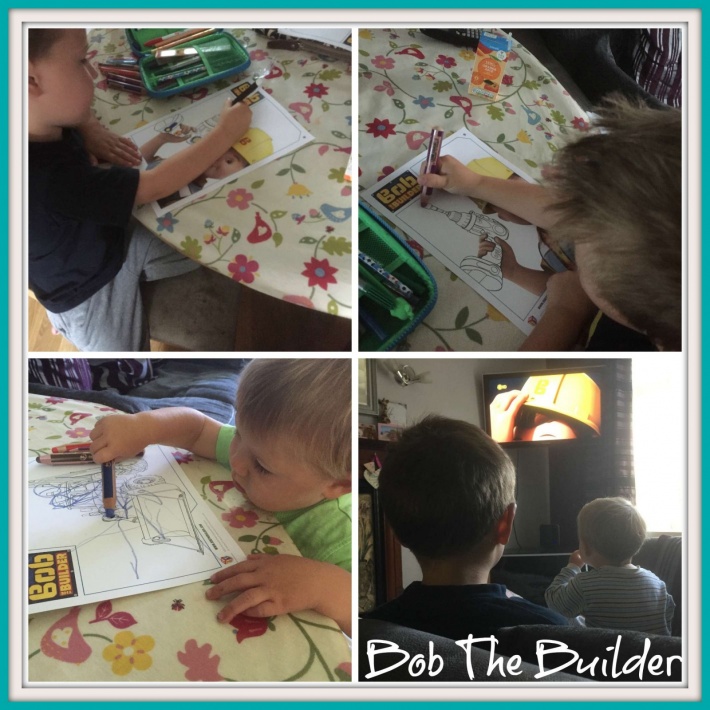 Callan, now 18, was Bob the Builder mad as a child. I think we must have seen every episode and owned every toy at one point. We even helped Bob get to number 1 in the charts (sorry), so I was prepared not to like Bob's new makeover.
Bob the Builder's brand new series features an all-new look and first-class celebrity voice cast bringing the world of construction to life in an inspiring and meaningful way.
The new-look CGI-animated Bob is still the same Bob that audiences know and love though. His dungarees have been replaced with a hi-vis jacket but his chunky boots, yellow hard hat and checked shirt all remain, ensuring TV's best-loved builder remains just as recognisable as ever. With his trusty tool belt now jam-packed with all manner of handy kit, Bob is ready to go… No project is too big, no problem too hard to solve.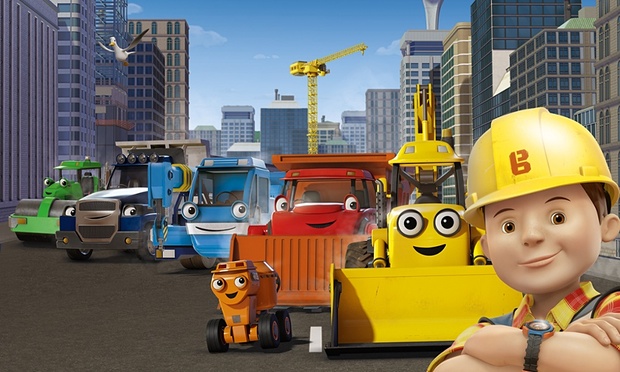 The new series will see Bob the Builder continuing its long tradition of telling fun and interesting stories through positivity and teamwork with exciting characters, relatable locations and an aspirational hero.
All of the show's core characters return for the new series, including Bob's business partner Wendy and popular vehicles Scoop, Muck, Lofty, Rollie and Dizzy. There are also a few new faces to meet – including Leo (an apprentice builder), Mayor Maria Madison, energetic young sports club members 'The Spring City Rockets' and two new machines: a heavy-lifting low-loader truck called 'Two Tonne' and a tower crane called Tiny.
Can we build it? Yes we can!"
Bob also has a new home in the bustling metropolis of Spring City – a glimmering and rapidly-developing modern urban skyline of steel and glass, complete with its own docks, a diverse population and strips of shops and restaurants. But his switch to the big city doesn't signal the end for his traditional home in Fixham, where he's still going to be building and carrying out smaller scale jobs throughout the series.
As well as a new look; the voice cast has also been renewed in the latest development in the show's history with Lee Ingleby (Harry Potter) taking on the voice of Bob, Joanne Froggatt (Downtown Abbey) the voice of Wendy, Blake Harrison (Inbetweeners) the voice of Scoop and Jacob Scipio (CBeebies) the voice of new character Leo.
The new CGI-animated series of Bob the Builder when it airs on Channel 5's Milkshake from 1st September 2015 at 7.20am –  it is part of our morning routine already.