A few weeks ago I got an email from Alex Winters (yes, him of CBeebies fame) about a new project he was working on Be Gung-Ho, asking if I would like to attend with the family.
I watched the video and decided that it looked like the sort of fun we enjoy and marked the date in my diary without really looking into it further.
What I had not read was that Gung-Ho! is actually a  5k run, but not as you know it.
Alex and his team have designed a series of giant inflatable obstacles to tackle around the course – like the ones you see on game shows rather than the ones at your child's birthday party.
We chose an early slot at Windsor racecourse, registering at 8.15am for a 9.15am start as we were at Legoland later in the day. From the moment we arrived it was clear that this was something that people were taking very seriously as they were in proper sportswear. Me – well I turned up in jeans and a woolly jumper, but thankfully the kids were slightly better attired.
After signing our lives away on the 4 page waivers, we discovered that Isaac was too small to run as you have to be over 123cm to join in, so it was just me and my niece Mollie. I will admit I did think about turning around and going home, but she was so excited about taking part I couldn't say no. Thankfully Nanny was there to help with Isaac, Eliza and Sebby and there was a child size bouncy castle and a park to keep them entertained whilst we got around the course.
We started up with a few warm up moves before it was our slot to go. Alex and his partner in crime know how to get the party started with music and banter as well as the moves and he made Isaac and Mollie's day by jumping off stage for a photo opportunity.
Then it was our time to go……….
5…….4….3…2..1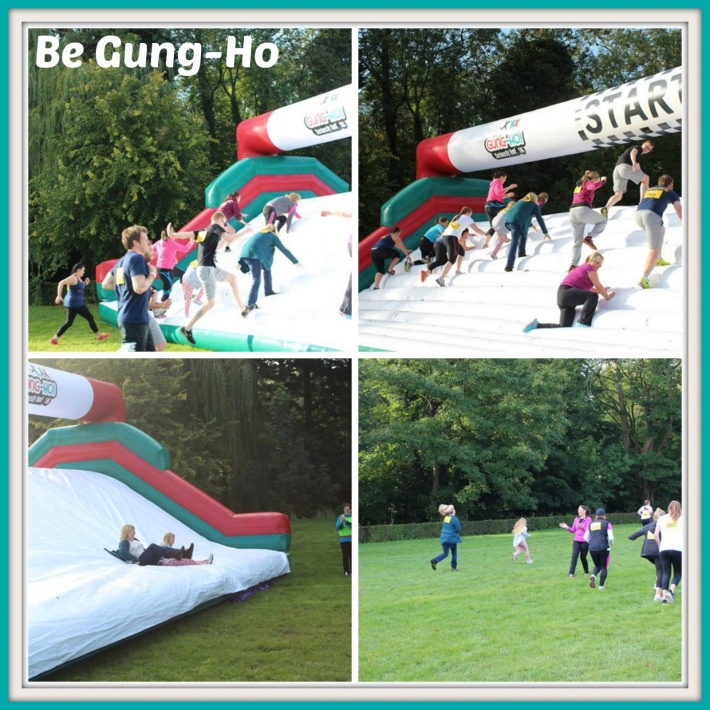 The first obstacle was actually easier than it looked – the trick is to go over the middle – and we were off, following the cone markings that lead around Windsor racecourse.
The next obstacle was an inflatable climbing wall which was deceptively difficult. As I had Mollie (7) with me, the marshalls advised we give that one a miss as even grown men were struggling, so we ducked around the outside and carried on.
I have to admit that I am not a runner…….I cannot run more than a few hundred yards and by now both Mollie and I was beginning to struggle, so we opted for a fast walk instead. The cones took us up and down the same piece of track and we soon became wise to which way it was taking us, so along with two lovely ladies Amy and Dani, we may have taken some shortcuts (ssshhhh don't tell anyone)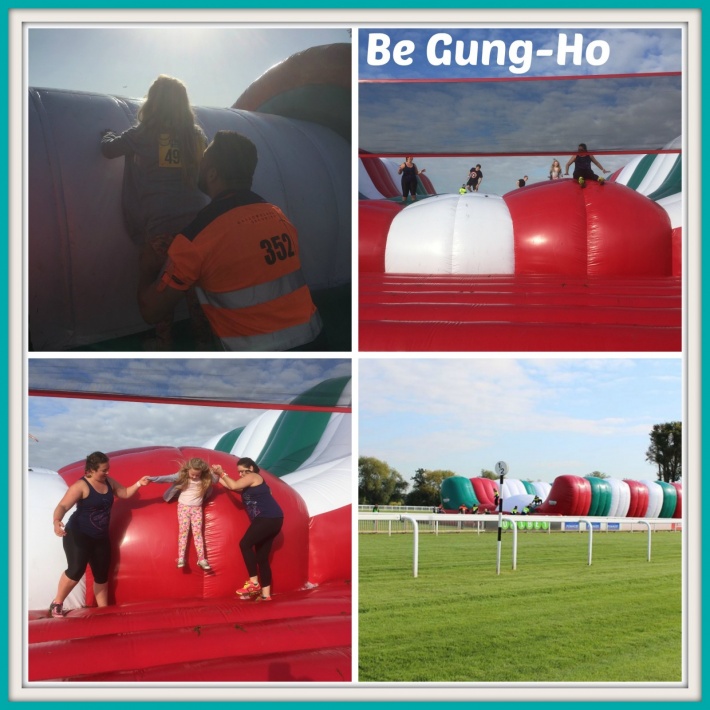 Some of the obstacles were so huge we needed a boost to get on them, and help to get back down again, others were more like an assault course jumping and ducking over and under beams. There was also a maze, one frame filled with giant inflatable balls that were pushed into us as we tried to get through and another full of foam which was especially difficult to get out of.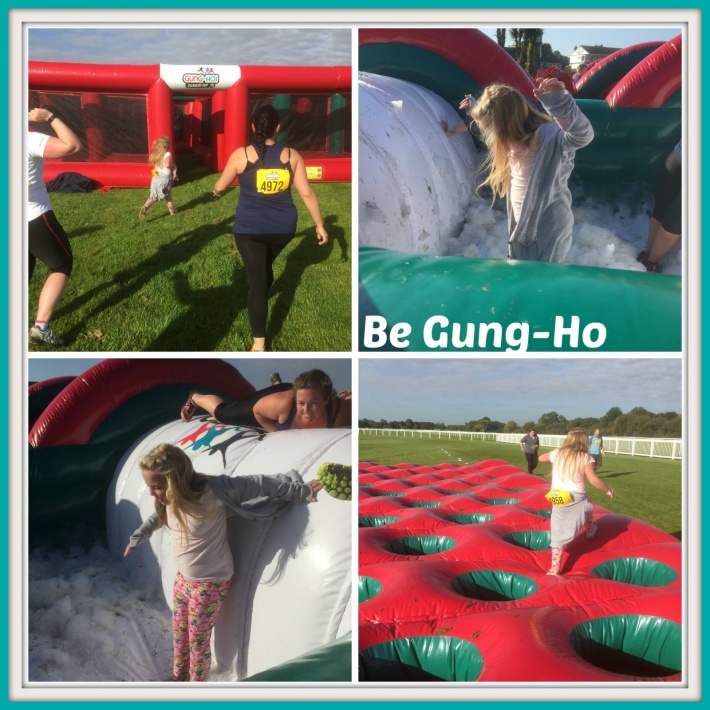 Thankfully Dani and Amy gave us a hand when needed and we reciprocated the favour.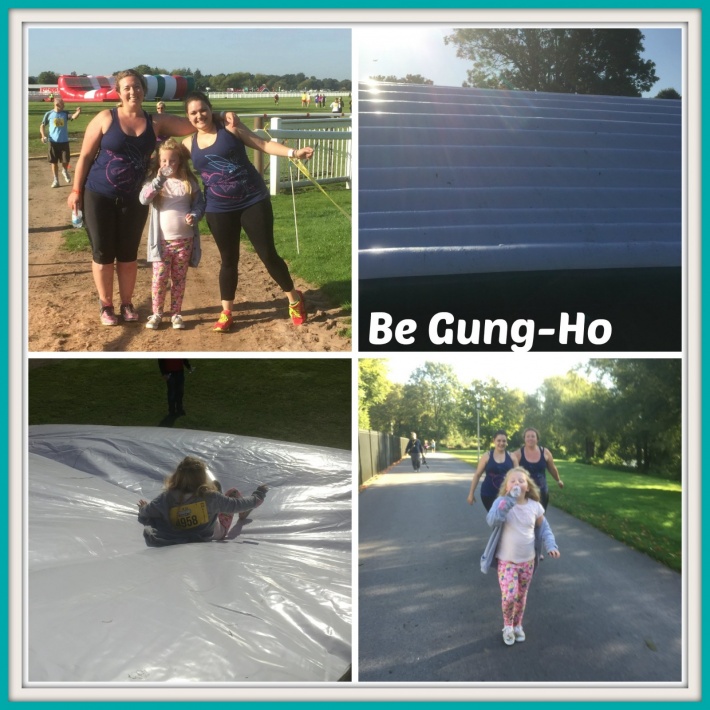 The final obstacle of the course is The Thriller – at 5 storeys high and 200ft long I did look at it before we started and thought I would give it a miss, but spurred on by the fun we had all the way around we went for it. Mollie had a slight wobble at the top, but I grabbed her hand and down we slid –  Weeeeeeeeeeeeeeee!
So today I half ran, half walked 5k over giant inflatables. This was me and my niece crossing the finish line #begungho #repost thanks @tiredmummyoftwo
We did it – we completed the course. We may have cut a few corners but my stepcounter says we did 12km including Legoland, so I think we did ok.
For completing the course we received a t-shirt, sweatband and a wristband, but the best bit for Mollie was a well done hug from Alex himself whilst I am officially "The Best Auntie in the World"!
We had so much fun and I cannot wait to take my older ones to do it again at one of their Be Gung-Ho events in 2016 and Isaac is hoping that he grows enough to take part too!
Next time, I will be more prepared though!