Jumbo's Mr. Bloom's Nursery 4 in 1 Shaped Puzzles is a set of brightly coloured jigsaw puzzles with four shaped jigsaw puzzles featuring a different character from the popular CBeebies programme.
Each of the four jigsaw puzzles has a different piece count – 6, 8, 10 and 12 piece jigsaw puzzles, which are designed to help children progress – building their skills and confidence in making puzzles
The 6 piece puzzle features Mr Bloom himself with the saying "Ello Tiddlers!" and his name.
The 8 piece puzzle shows Joan the funnel her saying "Ta-daaa!' and her name.
The 10 piece puzzle is Raymond the butternut squash and his saying "I love cuddles!"
The 12 piece puzzle featuring Margaret the cabbage and her saying "Peepo!" and name.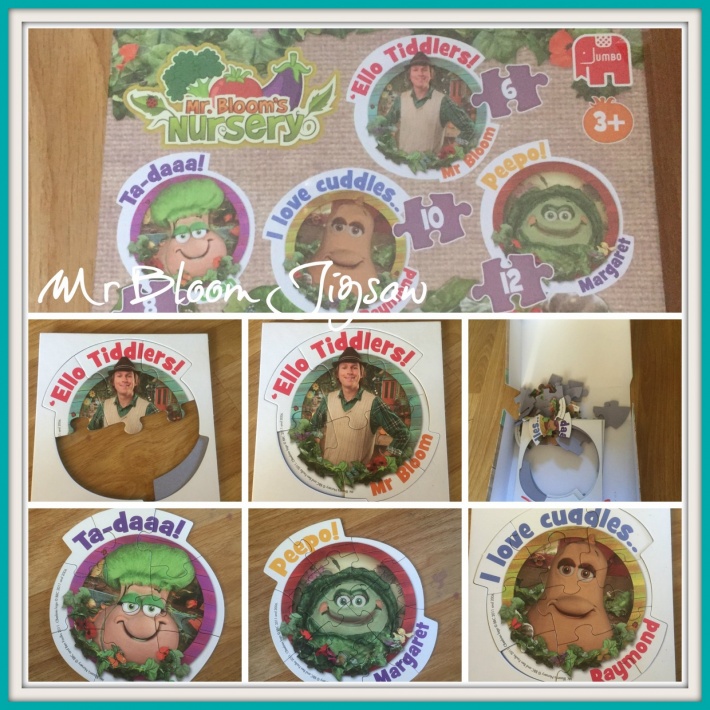 All the jigsaw puzzles have been produced using a high quality cardboard to ensure that each jigsaw piece remains in the original shape for as long as possible so child can enjoy these fabulous puzzles time and time again. The puzzles have also been packaged in an easy to carry suitcase which is great for a child to carry whether they are at home or out and about, but I do have an issue that all the pieces were muddled up together before we even started. This meant I had to do the jigsaws myself to separate all the pieces so the kids could start on the easy ones first.
Two of the jigsaws comfortably fit in the two templates provide, but the jigsaws with more pieces didn't, which added to the difficulty and actually became frustrating even for me.
These jigsaws are aimed at age 3+ but unless an adult was helping, I think children of this age would struggle.