Premier Inn understands that getting your child into a regular sleep routine can be one of the biggest challenges as a parent and, if you're staying in an unfamiliar environment such as a hotel, they may become unsettled. They have asked me to share my experiences in getting my children to sleep whilst travelling and staying in unfamiliar accommodation.
My first tip is to prepare them for the change in surroundings. Travelling can be hugely exciting and I normally give my kids a couple of days warning prior to travelling as it gets the excitement overload out the way before we get there.
My second tip is to wear them out during the day, although I realise that this isn't always possible especially if you have spent a day travelling to your location, but if you can stop for a break at the motorway services it stops them falling asleep and many have play areas they can stretch their legs in too.
When you get to the hotel, let them explore their surroundings. It is important they know where everything is, especially the toilet for any late night visits.
When it comes to settling them down for the night it is important to continue your normal bedtime routines. For us we have a bath, get our pyjamas on, read bedtime story and snuggle down with our favourite cuddly toy. Of course there are times when the kids won't settle so we also take our trusty iPad loaded with films or with Sebby's favourite CBeebies shows downloaded from the iPlayer. Never rely on the hotel having enough internet to stream directly.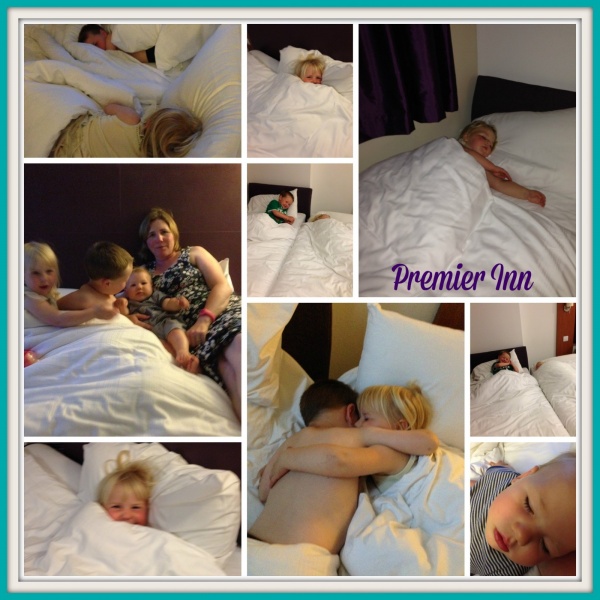 We always leave a light on somewhere in the room – normally the bathroom as it is less intrusive. That way if the kids do wake up they can find their way to the toilet without disturbing you and have a reassuring glow in the room if they do happen to wake.
With babies / toddlers in travel cots I recommend you take their favourite blanket – just having something with their own smells is reassuring enough to settle them.
I have always found that Premier Inn have good black-out curtains, but if you do have light sleepers and are travelling to somewhere you have not stayed before then I can highly recommend the Gro-Anywhere Travel Blinds, or if baby is in a travel cot, the Snoozeshade Travel Cot cover is a must have!
Have I missed anything, what are your top tips for getting the kids to sleep when travelling?