Eliza adores role play, even more so since she started school, so when we were offered Rose Petal Cottage from DreamTown to review, I knew it would be a hit.
Rose Petal Cottage (RRP £99.99) is a beautiful indoor playhouse which is built to last for years – none of this cheap plastic that rips the first time you walk in the door.
The cottage is packed with interactive features which inspire children to explore the freedom and excitement of imaginative role play plus has adorable design details and a massive dose of 'cute-factor'.
The cottage took Hubby around half an hour to assemble which I thought was a reasonable time. We did watch the how to assemble guide first which really helped.
Once built it was easy to see all the features of Rose Petal Cottage which include an opening door with letter box, shuttered windows, a working shelf, mirror and a real photo frame. It also comes with toddler-height play cooker made especially for little ones, with realistic features. The cottage features pretty touches including broderie anglaise trim and a strong steel frame so it will stand the test of time
I am a childminder and look after girls and boys aged 2 to 7 and all love the playhouse, especially the girls. It is lovely hearing them set up a tea party or play with the dolls in their very own house. Eliza can often be found sat on a floor cushion inside reading her books too.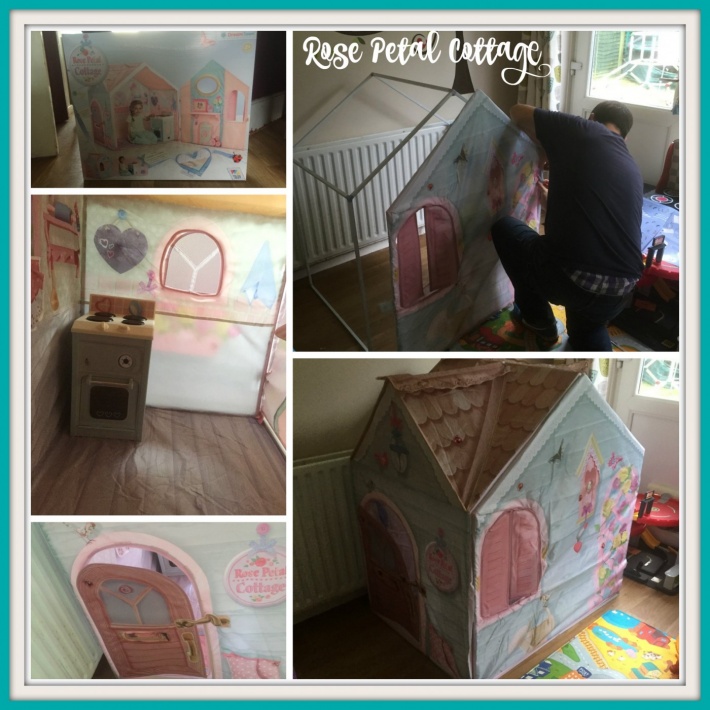 A kitchen and separate lounge set are available as accompanying accessories. Rose Petal Kitchen set (RRP £44.99) includes a sink unit with chrome-look twisting taps, and a washing machine with opening door and twisting dials for realistic role play.
The Rose Petal Tea Time set (RRP £19.99) is perfect for make believe tea parties, featuring a table and two stools.
The Rose Petal Cottage range includes Rose Petal Cottage and two coordinating accessory sets which allow little ones to create their very own home.