Xeno Koopies are loveable yet cheeky little monsters who interact and play with you!
I first met on at BlogOn and was intrigued by the little character who comes in a variety of colours so you can collect them all.
Xeno Koopies have glow in the dark eyes and a very tactile feel – a bit like a spiky rubber ball but with its own personality as they make over 70 different sounds and have 6 touch interactive sensors on their bodies. Simply insert 3 x AAA batteries and you are ready to go.
Xeno Koopies roll on the floor, bounce from one hand to another and can be squeezed and stretched. To activate him just touch one of his sensors and he will start vibrating and interacting with you.
They like (and dislike) your music and love to eat; which occasionally leads them to let out a little burp or trump. They are also sensitive little monsters, so don't shout at them or they'll get scared!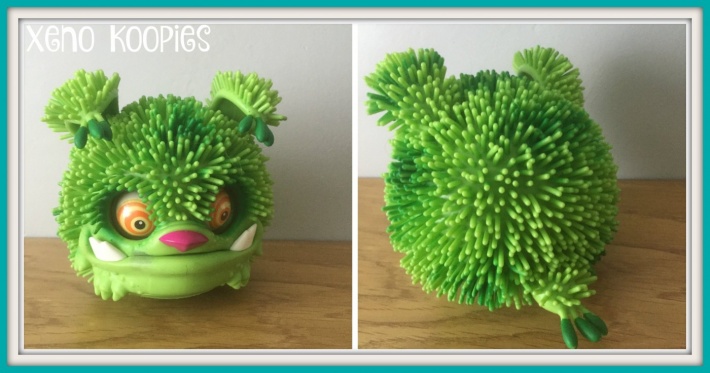 I have to admit that Sebby doesn't like him, but Eliza and Isaac have great fun making him dance and trump. You scare him by throwing him in the air and make him purr with delight when tickling him behind the ear. They are the perfect pet if you want one that doesn't take much looking after and you can switch them off when they get a bit noisy!
For enhanced interactivity, Xeno Koopies love to talk to their other Xeno friends – either another Koopie or a Xeno. Download the free app to play additional games and explore Xeno Koopies world.