I am always weary of changing my washing powder or fabric softener as having sensitive skin myself I have been known to react badly to any change, coming up in a rash and itching all over so I was in two minds about trying Surcare when I was invited to review it.
After reading their website I was more confident that it shouldn't upset my skin as they promise not to put anything unnecessary into their products that will irritate sensitive skin.
With no enzymes, no dyes, no acids, infact none of that stuff that other brands seem to think is okay for something that's going to go next to your skin, not even perfumes added to the product. In fact Surcare is entirely fragrance free.
The team at Surcare not only sent me a bottle of their washing liquid, but also some gorgeous new towels from John Lewis to test it on and left me to it. Of course in this time my washing machine decided to break down, but after 10 years of loyal service and being used at least daily I think it needed a break!
Thankfully my washing machine engineer soon had the machine working again and we could begin testing. I used the recommended amount of washing liquid along with my regular fabric softener and I was really pleased with the results.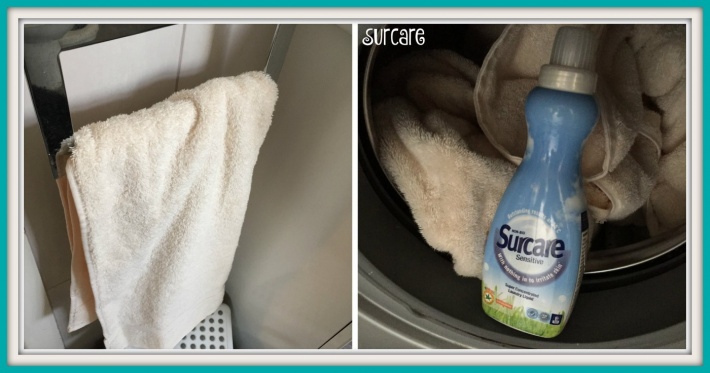 It not only got the towels and our outstandingly clean each and every time you wash, but it didn't irritate my, or Sebastian's sensitive skin at all. In fact he had a nasty bit of nappy rash before we started using it and it has now cleared up with the help of Metanium too. In fact we got some Metanium on one of the towels which is notorious for staining, but it came out when washed straight away with the Surcare.