I cannot believe I have almost completed my third year of project 365 and it has almost become a way of life taking a photograph everyday.
This week is one I have been looking forward to for ages. Not because the kids break up from school, but because its the Nativity and Eliza finally got to wear the costume I made……….yes that's right – I actually made her a costume!
We started off the week with another trip to Excel in London, but this time for Brick 2015 where the kids got to indulge in all things LEGO.
Monday was Isaac's last water polo lesson as the school has decided not to continue with it, but the team got to have some fun in the pool.
Tuesday saw us heading to my friend Joanne's house where we built a huge train track for Sebby and watched the rocket launch and Wednesday was Snowflake day. The school performance of Whoops-a-Daisy Angel was brilliant.
On Thursday we headed to Toby Carvery for dinner to celebrate the end of term and Friday was the pre-school Christmas Party where, for the first time, Sebby was not terrified of Father Christmas and actually spoke to him.
Here is my week in pictures: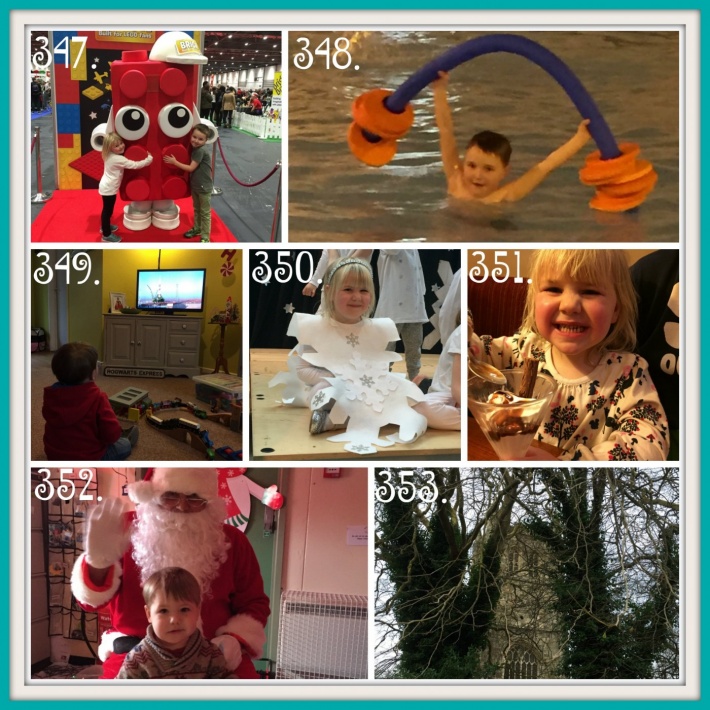 347.  Meeting Studley the LEGO brick
348.  He-Man
349.  Watching the rocket launch
350.  My little snowflake
351.  Ice Cream!
352.  Meeting Father Christmas (again)
353.  A spot of festive shopping in Wimborne