Soaring 170 metres above Portsmouth Harbour and the Solent, the Emirates Spinnaker Tower is taller than the London Eye, Blackpool Tower and Big Ben and we have been itching to climb it since it first opened way back in 2005.
Ten years on and we have finally made it!
The weather has been quite frankly awful in recent weeks with torrential rain and high winds, but we saw a break in the pattern of a few hours and decided to make the most of it. My weather app on my phone told me that we had a period of six hours which promised to be dry, however we did start to worry it may be a wasted journey as the heaven's opened for most of the 45 minutes drive to Portsmouth but as we arrived the sun made an appearance too.
We were surprised that the signposts led us to Gunwharf Quay as I had assumed it was closer to Portsmouth Historic Dockyard, but we found it tucked behind some restaurants on the Quay. Our bags were searched and we were scanned by metal detectors at the entrance before purchasing our tickets and having our photo taken on a green screen.
It was then time to take the express lift which takes all of 30 seconds to the first of the Three view Decks whilst the lift operator told us what to expect.
With full height glass walls which surround you on three sides, it really is a WOW! moment as you exit the lift as the windows allow you uninterrupted panoramic views across the city, harbour, sea and coastline. At this point you are 100m above sea level and if you are brave enough there is Sky Walk to walk across (or jump if you are my children). The unique glass floor is made up of 4 panes, each of which measure 2050 x 950mm, giving the floor at total area of 7.79m2. The overall thickness of the glass is 60mm and can hold a total weight of 288 stone – plenty of room to run across.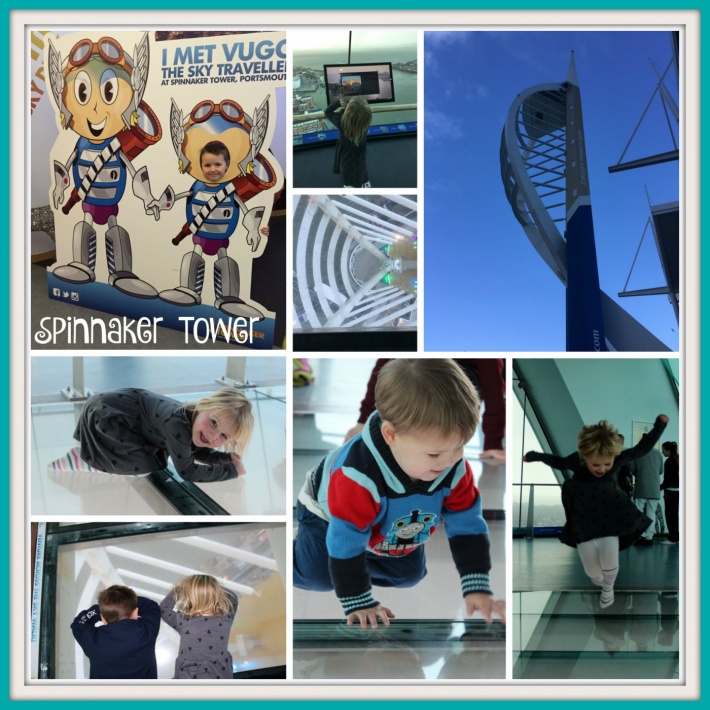 Of course the real treat is the breathtaking 350 degree city, country and seascapes which stretches over 23 miles.  The weather wasn't perfect for us although we did manage to witness a brief sunny spell, but it was fascinating watching a storm front rolling across the Isle of Wight, brushing past us and then heading back out over the sea. A great learning opportunity for the kids.
We also had a fantastic view of the dockyard and HMS Victory and HMS Warrior. There are several i-View monitors on this floor which are interactive multi-touch screens which allow you to find out more about the many points of interest in the view, zoom in to get a closer look and switch between a clear day or magical night-time view. Isaac even got to drive a speedboat!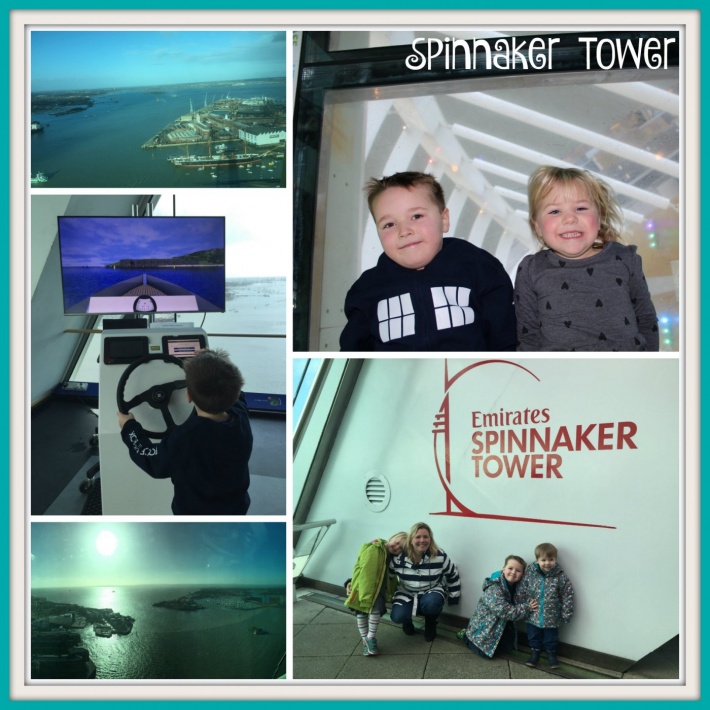 You can take the lift up to the 2nd and 3rd viewing decks but we chose to take the stairs, heading for Deck 3 first which is the highest deck with an altitude of 110m above sea level. When we were told in the lift that this deck was open to the elements I was looking forward to seeing the views without rain spotted glass in front of me, but sadly, the Sky Deck only lets the wind catch your hair as it is just the roof which is missing, with a large net like material above your heads.
Deck 2 is home to Cafe in the Clouds which offers hot and cold drinks and cakes to enjoy along with the breathtaking views.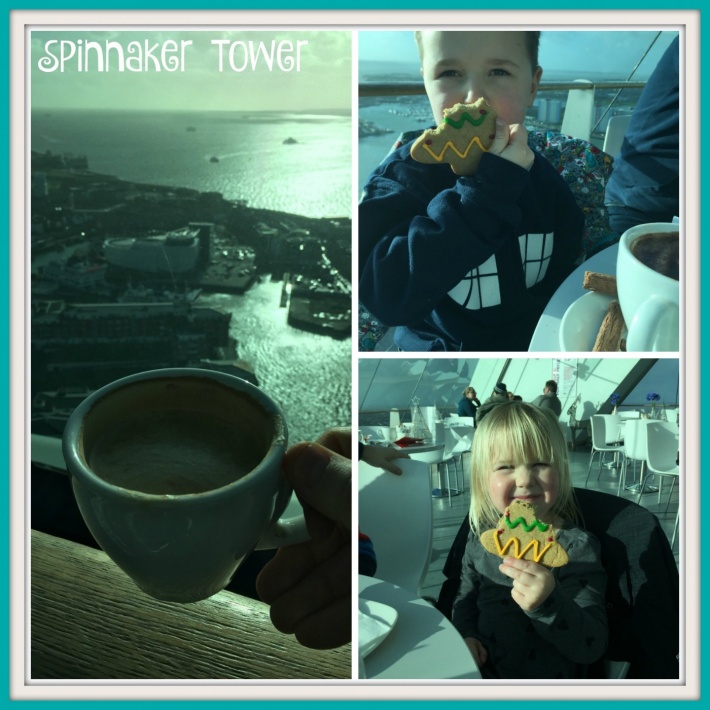 We spent about an hour and a half in the tower and our hands were stamped so we could return anytime during the day, however we decided to head to the dockyard to look around some of the ships we had missed on our previous visit.