Back in October I was introduced to the Nappy Grab Bag at BlogOn Winchester, an exciting new product recently launched by Becky Mantin Products.
Looking after a baby is an amazing experience, but it's not without its stressful moments. Getting out of the house to visit the park, see friends, grab a coffee or show off your baby is one of the most enjoyable and rewarding parts of being a new parent. But gathering all the kit you need (without packing the entire contents of the nursery) isn't easy.
Now a simple, pocket size and eco-friendly changing pack has been launched by mum of two and face of ITV Weather for 12 years, Becky Mantin. Becky Mantin's Nappy Grab Bag contains everything you need to change a nappy in one handy compact bag and is designed to end the frustration of hunting for nappies and wipes, carrying around a bulky changing bag, or forgetting an essential item.
During her second maternity leave, Becky Mantin realised that a handy pocket-size pack which contained a nappy, wipes, cream and integral changing mat and dirties bag would make life easier, faster and even more fun for everyone.
With her entrepreneurial zeal she has turned that idea into something that every new parent can now buy and will love the Becky Mantin's Nappy Grab Bag.   
The Nappy Grab Bag kit is made up of all the elements needed to change a baby's nappy, in a neat pack small enough to fit in a back pocket. It's intended as a convenient alternative to a conventional nappy bag, which can be cumbersome and needs constant refilling.
It comprises a bio-degradable polythene outer wrapping which is sealed with an adhesive sustainably sourced paper label. As the label is torn, the wrapping unfurls to reveal an eco-responsible Naty by Nature Babycare nappy, a sachet of Weleda nappy cream, and four individually-foil-packed Jackson Reece organic baby wipes inside. The wrapping then doubles as a 350mm x 570mm hygienic surface for the baby to lie on while the nappy is changed.
Once the wrapping is folded out into a changing surface, it reveals a pocket at the foot end, where used elements – including the dirty nappy – can be tucked. When the change is complete, you simply roll the mat up and seal it securely with an adhesive strip ready to dispose of in a normal bin.
As both an environmental expert and the mother of an eczema sufferer, Becky has been entirely focused on creating a product that is not only as ecologically responsible as it can be – but contains items that she uses on her own children's sensitive skin.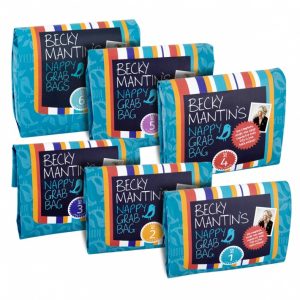 She says: "The overflowing nappy bag we parents lug around with us is such a nuisance. It's heavy, bulky, time-consuming to check and restock and, of course, no real guarantee that you're not going to forget or run out of an essential element. When my husband and I got caught short on just one of many occasions, it occurred to me how much easier it would be to simply shove a Nappy Grab Bag in your pocket and know that you're sorted!'
Nappy Grab Bags are available from Ocado and I have 4 of the multipacks which each contain 5 nappy grab bags to giveaway to four lucky readers in the size of their choice.
To Enter:
Fill in the Rafflecopter widget below to verify your entries
Please read the rules below
Closing Date:  31st January 2016

If there is no form hit refresh (F5) and it should appear
If still not working please check that your computer is running Javascript
You need to complete the mandatory entry first – Leave a comment**
Rafflecopter will tweet, like and follow on your behalf making it really easy to enter
Really want to win the prize? Come back every day for bonus entries via twitter
Terms and Conditions can be found in the Rafflecopter form below
**Comments may not appear immediately due to moderation
More competitions at ThePrizeFinder – See more at: http://www.theprizefinder.com/content/win-one-four-nappy-grab-bags#sthash.pThJxWJo.dpuf