Somerford Beefeater has re-opened its doors with a brand new look and we were invited down to check out the designer interior and mouthwatering menu.
We last visited in September and didn't think it needed a new look, however the restaurant has undergone a huge makeover in just eight days, with a fresh look inside and out creating a light, welcoming environment and with booth seating for large groups inside, a comfortable bar area and a modern design.
The updated menu is packed full of favourites for the whole family, including succulent steaks, BeefPasties, Mega Ribs and Oven-Baked Seabass. You will also find plenty of classics including Beer-Battered Cod & Chips and the Beefeater Mixed Grill, each prepared with care and presented with flare. And if these weren't enough, Beefeater is now offering unlimited skinny or triple cooked chips with selected main meals.
The new menu has even created new roles, and all staff have undergone expert steak and wine training. Despite the restaurant's new image, familiar friendly staff members remain ready to welcome everyone through the doors, ensuring that guest's every need is met.
Kelly Redmond, General Manager of Somerford Beefeater said: "All these great changes make Beefeater even more inviting and we're proud to reopen our doors. We have spent a lot of time working on the presentation of the new look to give our guests the wow factor. We are confident our guests will enjoy the changes as much as we do and friends and families can make the most of their time here. It's still their Beefeater – but with a modern twist.
Beefeater is all about affordable quality and has great value always-on offers, catering for all manner of tastes. Steak and chips start from just £10.99, Daytime Menu dishes start from £4.99 Monday – Saturday and with kid's eating free breakfast every day, a visit to Beefeater won't break the bank either.
We visited last Sunday and saw some of the changes as we pulled up. Gone is the old porch and instead a large, modern wooden plaque features outside with the same Somerford carved into it.
The most significant changes I saw inside was to the bar area and the entrance where we were greeted and shown to our table in the large extension which now has comfy booths to sit in with lots of cow themed artwork to admire.
As it was a Sunday, Kian, Hubby and I all ordered from their Sunday Roast menu. Hubby and I went for Lamb which was perfectly cooked and came with lots of fresh vegetables and Kian went for the chicken which was also delicious. Isaac, Eliza and Sebby chose from the children's menu and because they can be fussy were able to pick and choose what sides they wanted with their main meals.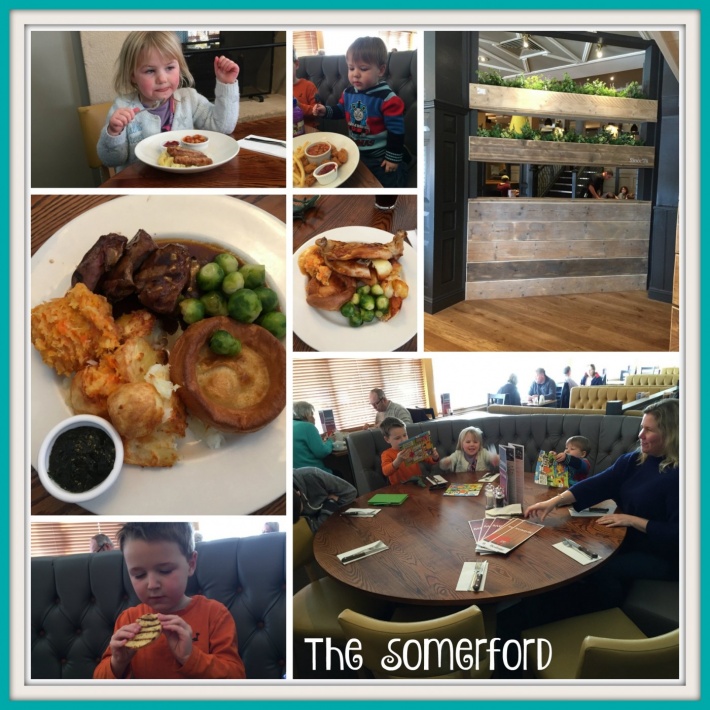 I have to admit that as it was a Sunday it was fairly busy and the service was not as good as it had been on our last visit, but the meals arrived within 20 minutes of ordering them. We did have to flag the waiter down to clear the table and order our desserts, but once they had been ordered they did arrive within 10 minutes.
All in all we loved the new look of The Somerford Beefeater and will definately return. The only think that would have improved our visit was to have been served by Lyn but I think she must have had a much-needed day off as we didn't see her.
If you are visiting your local Beefeater it is worth checking their website or app before you visit as we received a BOGOF voucher of the main meals which took our bill down from £76 to £65. That was for two courses and drinks for 3 adults and 3 children which is very reasonable.
Disclaimer: We were given a £50 gift voucher towards our meal for the purposes of a review.