This week started on a high with Eliza's 5th birthday and a magical princess party. She had a brilliant time and got lots of lovely presents. We finished off the day in style with a trip to Bournemouth Pier where Hubby and I did the Pier Zip before sending Nanny and Kian down it too.
On Monday I headed to London's Olympia for the Toy Fair. It was a real eye opener and I was very lucky to see some of the fabulous new toys being released later this year but I did find the day exhausting.
Hubby had the week off work this week so we took advantage of Sebby being at pre-school and headed our for breakfast at the local Giraffe restaurant on Wednesday morning. It was lovely to have some 'us' time, even if we did go supermarket shopping afterwards.
Eliza got a new bike for her birthday so we have been trying to get outside and practice as much as possible this week. She has done really well as at the beginning of the week she had to be pushed to school but yesterday she managed to ride about half a mile at Potterne Park and kept up really well with Isaac.
Here is my week in pictures: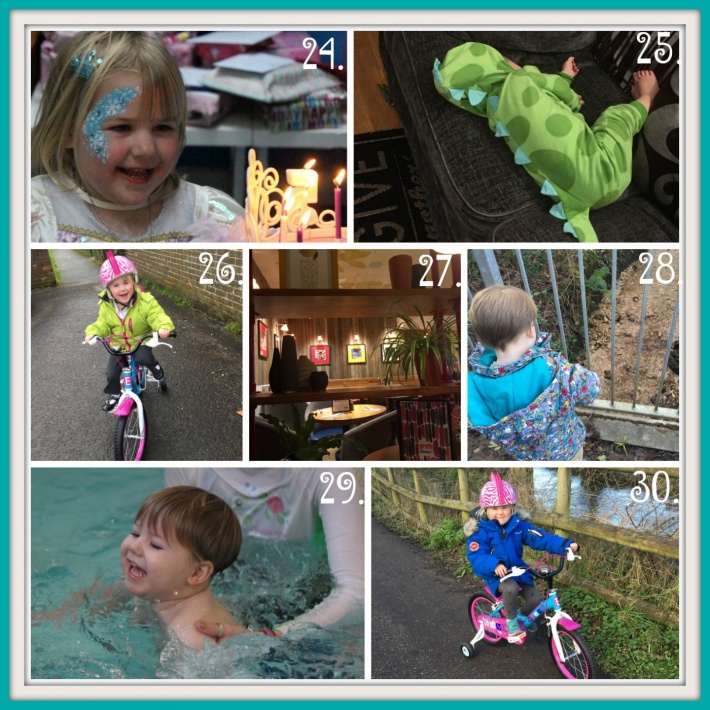 24.  Happy 5th Birthday Eliza
25.  My sleepy dinosaur
26.  Riding to school
27.  Breakfast at Giraffe
28.  Playing Pooh sticks
29.  Swimming lesson fun
30.  Cycling at Potterne Park