Last Monday I visited the London Toy Fair at Olympia for the very first time which was host to  270 companies exhibiting thousands of toys, games and collectibles to visitors. The toy fair is held over three days and to see everything you would need all three days, so I had to make a decision about who I wanted to see.
Armed with a map and a list of who I wanted to see I headed into the huge exhibition space. My map reading skills aren't brilliant and I did struggle to find some of the stands I wanted to see but got there in the end. My first port of call was Playmobil as it has seen a big resurgence in this house and I instantly fell in love with their new pirate ship range, however, it was their Carry Cases I was most interested in as we have a few trips away this year and they would be perfect to take along on our travels.
My next stop was Underground Toys who were showcasing Ghostbusters, Marvel and Star Wars toys and homewares. New toys include the 12" Stormtrooper, Rey and Kylo Ren plush, as well as a selection of super-cute astrobot BB-8 in 4", 9", 12" and 15" but it was the homewares products that caught my eye. Quirky items include the Lightsaber Handle Spatula, Lightsaber Cutlery, R2-D2 Cookie Jar and Death Star Kitchen Timer, perfect for every enthusiast's home.
The hot film out this July is the reboot of the classic Ghostbusters movie, and Underground Toys has a huge Ghostbusters range to collect which I know Isaac is going to love! Cuddly plush toys of the bright green Slimer and Stay Puft will make great bedroom friends. Of course I did get distracted by their Doctor Who range too.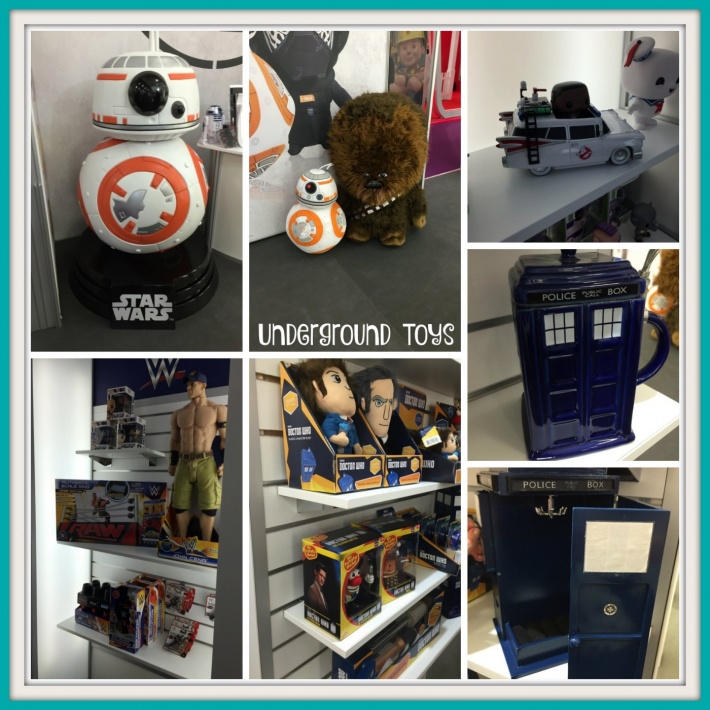 I spotted the Microscooters team whilst up on the gallery level so headed down to see them next and was immediately wow'd by their new range of colourful scooters and accessories. I wanted to test out their new electric scooter but sadly it was on charge during my visit but it looks amazing and a full battery charge will give you seven miles of scooting power!
The team at Evolution were my next stop and they showed me around their huge stand that was filled to bursting with toys I know my kids will adore, with the likes of Peppa Pig, Ben and Holly, a fab new Teksta Toucan, Pom Pom Wow, Shopkins and the cutest, cuddliest puppy that I wanted to take home and look after.
Dangermouse is another big thing in our house and I got to see the new Danger Mouse toy range, which was unveiled at the show. This fab new range follows hotly on the massive success of the all-new TV series, which has been racking up the ratings amongst 4 to 9 year old boys since its launch. The new range includes collectible figures, really cool vehicles and plush toys.
No visit to the Toy Fair would be without visiting LEGO and I was not disappointed. They have fabulous new ranges for all ages with DUPLO for Sebby, LEGO Juniors for Eliza, although I think she may be hinting at Elsa's castle and the most amazing Angry Birds sets for the boys – we will certainly be investing in these when they come out later in the year.
There were also displays of toys for films that have yet to come out and Bandai have a gorgeous range of toys for Finding Dory that will be coming out later in the year. I also love their new PinyPon range of collectibles and they very kindly sent Eliza a set for her birthday.
Thank you for Eliza's birthday present @bandaiuk
By now it was starting to get late but I spotted Vtech opposite Bandai so dropped in to say Hello. They have a fabulous new range of building toys coming up later this year which I cannot wait to test out and I love their new DigiGo – a pocket-sized, hand-held smart device that kids that allows the kids to text you whilst not running up a huge bill. They gave me a Toot-Toot Drivers bus for Sebby and he has barely put it down since!
Someone loves his new bus @vtechtoysuk @toyfair16 #toyfair2016

A photo posted by Kara Guppy (@chelseamamma) on
I also got to meet the teams from BigJigs, WOW Toys, Interplay, Tomy, Galt, Orchard Toys and Sheaffer pens who were all lovely. I think next year I need to get there earlier or book two days to see it all.