Unless you have been hiding under a rock you should be aware that Valentines Day is just a few days away.
Valentine's Day, also known as Saint Valentine's Day or the Feast of Saint Valentine, is a celebration observed on 14th February each year by many countries around the world, although it is not a public holiday in most of them.
Traditionally on Valentine's Day people exchange cards, chocolate, gifts or flowers with their special "valentine" to show them how much they love and care for them.
Why not 'say it with bears' this Valentine's Day and get your loved one a Jelly Cat.
Say it With Bears is an award-winning company that give a guarantee of satisfaction. All of their bears come with a free greetings card, birth certificate and gift wrapping as well as offering many personalised teddy bear options including embroidered jumpers, hoodies, t- shirts, personalised ribbons and engraved gift tags, to make your teddy bear gift extra special.
Their extensive range includes: Boofle, Disney, Jellycat, Me to You bears and many more popular teddy bear brands. What's more is they can create a personalised teddy bear for next day delivery if ordered by 2pm (Mon-Fri) so you still have time to get one.
Eliza was invited to review one of their range and chose Fuddlewuddle the Snow Leopard by Jellcat. I have to admit that I hadn't heard of Jellycat before but a couple of people recognised it straight away and have been coveting it. There is no way Eliza is letting her super soft cat go though!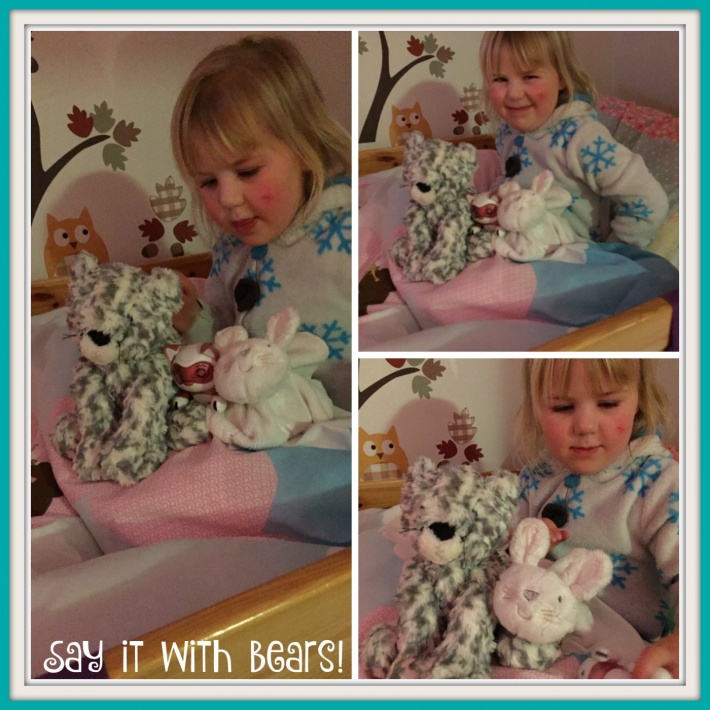 Whatever you get for Valentine's Day I hope you have a special one!