THORPE PARK Resort is rolling back ticket prices this Easter weekend with their 'get in for a bob' offer. A limited amount of tickets will be available at Victorian price rates to coincide with the announcement of the Friday 6 May opening date of Derren Brown's Ghost Train.
You could spend a day at THORPE PARK Resort for just 12p – The Good Friday deal starts at 10am on 25th March by entering the exclusive promo code DBGT1871 to roll back the price. The 12p tickets can be used from Saturday 26 March until Thursday 6 October.
This special offer is limited to 1,871 tickets, the date in which Derren Brown's Ghost Train is set (1871). From 10am on Good Friday (25 March), tickets will be available through the THORPE PARK Resort website for just 12p, the equivalent of 1 shilling. A maximum of four tickets per person can be purchased to use in the park anytime from Saturday 26 March until Thursday 6thof October 2016 – guests must select the date they would like to visit the Park when they book.
Ticket prices are being sent back to the Victorian era to celebrate the news that Derren Brown's Ghost Train will open on Friday 6th May. Guests will be taken on a head-spinning train journey of between 10-15 minutes, the like of which guests will never have taken before; providing a heady mixture of exhilarating live action sequences, 4D special effects, grand-scale illusions, next generation technology, and physical transit.  No place for spectators, guests will play a major part in the action which will leave them questioning where perception ends and reality begins.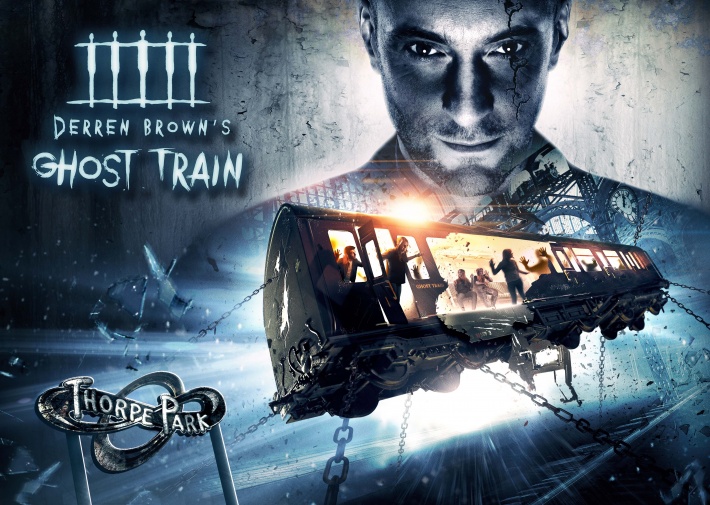 THORPE PARK Resort's biggest and most ambitious investment to date, Derren Brown's Ghost Train takes theme park attractions to a whole new level, promising to derail guests' minds with a series of multi-sensory experiences. Like its inventor, this is a  smart ride that also has 12 multiple knee-shaking journeys and two endings – so not only will no two 'rides' on board Derren Brown's Ghost Train  be the same but every journey will provoke an intense response and reaction in each individual 'passenger.' So whilst guests may share the journey with others, the experience will be an individual one – and every journey, every sensation and every fear will be quite unique.
For the chance to purchase your 12p* tickets please head  to www.thorpepark.com/12p-ticket  and click 'Buy Now' then enter the exclusive promo code DBGT1871 to roll back the price.
When the 12p tickets run out, guests can take advantage of THORPE PARK Resort's online price saver, where day tickets start from just £27.99. Or if you want to make the most of visit, stay over at the THORPE SHARK Hotel and take advantage of the kids go free accommodation package which ends on 30 April 2016 – pay £164 for a family of four (£82 per person and kids go free).
For the latest updates on the new attraction and to be in with a chance to be the first to ride the new experience, visit Thorpepark.com.
Why not add even more bite to a fun-packed visit by booking a stay in the THORPE SHARK Hotel. The unique accommodation features 90 bite sized rooms that sleep up to four people and includes free Wi-Fi, flat screen TV entertainment packages including Angry Birds App and on-demand movie service.