As part of our build-up to our cruise in August, Carnival decided to give us a little taste of what us thrillseekers could experience onboard their newest cruise ship, the Vista, and sent us off on an afternoon of fun at Go Ape in Moors Valley.
Hubby, Kian and Isaac have all been to Go Ape before but each time I was just a spectator, staying below to look after Eliza and Sebastian who were too small to take part. This time Eliza and I got to join in too.
We recruited Nanny to come and look after Isaac, Eliza and Sebastian on the ground whilst we got in touch with our inner first. We were given a safety briefing before we started and then it was time to fly down their zip-wires, leap off the Tarzan Swing and tackle the crossings.
As a spectator with spider monkey's for children and a confident Hubby the course looked easy. As a forty something, slightly unfit mum, it was a little daunting at first. Climbing a rope ladder 10m up into the tree canopy is a little daunting. Kian was off like a shot, literally running across the crossings whereas I took things a little more gingerly. My first real challenge was the Tarzan rope swing, which in itself was fairly simple, but I really struggled to climb up the cargo net. Turns out you need upper body strength to haul yourself up and I don't appear to have a lot but I got there eventually.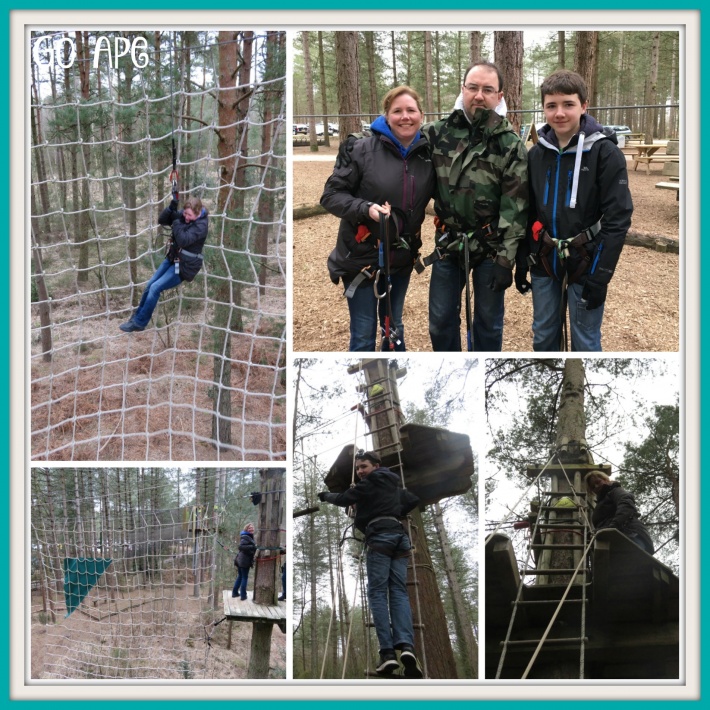 I had thought I would be terrified but you have to concentrate on clipping yourself on and off everything which takes your mind off things and getting across the crossings was challenging but not too difficult. There are more challenging routes which Hubby and Kian took whereas I chose the easier way. The zip wires were great fun but I never once managed to land on my feet, coming to a halt in a not particularly ladylike fashion.
https://www.instagram.com/p/BDJVR1AyGqz/?taken-by=chelseamamma
As I got further around I did get more confident and although I was not running across the crossings like Kian, my speed did pick up. We were very excited to find a new skateboard zipwire on one of the zips but I was dreading the second Tarzan swing and cargo net as it was much larger.
In all honesty I had a wobble on the Tarzan swing. I felt the rope was pulling me off  and froze, clung onto a piece of wood to stop me going. Lots of encouragement from hubby, and a little shove and I was away. It wasn't that bad but again I really struggled to get up the cargo net.
By now the little ones had started their adventure on Go Ape Junior and we were waving to them from up high, much to their delight.
It took us almost two and a half hours to get around the course and I ache in places I had forgotten existed but it was so worth it.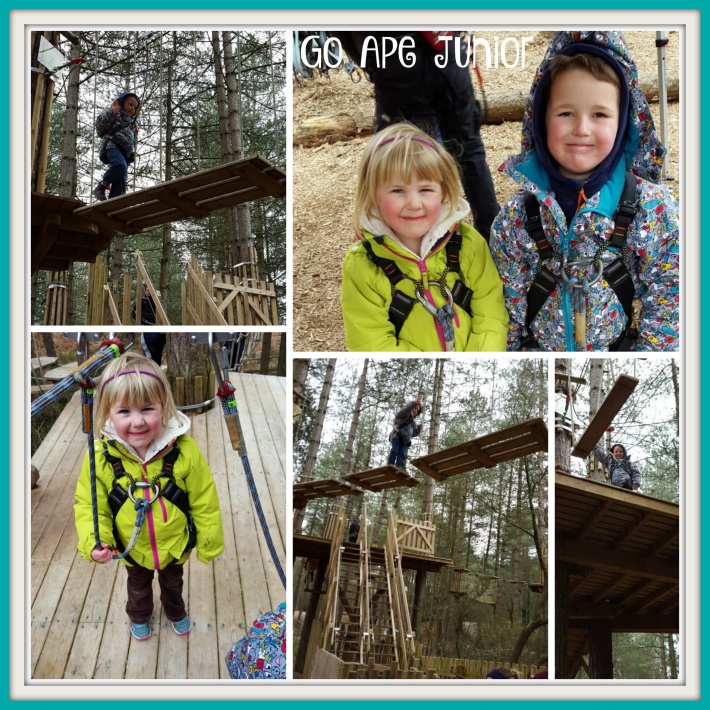 The Go Ape Tree Top Junior course is a lot lower than the main course and accessed via steps rather than a ladder. There is no clipping on and off for the kids, they stay on the same line all around the course, until they get to the zip line at the end where an instructor secures the line for them.
Eliza negotiated the course once but decided not to do the zip line, but our little daredevil did the course and zip line three times!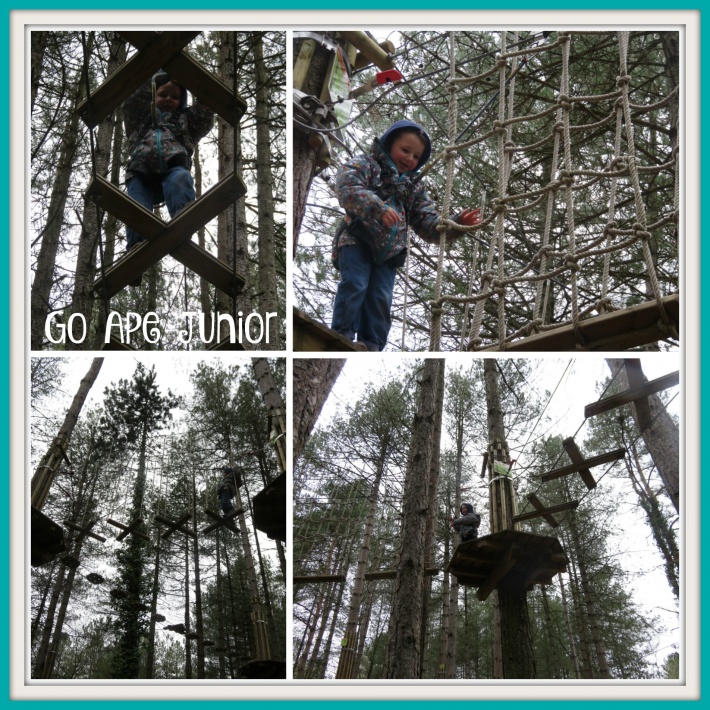 Carnival Vista is in the final stages of preparing for its official launch date of 1st May and I cannot wait to see the pictures of the finished ship in all its glory. Our Go Ape adventure has more than prepared us for the Sky Course which is an awesome ropes course but with the added bonus of a cool sea breeze and a view to match! The course features two levels of challenge, and you can increase or decrease the toughness as you go.
If you are looking to book a cruising holiday then check out Carnival's Spring into Action campaign. If you book in March you can enjoy some great prices as well as up to $100 onboard spending credit. To check out this great deal simply go to Carnival UK for further details.