I pride myself on being organised for day trips and holidays.
Cases packed and loaded into the car – CHECK
Technology charged and ready to keep kids entertained – CHECK
First Aid Kit – CHECK
Emergency Car Kit in-car – CHECK
Water / Tyre / Oil checked – CHECK
Yesterday we were heading to Cornwall for a short break with The Olde House and set off just after lunch in my trusty Citroen C4 Grand Picasso. Living in Dorset I was soon frustrated with the narrow country roads and thought to myself the only thing worse than being stuck behind a caravan is being stuck behind a tractor. We saw lots of both.
Thankfully the deeper you get into Dorset there are some passing places and I noticed my car didn't have quite the oomph it normally has but then we were climbing a steep hill and I had a car full of kids and cases. We got into Devon, passed Exeter and onto the A30, just 45 minutes away from our final destination when things went wrong.
"Oil pressure fault; please stop" *Beep Beep*
I had not seen this warning before so slowed down, planning to stop in the next lay by.
BANG!
My car lost all power and I came to a stop at the side of a busy dual carriageway. Not ideal with three young children in the car. As cars and lorries thundered past the whole car shook so I made the decision to get them out and up high on the bank at the side of the road and phoned my husband as I had no 3G signal and our breakdown service is through our bank account so needed the number.
He text it to me but as soon as I tried to call my phone when to no service. Three scared children and a slightly tearful me later I decided to phone 999 who were super helpful and said they were sending someone out to help me, but where was I? We visit Cornwall a lot but there were no road signs in view, I couldn't see the number on the SOS phone in the lay by opposite and all I could give them was an approximate location based on when we had joined the A30.
I got off the phone to them and the signal re-appeared on my phone so called my bank to get my recovery sorted and was advised they would be about an hour, after they traced my phone. By now the kids were cold so I spotted a break in the traffic to make a grab for their coats. I have an emergency kit in the car but stupidly it is in the rear passenger seat on the drivers side so impossible to get to when on a busy road, so a lesson learned there.
My phone dipped in and our of having signal and not and I missed a call from the police to say they couldn't find me and to call them back. Thankfully by now the AA had told me I was just east of Okehampton and I phoned them back to tell them the AA was on its way and where I was. As I was in a dangerous position they sent someone out anyway who arrived minutes after the recovery vehicle. The priority was to get me to a safe place and I was towed to the next lay by – not a pleasant experience.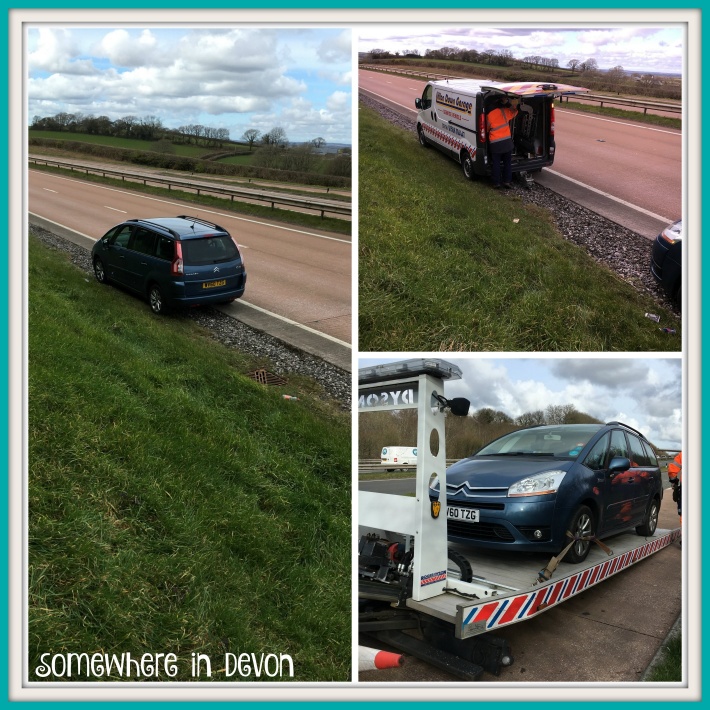 One look at my engine I was advised that they thought the turbo had gone and I needed recovery – this is where it went wrong and I apologise to the lovely recovery drivers for my tears. I have had my bank account for years, always safe in the knowledge that I was covered for a breakdown with them, so never really checked what cover it entitled me to, it turns out not a lot.
Please, if you do one thing today, check your roadside cover if you have it through a bank. Mine was just for home start and roadside assistance, not recovery. I had to upgrade there and then to be moved from the lay by to the local services. More tears, a panicked phone call to Hubby as I didn't have the money to cover it and then more bad news – it only covered me for 50 miles and I had to pay a further £2.50 a mile for the extra mileage to get me home 105 miles away. So £260 just to get me home.
I cannot fault the recovery drivers, I had three in the end – one to tow me off the road, one to take me back to Exeter services and another, Justin, to take me all the way home. Apparently they see this issue on almost a daily basis with people assuming they are covered  – I didn't read the small print, do you?
I managed to squeeze some dinner into the kids at Exeter services where my car was put into "Recovery Corner" as I waited for Justin and the biggest recovery vehicle of the day. The kids were super excited watching my car be loaded on and off and then getting to sit in the cab. I did have a slight car seat problem as Sebby has an isofix seat and neither cab could take it, so he had to sit in Eliza's seat, Eliza in the booster and Isaac without a car seat which wasn't ideal.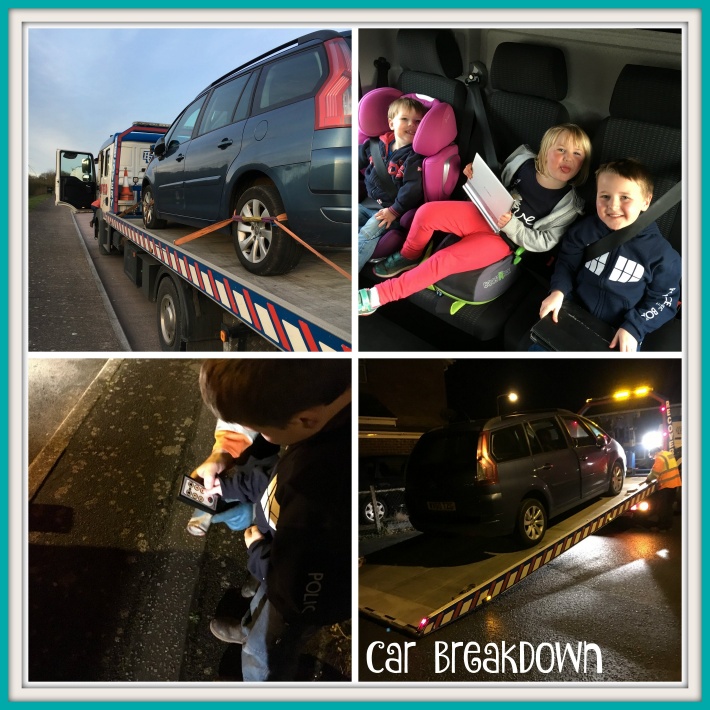 The journey home was quite nice, I got to see Dorset from high up in a cab, bathed in golden sunlight as the sun went down and we spotted deer in fields that we would never has seen from the car. When we got home, Justin let Isaac lower the car down and then left it parked on the side of the road for another recovery truck to pick it up tomorrow to take it to the garage.
Thankfully we took our a 3 year warranty so at least the repair is covered!
Thank you to Lifton Down Garage and Highfield Garage and Recovery for making my holiday nightmare as pain free as possible. The kids are disappointed to be missing a holiday in Cornwall but at least we are all safe and home.