Whether you've just bought a new house or you're sprucing up your old one, making a decision on the colour scheme and design is one of the biggest you'll have to make.
Of course, you can always go back over it if things don't turn out as planned, but no one wants the hassle of having to redecorate all over again.
So here's how to make sure you get it right first time around…
How to get the design right
There is no magic formula when it comes to getting the interior design right as each homeowner has different tastes and different needs, and so choosing a home plan to suit your lifestyle can be a tricky task.
The important thing is that you choose a design and layout that not only meets your individual needs and preferences, but also makes the most of the existing features and landscapes. It's also worth being mindful of whether the design will be attractive to future buyers.
The design can differ depending upon the life stage you are at – if you're considering starting a family you'll need to work out if there is adequate room to expand, if your kids are all grown up and  soon to be flying the nest, consider what you're going to do with all the extra space.
Think about how much time you'll be spending in each room, whether you'll be entertaining or if there are any privacy concerns.
Once you've drawn up your plan, you can then start working on the colour schemes.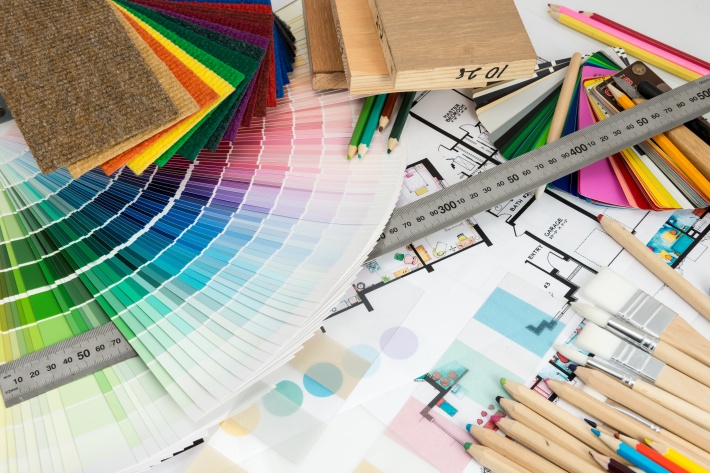 Where to start when picking an interior colour scheme
The choice of colours available is enough to give anyone a headache, so it's helpful to break it all down into components such as walls, furniture, floors and accessories.
Although it can be tempting to go paint shopping first, it makes more sense to start your colour search with things like fabric, furniture, tiles and wallpaper, and then choose your paint colours around those – paint is relatively inexpensive and can be matched to your fixtures and fittings, so start with those first and get the paint to match.
A handy tip: liven up old bits of furniture with colourful throws or loose covers from Plumbs.co.uk. If you've acquired any hand-me-down pieces of furniture, consider reupholstering – it's a quick and easy way to spruce up the home, and saves you forking out for brand-new pieces.
How to get the balance right
When settling upon an interior palette, it's important you don't overdo too much of one colour or throw in too many contrasting colours, which would make for a completely chaotic colour scheme.
So, as a rule of thumb, try to pick one light colour, one dark colour and one bright colour, all of which complement each other, obviously, and then choose one to become the room's dominant colour.
And if you're unsure about what colour to choose, put together a plan of each room and pull together colour swatches and samples to represent the main components of each.
Always plan one room at a time, and once you've got a rough list of hues you like, consider how this room will flow into the next and don't forget to factor in the mood you're trying to create.
Or, to keep things consistent, you could use the same colour in each room but in different proportions, so while it may be an accent colour in one room, it could be a bold wall colour in another.
Have you got any interior design tips? Let me know…
Image Credit: Shutterstock.com