There are three things that Isaac adores at the moment – WWE, Doctor Who and Ghostbusters.
Sadly Dr Who is off our screens at the moment and we have to wait until July for the new Ghostbusters so there was only thing left for a pre-birthday treat, a trip to see WWE Live when it arrived in Birmingham last weekend.
The WrestleMania Revenge Tour is currently on tour of the UK and includes episodes of both Raw and SmackDown, much to the Hubby and the boys delight.
We arrived in Birmingham in good time so decided to have a bite to eat in Gourmet Burger Kitchen which was pricey but delicious. We were convinced we were sat next to a star of WWE but sadly have no idea who it was apart from the fact he was huge and had a very expensive looking watch!
We have been to WWE before but there has never been anything to do other than eat or shop. This time Isaac got to pose with a WWE Championship Belt and see his photo up on the WWE Kids facebook page and check his height against some cardboard cut outs of his favourite stars.
The venue was packed and the atmosphere can only be described as lively with adults and children all eager for the action to begin. The first match was between the wrestler we all love to hate Stardust against the king of the spins Cesaro. During the match there were some funny moments with stardust and Cesaro won after the Cesaro Swing!
Next up was one of Isaac's favourites – Sin Cara from the Lucha Dragons who was to fight Tyler Breeze. Sin Cara won with a Swanton but Breeze got on the mic saying he wouldn't leave until he got a victory selfie. It went all dark and then out came Jack Swagger who beat Breeze really quickly with an ankle lock.
The next match was Kane vs Rusev. I have to admit that this was a match that went on a little too long for our liking with Kane finally winning with a chokeslam.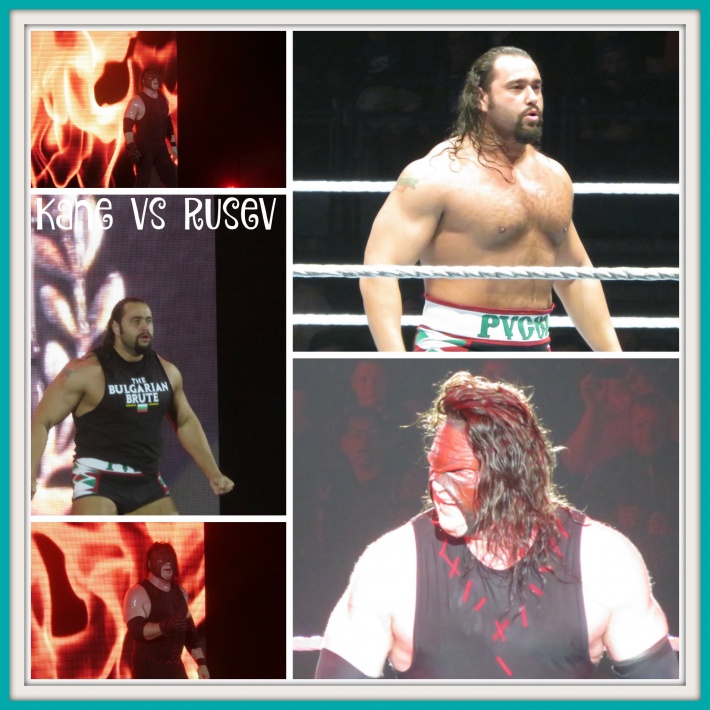 Thankfully the next match was much more fun with the WWE Tag Team Championship featuring the brilliant New Day, who made the best entrance of the night complete with a trombone and swagger, versus Braun Strowman and Erick Rowan of the Wyatt's. Their entrance was just as good as the lights went out before the they came in and the whole arena lit up with everyone lifting their phone on high – it was a real spectacle to behold. Of course is was the New Day who won with their double finish!
A break followed with the chance to stretch the legs and a comfort stop before the second half of the evening commenced with Hubby and the teen's favourites – the Diva's. Charlotte who came out with Ric Flair, beat Sasha Banks and Becky Lynch to retain the WWE Women's Title.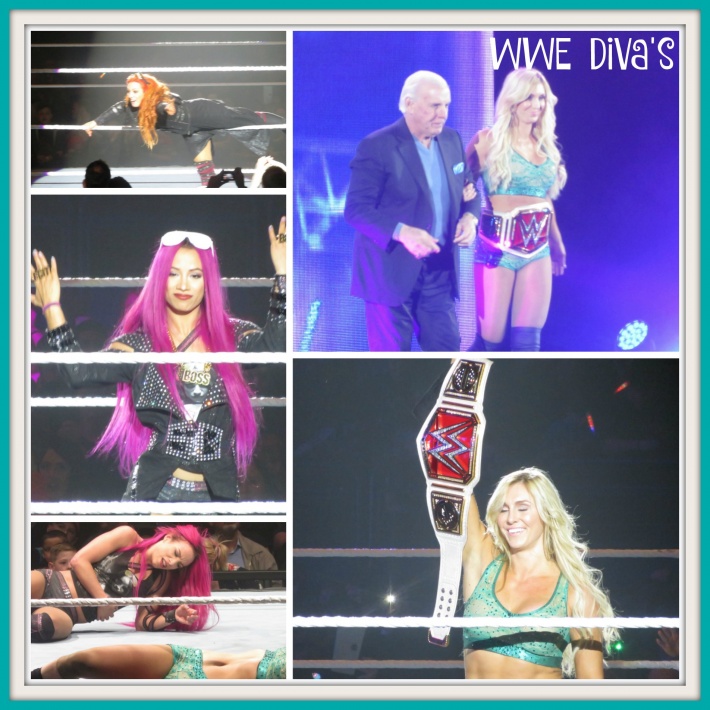 The first time we saw WWE Live, Kian really enjoyed the USO Twins and much to his delight they were back tonight versus the Dudley Boys.  The Dudley's teased by offering tables but sadly they never appeared, despite the crowd shouting "We want Tables" and the Uso's won after double super kick.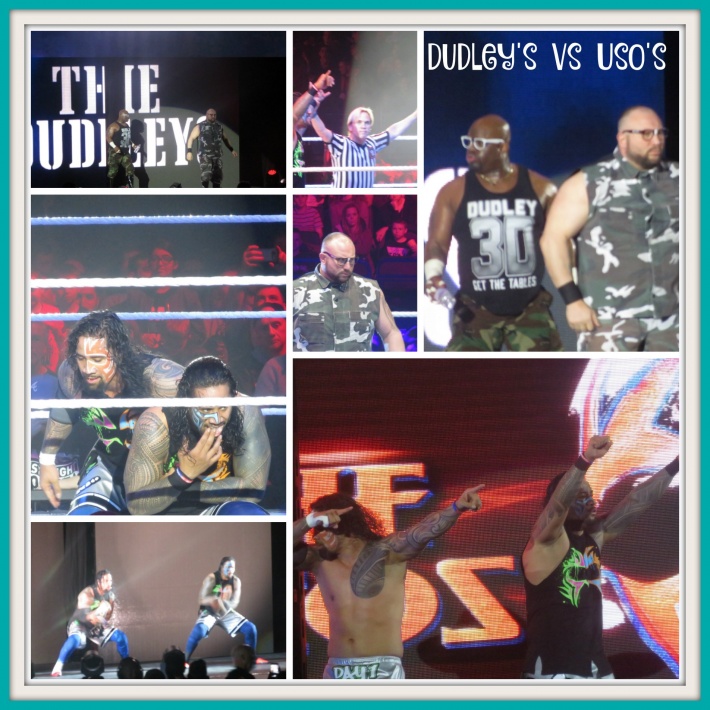 The final match of the night belonged to the WWE World Heavyweight Championship between Seamus and Roman Reigns. I was really surprised when both men were booed, although Seamus fully deserved it for winding up the Birmingham audience with jibes about being no longer in the Premier League. I have to admit that I like Roman Reigns so was really pleased when he won and I have nothing but admiration for him as instead of heading out of the ring and straight back to his dressing room after his victory, he stopped and signed autographs and posed for selfies with his fans for a really long time. I am just disappointed that we couldn't get close ourselves.
All in all it was a brilliant night out and we are hoping to get to NXT in June at Bournemouth International Centre.
Disclaimer: We were guests of WWE and received a family ticket for the purpose of a review, all thoughts are our own.