On Sunday I went to my first Blog On Conference in Manchester and a week before I was approached to review an outfit for clothing brand Celuu.
I had not heard of Celuu before, although I have since found out they can be found in John Lewis, but they have just launched a new website and their clothing can now be bought online.
I have to admit that I dislike clothes shopping as I really struggle to find clothes that fit my shape. I am a size 12 around my bust and hips, but when you measure my waist I jump to an 18 as I carry my weight around my middle. I was assured that Celuu is for women who appreciate beautifully designed, easy-to-wear pieces that are cut to fit and flatter.
Born from 50 years' experience of British design, Celuu is a womenswear brand with a fresh approach to style. Their philosophy is simple – to design elegant and contemporary pieces that fit consistently, and equally well, from sizes 12-22.
They take inspiration from trends, translating them into relaxed shapes that are comfortable to wear and luxurious to the touch and each garment is thoughtfully curated from the initial design to the very last stitch.
I chose the Kiera Chiffon Trim top and teamed it up with the Emily Slim-Fit Pull On Cotton Trousers. Firstly, it was packaged beautifully, arriving in a box and all wrapped in tissue paper. Secondly, the items were gorgeous, well made and fit perfectly. The trousers had a little give in the waist which mean't that I had no issues with them being too tight across my stomach. I teamed these with some Angel shoes and my Yale Bag from Hotter Shoes.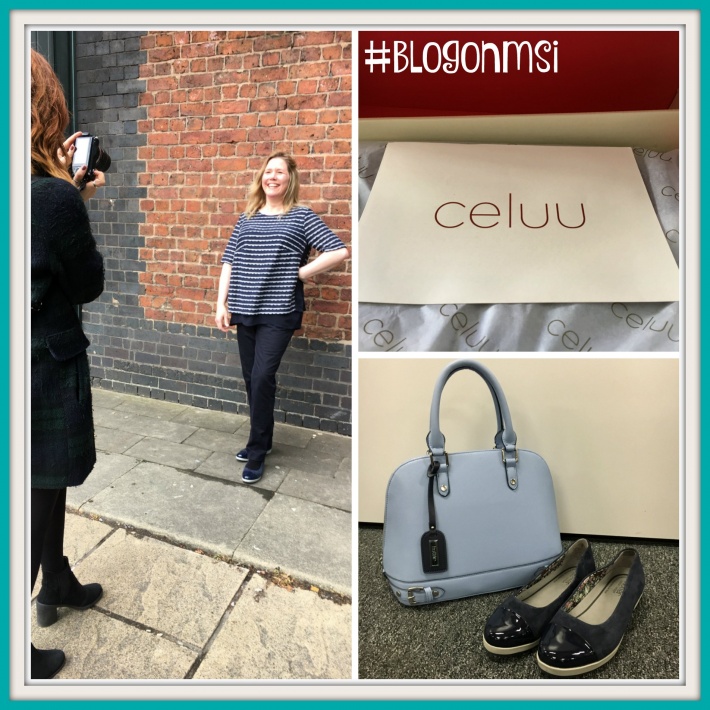 I started the day at Blog On with a mini photo shoot with five other ladies chosen to wear clothing from Celuu. We all agreed that the clothes were stylish and comfortable and had lots of fun modelling our looks.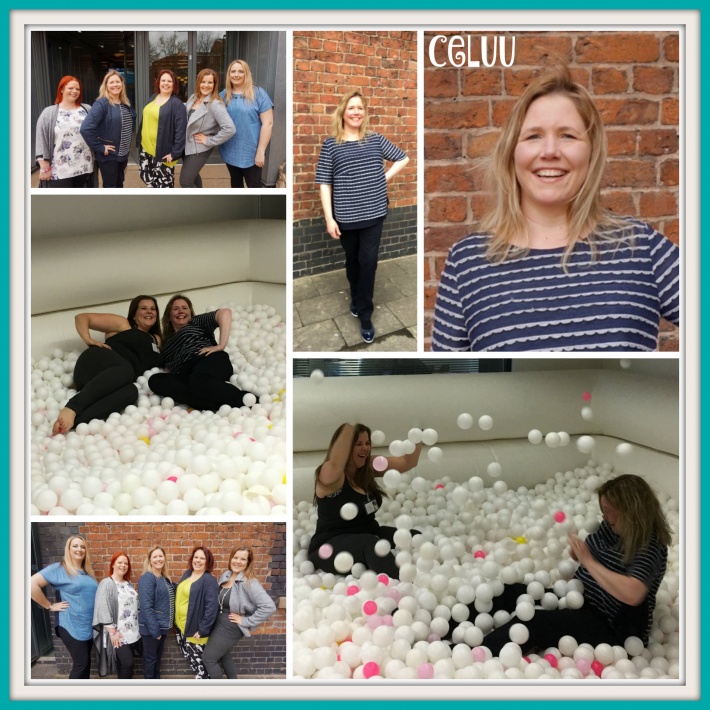 Nadine aka JuggleMum really put our outfits to the test with a ball fight in the huge Swizzels ball pool, which was so much fun and showed just how practical the clothes are too. I may have tried to steal her Ruby Boucle Biker Jacket, but she wasn't letting it go that easily!
Check out what Emmy's Mummy, Lucy Loves and Zena's Suitcase thought of their outfits by clicking on their links and do head over to Celuu and take full advantage of their mid-season sale!