Barbecues denote summer and there's nothing that'll make your bangers go off with a bang than a fantastic choice of complementary side dishes. None of these will take much time to prepare and when you're accepting praises from your friends at the end of the occasion, you'll be glad you made the effort.
The essentials
Burgers and chips are unquestionably made for each other. Of course you'll liven up the dish with a choice of salads and other delights, but for a summer filled spirit of adventure then McCain garlic wedges are the answer over plain old fries any day. And they're so easy to prepare – simply whack them in the oven as you're cooking your burgers.
Corn on the cob with a twist
Corn on the cob makes an appearance at most BBQs but if you add some lime and chillies to this safe standard then you'll have created a dish with a difference. Before the barbecue is even lit, heat up some chillies, garlic and lime zest in a pan, boil your corn on the cob until soft and then remove from the heat and chop into chunks. Add the chilli mix and hey presto – you'll have a side dish with a difference. This will also give you another excuse to enjoy a refreshing cocktail to wash down your spicy food.
Salad nicoise
There are many variations to this French essential. Hard-boiled eggs, green beans, anchovies, olives, tuna and tomatoes form the basis of this awesome treat. If you're entertaining vegetarians omit the fishy ingredients. And this salad goes so well with the wedges – after all, it's almost impossible to source a French meal without garlic so you may as well stick with tradition.
, Side
Fruit and nuts
Salads never have to be boring. Veer away from the more traditional tomato and lettuce combo and look to the east for inspiration. Grated cabbage with cashew nuts and apricots with a lime, lemongrass and soy sauce dressing is refreshing and will have your guests in awe your culinary skills.
You don't have to tell them that this dish is really easy to prepare. For the cabbage use the light coloured grated leaves of a hispi cabbage with apricots and, mint and coriander and chillies added. Roast the cashew nuts in the oven and then mix the dressing and other ingredients together. Be brave and add your own variations to this refreshing dish.
Everyone loves Mojitos
This recipe should be called a 'virgin mojito' as there isn't a trace of alcohol in the ingredients but it does contain lime, olive oil, mint and sugar. If everyone's getting a bit hot and bothered at your barbecue then bring on some watermelon Mojito wedges and everything will cool down. Barbecues are supposed to be chilled out affairs – and you'd be amazed how the addition of a refreshing dressing adds flavour and more to the humble watermelon.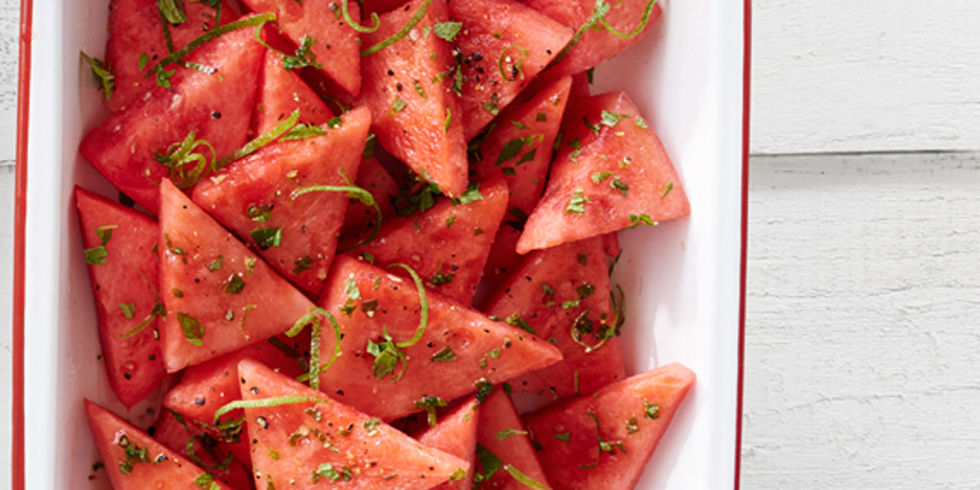 Optional extras
Side dishes at a barbecue enliven the grilled food and add taste and flavour to the whole occasion. Whip up some pesto – or cheat and buy a jar of the stuff to smear over steaks or add to salads. The key is always to keep everything simple. Unless you really are a Michelin star chef, elaborate recipes are time consuming and won't always be appreciated.
Keep it light, tasty and fun and you won't go far wrong. Salads are invention exercises, so experiment with dressings and ingredients – and most importantly – enjoy your barbecue.