It has been exactly one year since we were chosen as Carnival Cruise Lines Thrillseeking Family, but what exactly is there to do aboard the Carnival Vista for thrill seekers like us?
It turns out quite a bit!
The first time we saw the ship from the air, it was instantly recognisable not only by the distinctive funnel, but the huge waterslides that were sat on the top deck of the Carnival Vista.
WaterWorks, Carnival Vista's onboard water park, has two slides, the Twister which is hundreds of feet of spiraling awesomeness that starts you off high in the air with great views over the ship and gets you down low with one of the fastest, wettest rides you'll find anywhere.
My favourite slide though had to be the all-new Kaleid-O-Slide. This raft slide takes speedy-good times to the next level with lights, colours and all-around fun as you whizz down the slide.
It is not just the waterslides on offer as there is a good size splashzone and a more gentle waterslide for younger thrillseekers, a giant bucket, water toys, water jets and water pistols to squirt your friends and family.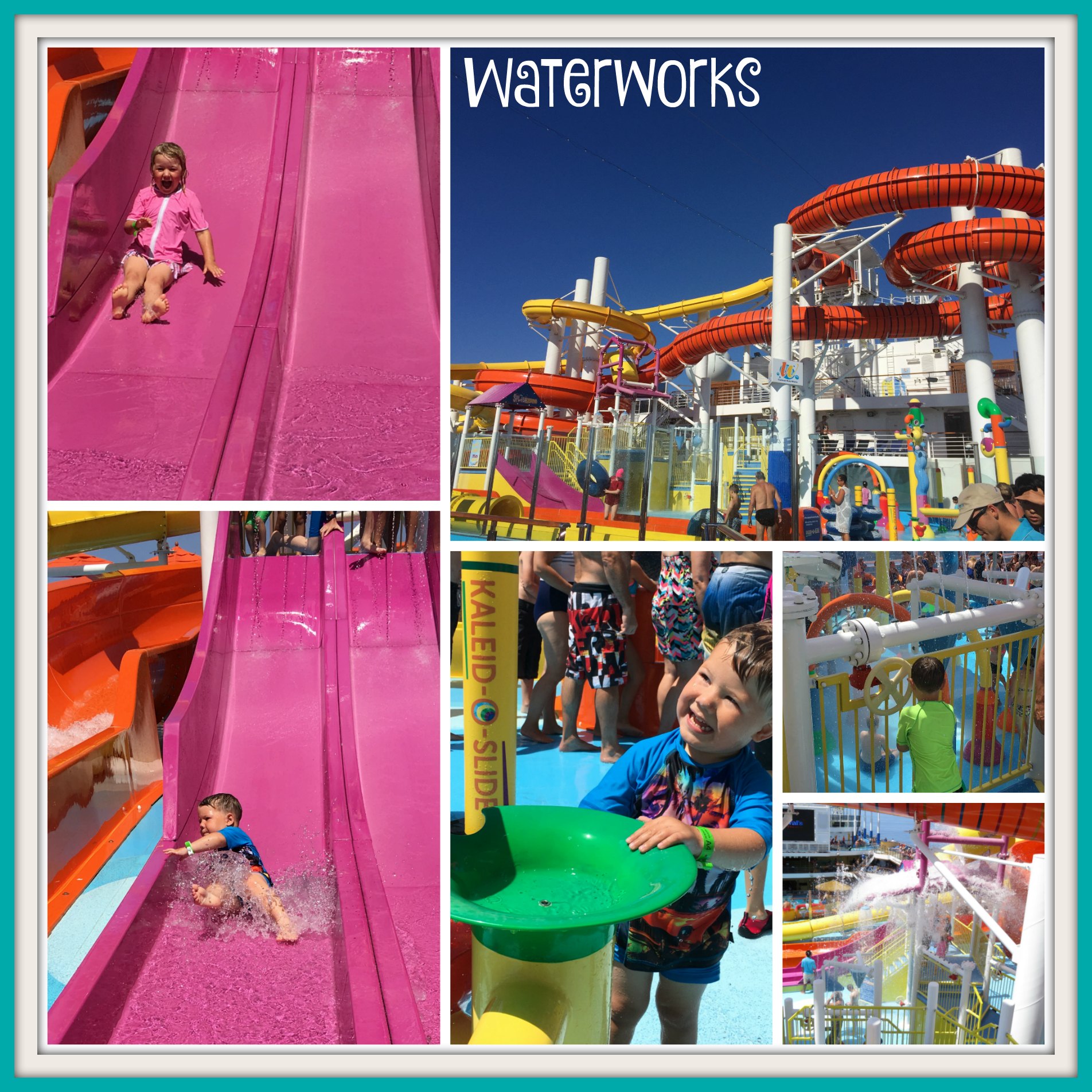 For those feeling a little more energetic, then a visit to SportSquare on Carnival Vista is lots of fun, in particular the all-new SkyRide which sees you strap in and zip around a bike course high above the deck.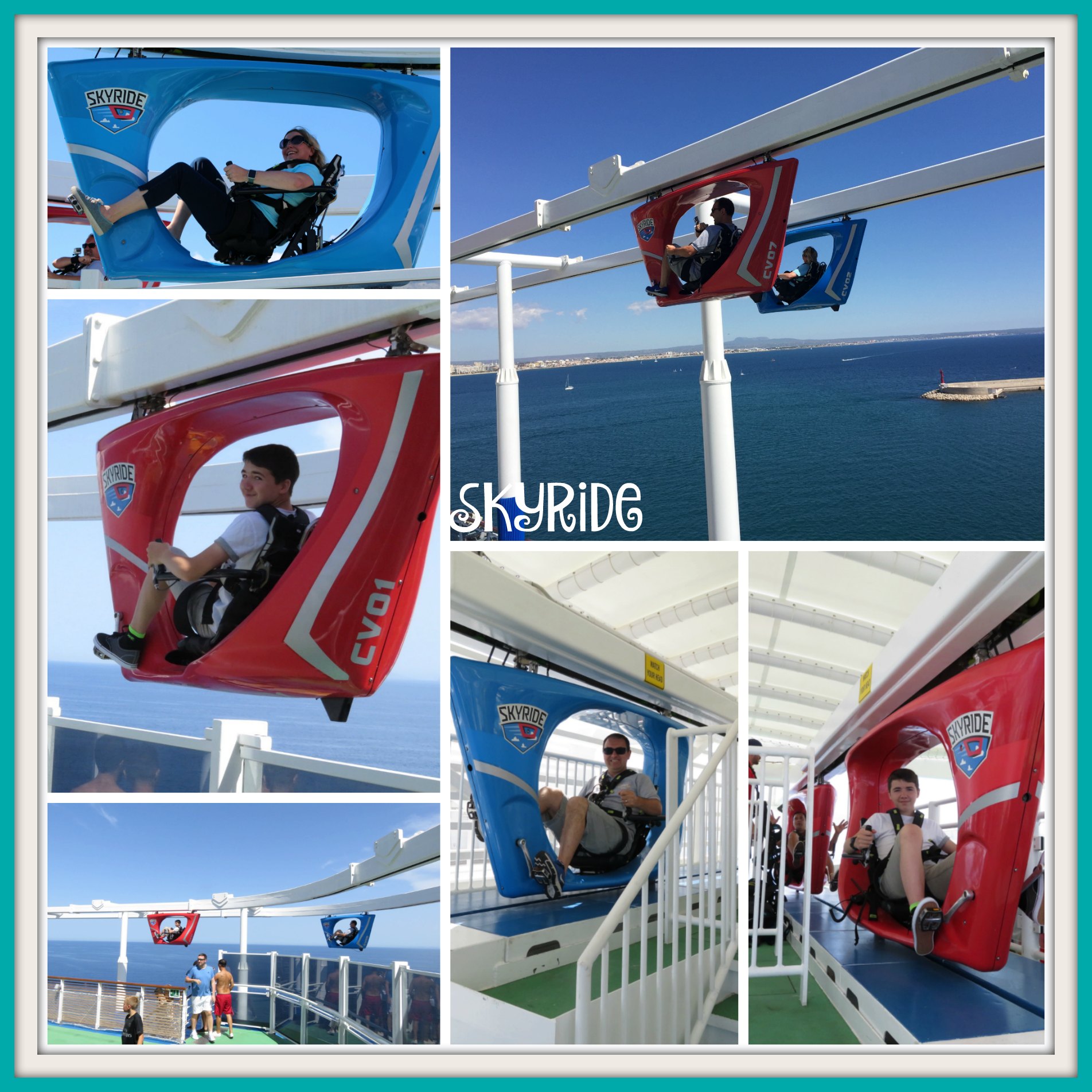 I have to admit I was a little nervous on my first lap, however, it was worth climbing aboard hanging recumbent-like bikes and cycling your way around the 800 foot suspended track for the panoramic views 150 feet above the sea. By my second turn I was racing hubby and managed to reach a top speed of 20mph!
If you think that looked thrilling enough, there is still more with SkyCourse, the first-of-its-kind ropes course with magnificent views of the sea nearly 150 feet below.
Thrill-seekers strap into a safety harness and choose from a beginner or intermediate course, traversing across rope bridges, swinging steps and beams suspended above the top deck. Isaac went ahead of me and zoomed around the beginner course without a care in the world. I on the other hand had a bit of a wobble as the first time I attempted it we were out at sea and the wind was quite strong and pushing me off the narrow beam, especially where I was exposed to the elements just past the funnel, however, I made it round eventually.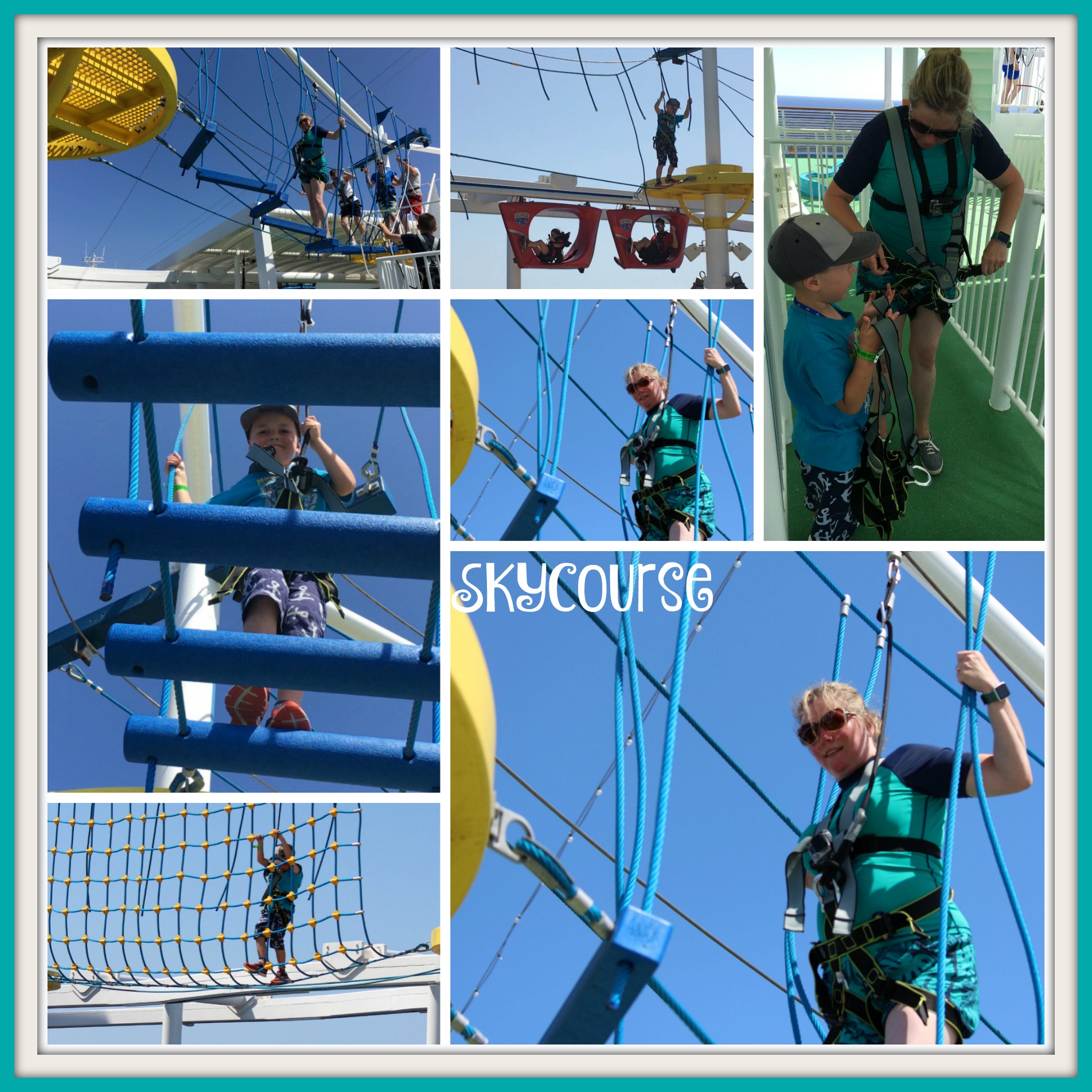 Hubby and Kian however, zoomed around the intermediate course without any problem at all. In fact we joked that Kian did it with his hand still in his pocket!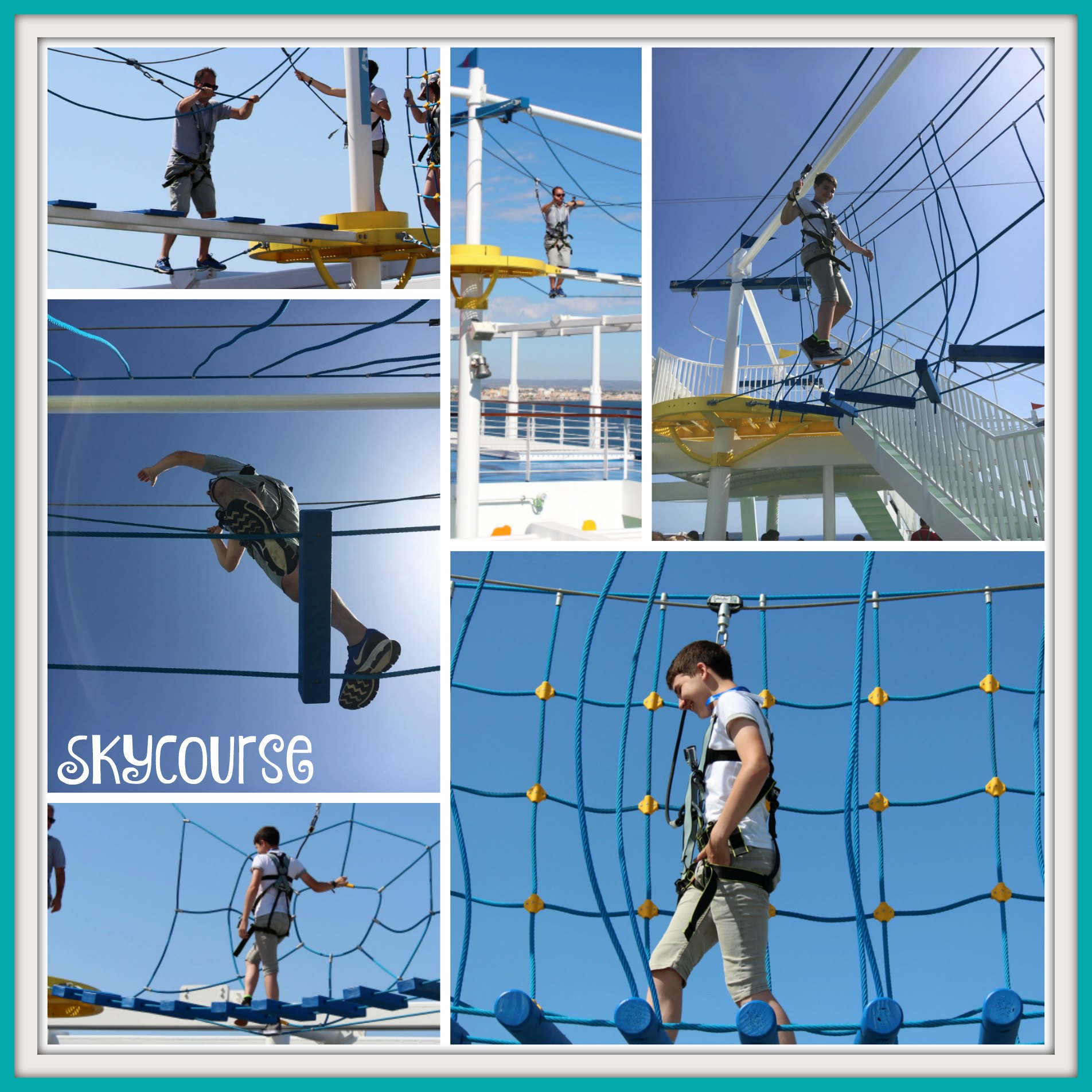 Approximately 20 people at a time can zig and zag along the two 230-foot courses, while friends and family can join in the fun by cheering participants on from below. Isaac was keen to try the intermediate course next and again sailed around, whereas I tackled the beginner one again whilst we were in port and it was less windy – much easier this time.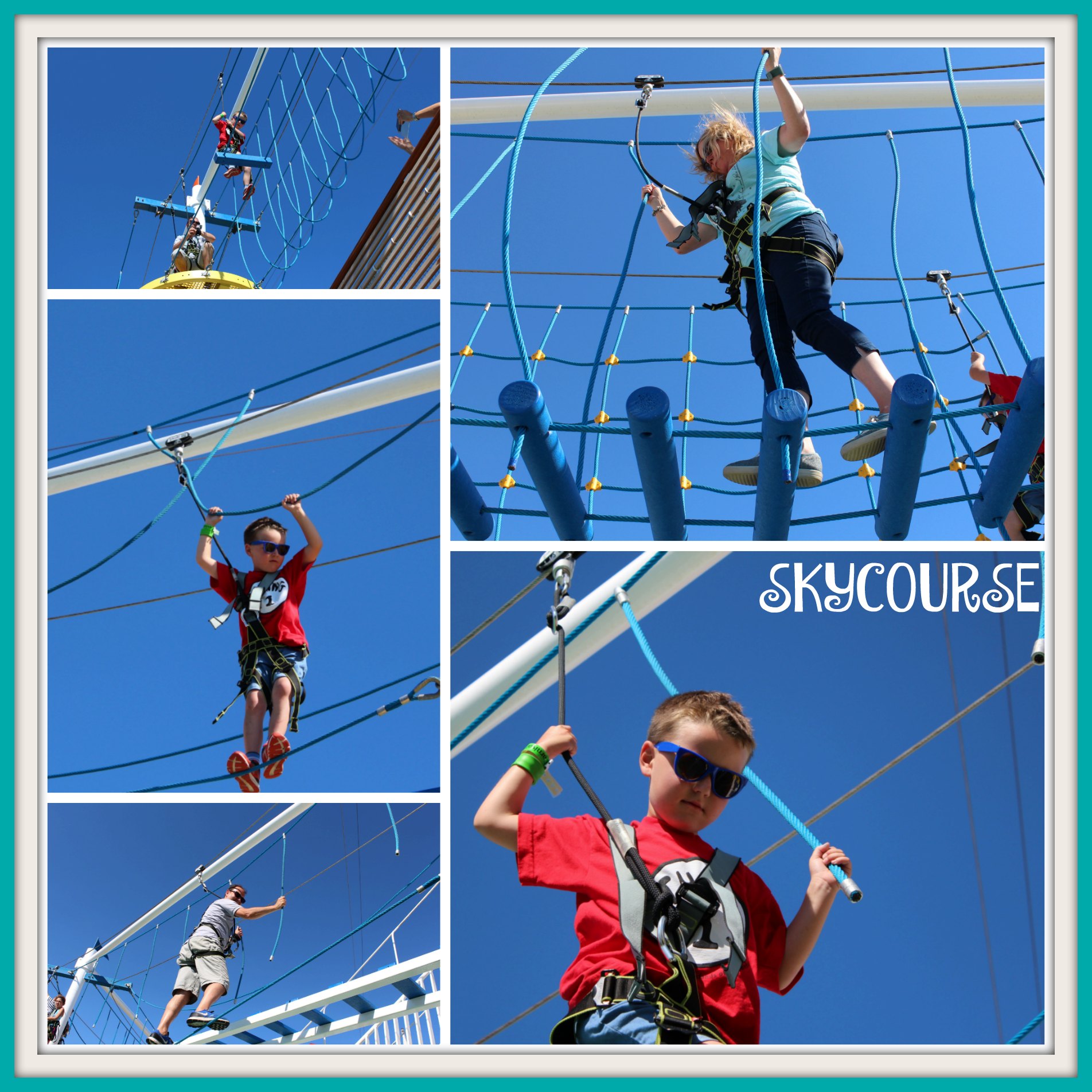 Also on the upper deck you can find the Clubhouse which features indoor activities like mini-bowling and arcade-style basketball and soccer billiards. Outside on deck are ping-pong tables, table football, shuffleboard, a 9-hole crazy golf course and even twister.
There is also a basketball / five-a-side court, outdoor gym equipment and a running track where seven laps of the ship equates to a mile.
For the final entry to my thrill seeking activities it has to be Carnival Vista's two theaters.  There is an actual IMAX Theatre in all its big-screen, big-fun glory, the first of its kind you'll find anywhere at sea, or if that is not thrilling enough for you then check out the Thrill Theater for a 4D experience where jump-off-the-screen visuals are only the beginning of a truly moving experience.
There are child friendly Thrill Theatre Shows with cartoons, or for aged 17+, you can get a real horror experience!
To see some of the activities in action check out my video below.
Disclaimer: We were guests of Carnival Cruise Lines as their Thrillseeking Family, all thought and opinions are our own.