Isaac loves to build, with LEGO being one of his favourite toys so we thought we would move him to the next stage and introduce him to Meccano.
We were sent the Meccano Micronoid Socket to review which is aimed at age 8+.
The premise is simple, you bring your robot to life by building a body to help him get around. Once complete you then program how he moves, with push button programming he can walk, turn, and smash through obstacles.
Building the MicroNoid is not as easy at it looks. Firstly, it comes with 123 pieces, 1 motorized micro module, 2 hand tools and instructions.  Isaac lost his patience within about 15 minutes with it as many of the parts are very small and fiddly.
I packed it away with the intention of getting it back out when he was more willing to give it another go but he had lost heart so I roped Kian in to help him build it.
At 16, Kian faired much better with the fiddly pieces but even he found it frustrating and time-consuming to build. It requires a lot of patience and focus and I although it is aimed at age 8 and over, I would certainly not recommend until they are at least 10 and it will require adult assistance.
That said, it is an amazing project for any technically minded, robot loving young person and the frustrations when building it melt away when you put in the 4 x AAA batteries and see it in action.
On the top of the motorised micro module you will find a sliding switch which allows you to select different modes:
8-Ball
Dance
Autonomous
Off
The 8-ball mode allows you to ask your MicroNoid yes or no questions and he will give you his honest answer.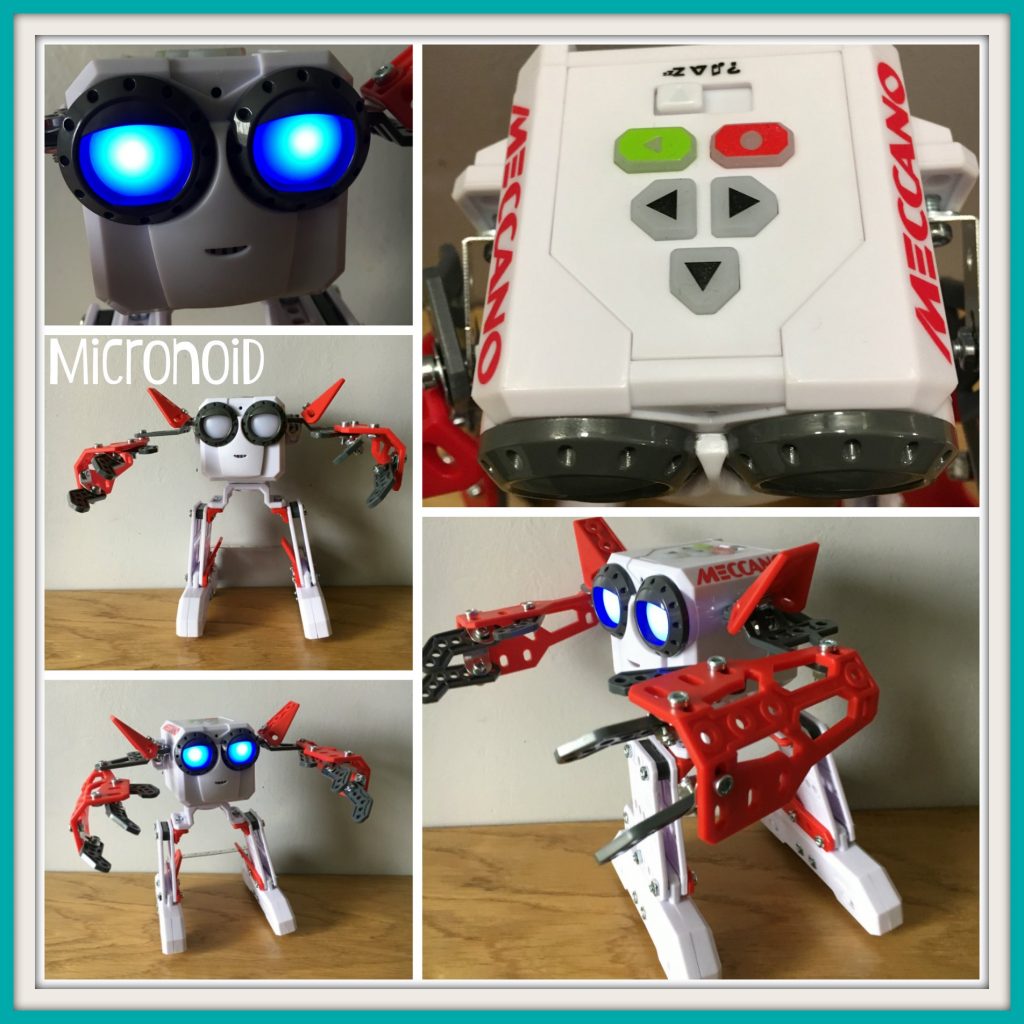 For the dance mode, play your favourite music to make him dance and in autonomous mode, your MicroNoid will do things on his own like giggle, fart, dance, sing etc and if there is another MicroNoid nearby, they may start interacting with each other or dance to a synchronized routine.
You can also program him by using the buttons. Use the arrow buttons to build you own custom walking and turning sequence and press the red button to record your voice and the robot will repeat what you say in his voice.
The Meccano MicroNoid Socket has a retail price of £39.99 but if you are quick, Jon Lewis have 20% off their Meccano range at the moment.