I don't know about you but I love receiving things through the post.
Not bills, obviously, but it is always a little bit excited getting a package addressed to me from the postman.
Now imagine you have just left home and are away from family and friends at university, college or even a new job.
Introducing The Unibox – a subscription care package box for university students or just students away from home.
The idea came from founder Daphnee, as her and her siblings, who were all studying away from home, often received a little surprise from their mother wanting to let them know she was there for them and remind us to take care of ourselves.
Their mum didn't know what to send, what we might like or need and neither did she have much money or time to spare, but they all loved the idea of receiving a regular parcel full of little surprises.
With The Unibox parents and loved ones subscribe and they send a monthly parcel with wholesome treats, useful and fun items, helpful/motivational content which helps promote a wholesome lifestyle and wellbeing, topped off with a handwritten message.
What is even better is that they still have January boxes available and everyone can get one for free until they run out, so order yours today by subscribing here.
Like any parent whose children have flown the nest, I do worry about whether they are eating properly, looking after themselves and generally coping with "adulting" so I was excited to get a box for Callan, who has recently moved home and is fending for himself.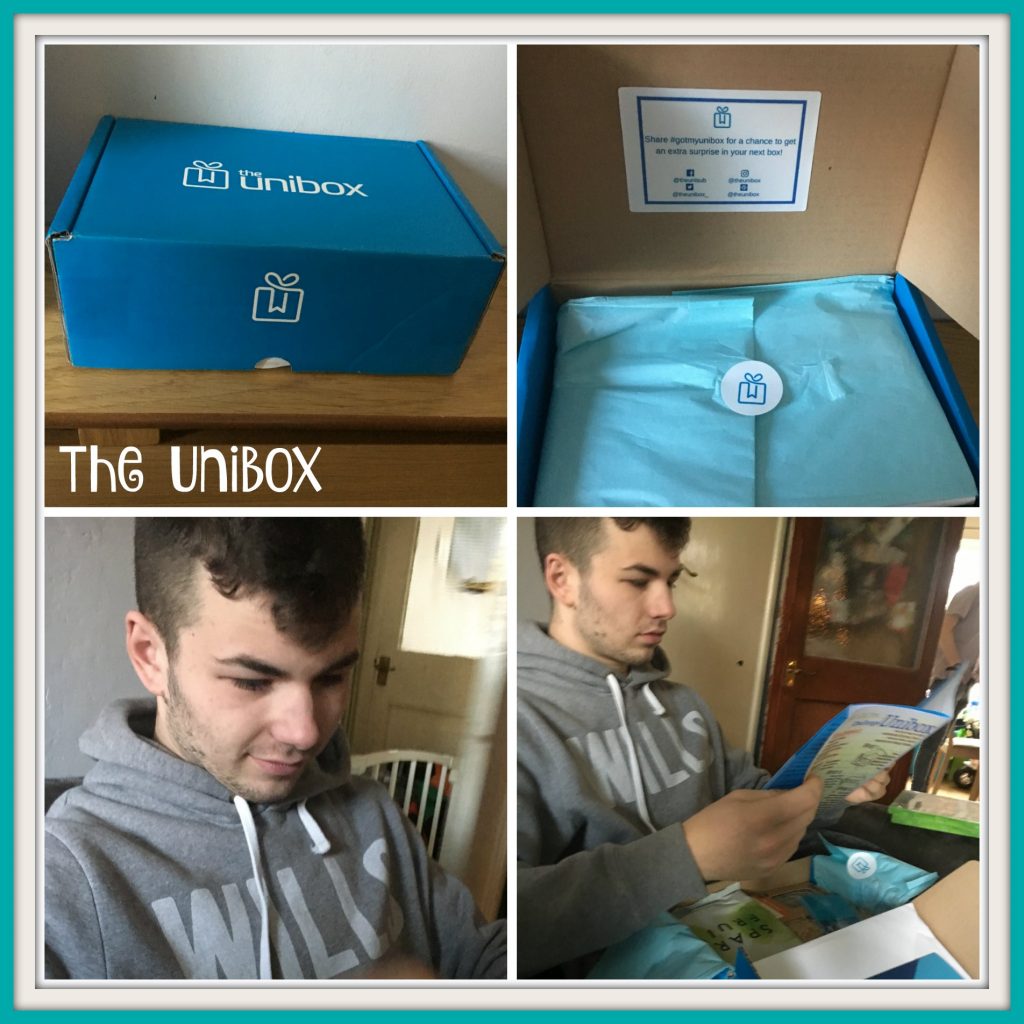 Each box is priced at £24.99, however if your order your subscription in advance you do get a small discount. January's box retail value was over £45 and contained:
NomNom Chocolate – Callan was most excited about this one
Purition 100 % Natural Protein Shake
Spare Fruit 100% fruit crisps
TeaPigs spiced tea
Full size tube of Voost Vitamins
Bubble Off room spray to help their rooms stay fresh
Unibox Student Card Holder
£20 voucher to try the new Teech app
Unibox magazine
Personalised handwritten note
Callan was pleased with all the contents and I know it is all stuff that he will use, even though he won't buy it for himself.
It's first come first served until the 15th of Jan or when we sell out to get your free Unibox, so order yours today!!