A couple of weeks ago we were invited to do a London Duck Tour which is a 75 minute tour of London onboard an amphibious vehicle.
London is a good couple of hours away for us so I was keen to make the most of our day out and one place we have been keen to visit is Ripley's Believe It or Not! which is based in Piccadilly Circus.
A visit to Ripley's allows you to follow in the footsteps of intrepid adventurer Robert Ripley and explore five oddity-packed floors crammed with countless curiosities, unusual historical artefacts, amazing art, and experiences inspired by his world famous collection.
Even the entrance is impressive with a chance to pose with a mini covered in crystals, a huge ape, Optimus Prime and a scary looking dragon whilst you are queuing for your tickets.
To start you head up to the top of the building and then work your away around and down the exhibitions.
Upon the doors opening we were greeted by a knitted ferrari, the candy machine from Chitty Chitty Bang Bang, a huge rocking chair and a large, scary animatronic T-Rex.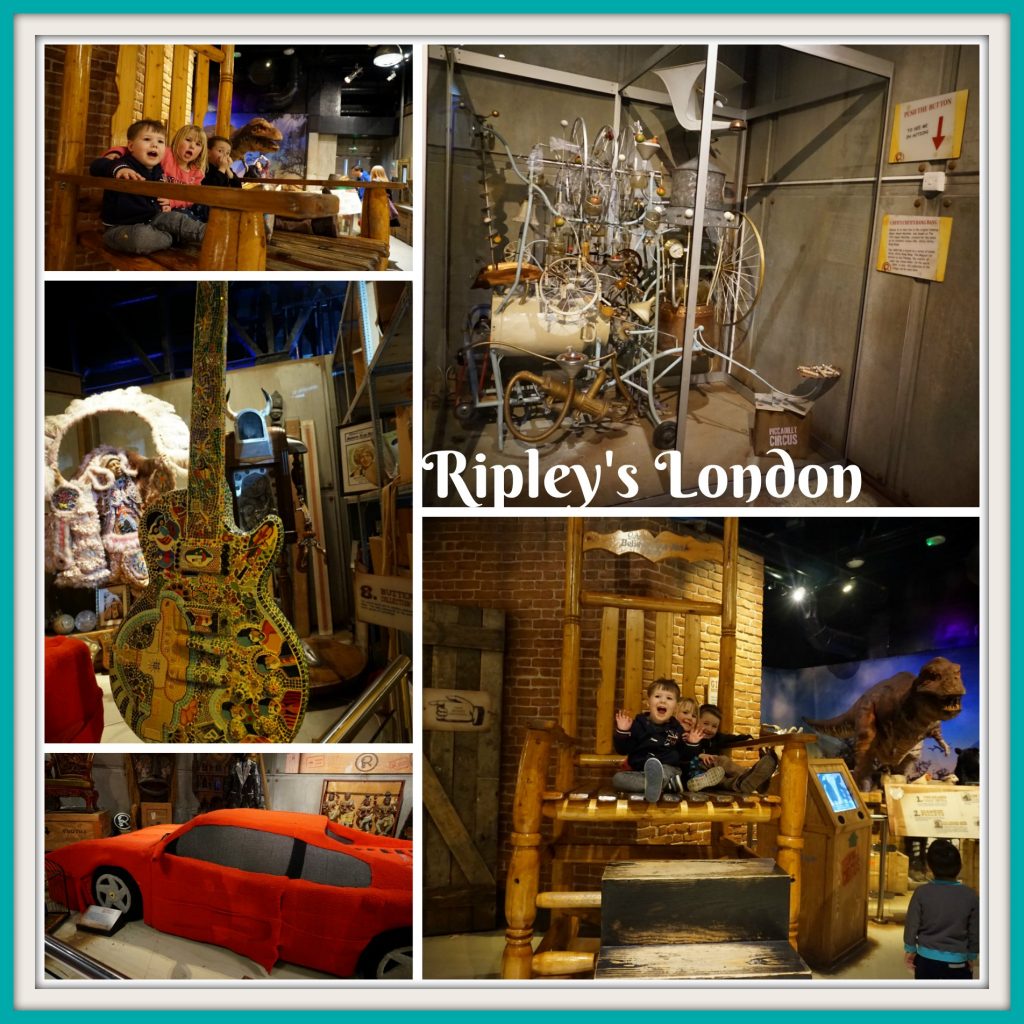 The exhibition then leads on to the Gallery of the Greats where there is a collection of amazing art made of unusual materials ranging from Michelle Obama made from soda caps and Michael Jackson made of sweets, there was even wedding cake gifts on display from the royal weddings of the Queen and Prince Philip, Charles and Diana and most recently William and Katherine.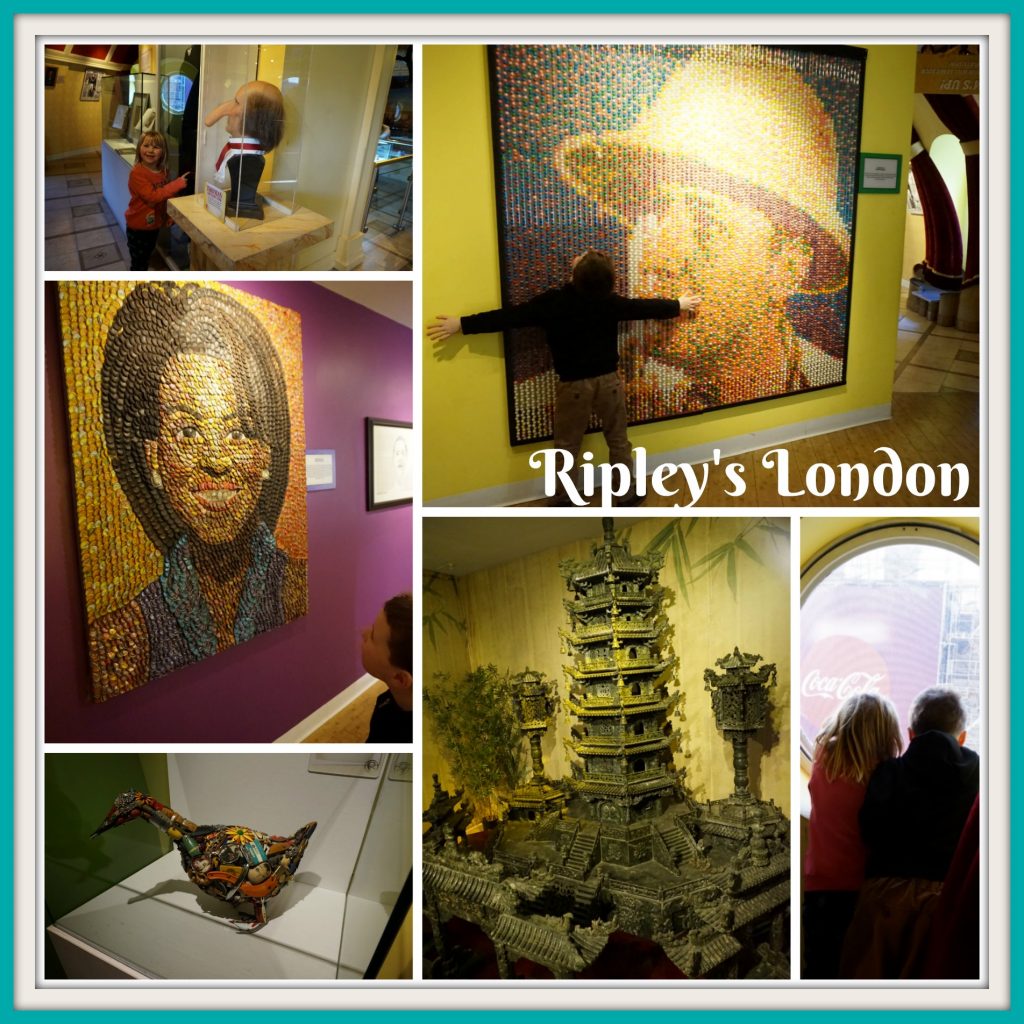 Throughout the year Ripley's run a variety of exhibitions and during our visit we got to see Peculiar Happenings at Ripley's London, an exclusively presented collection of genuine items created for Tim Burton's genius adaptation of Ransom Riggs' worldwide best-selling novel Miss Peregrine's Home for Peculiar Children.
We got to see outfits worn by the stars, including a dress for Eva Green, who played Miss Peregrine as well the peculiarly incredible Perpetual Calendar, Miss Peregrine's Birdcage, Enoch's Heart in a Jar and Barron's snack of choice…. eyeballs!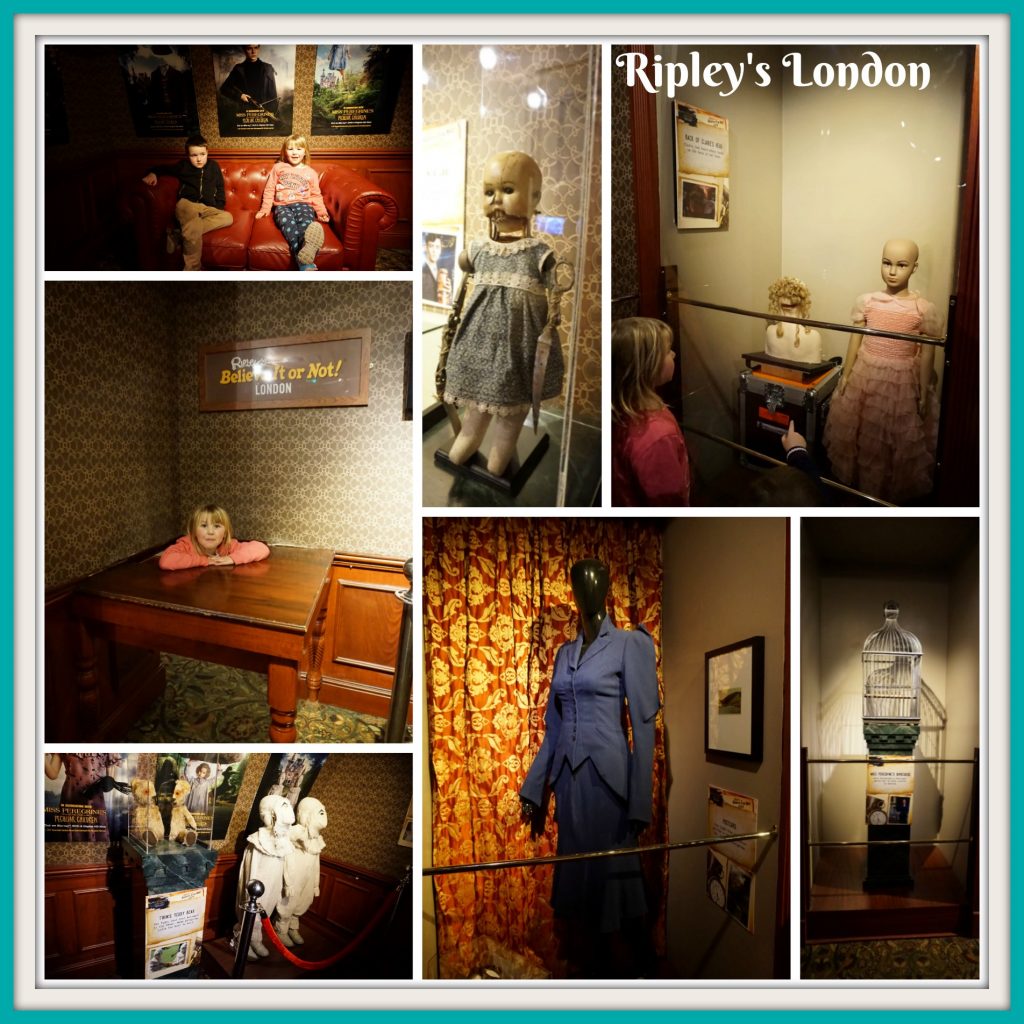 Everything in the building was fascinating and Isaac and Eliza especially loved to explore and find out more about what was on display which included a torture chamber (you can skip this if you prefer), curious cultures where we got to see real shrunken heads from the Amazon and the most remarkable people. We even got to see "that" dress which sparked an internet debate over the colour.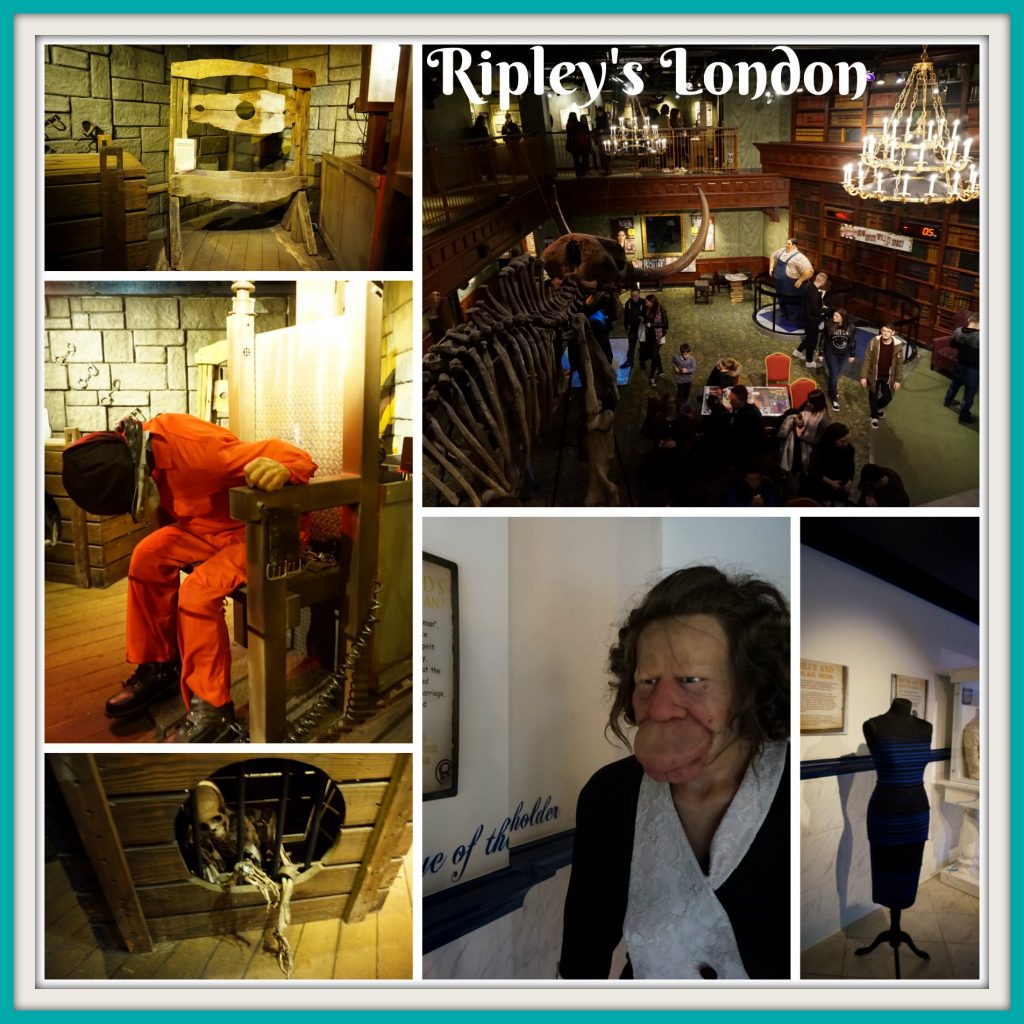 One of the most fascinating parts of Ripley's were the micro sculptures that are so small that they fit in the eye of a needle or on the head of a pin. To see these creations, you have to look through a microscope that can zoom in at least 400 times, but there were also activities for the kids to try which included seeing how steady their hands were, measuring their heart rate and seeing if they could thread a needle.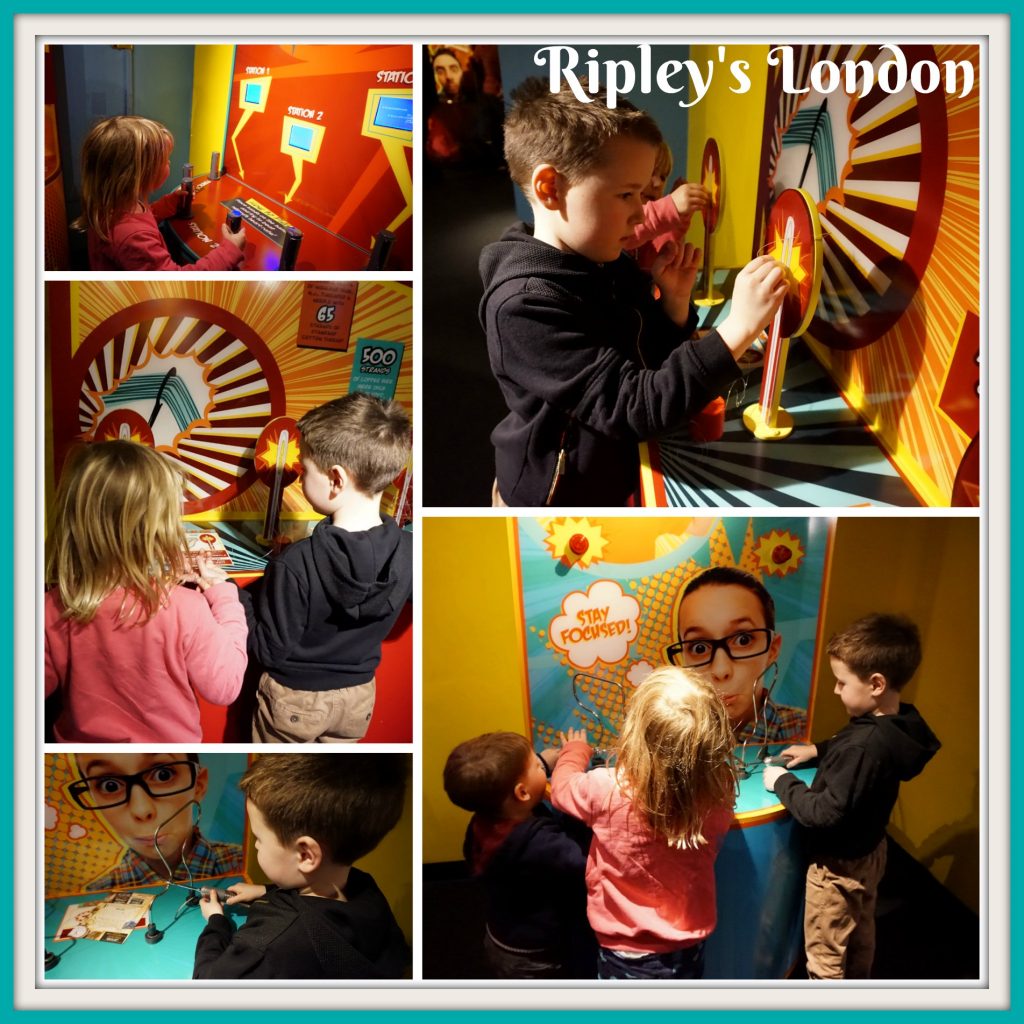 One of Robert Ripley's most famous friends was a gentleman called Robert Wadlow who grew to 8ft 11inches making him the tallest man who ever lived! He looked huge set against my three tiddlers.
No visit to Ripley's would be without attempting the mirror maze, which is much harder than it looks.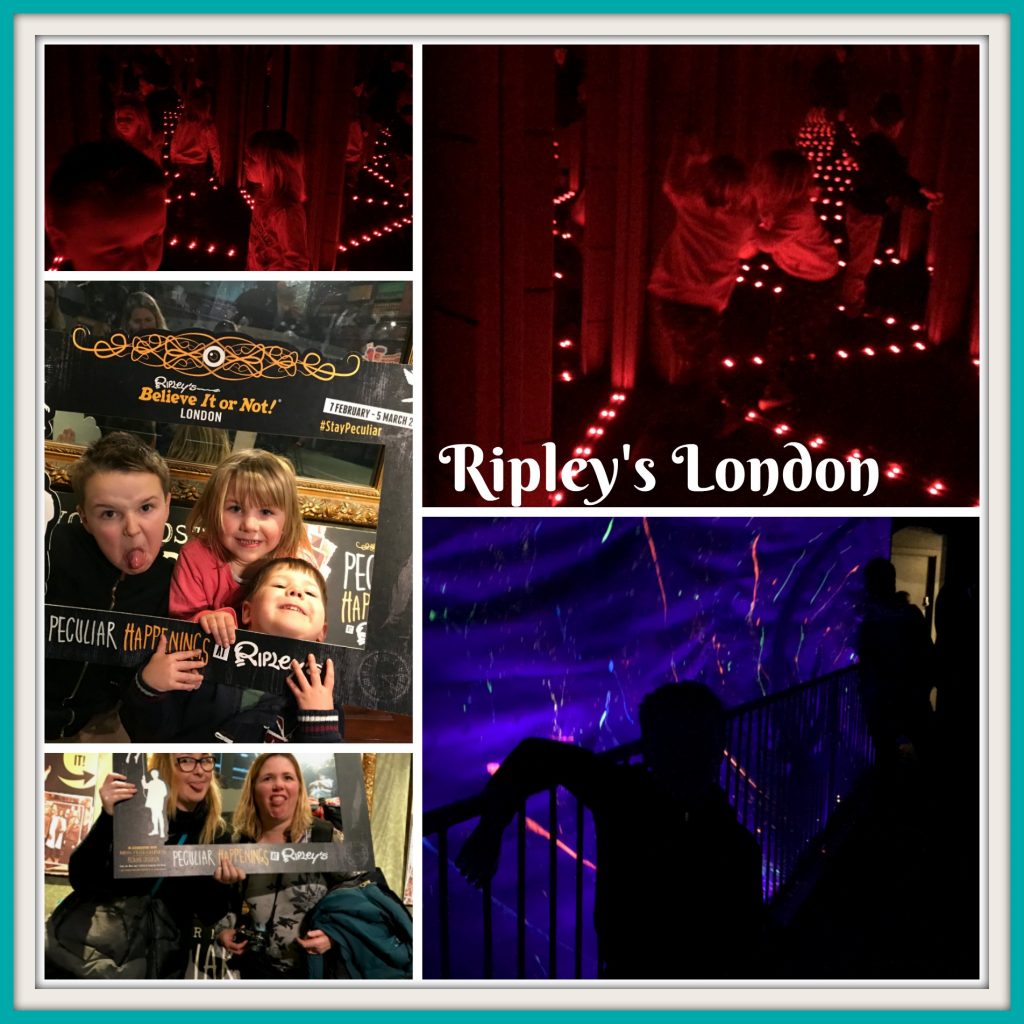 Isaac adored the Black Hole – a rotating vortex tunnel that really puts your senses to the test. As you enter the twisting and turning tunnel the walkway appears to move beneath you.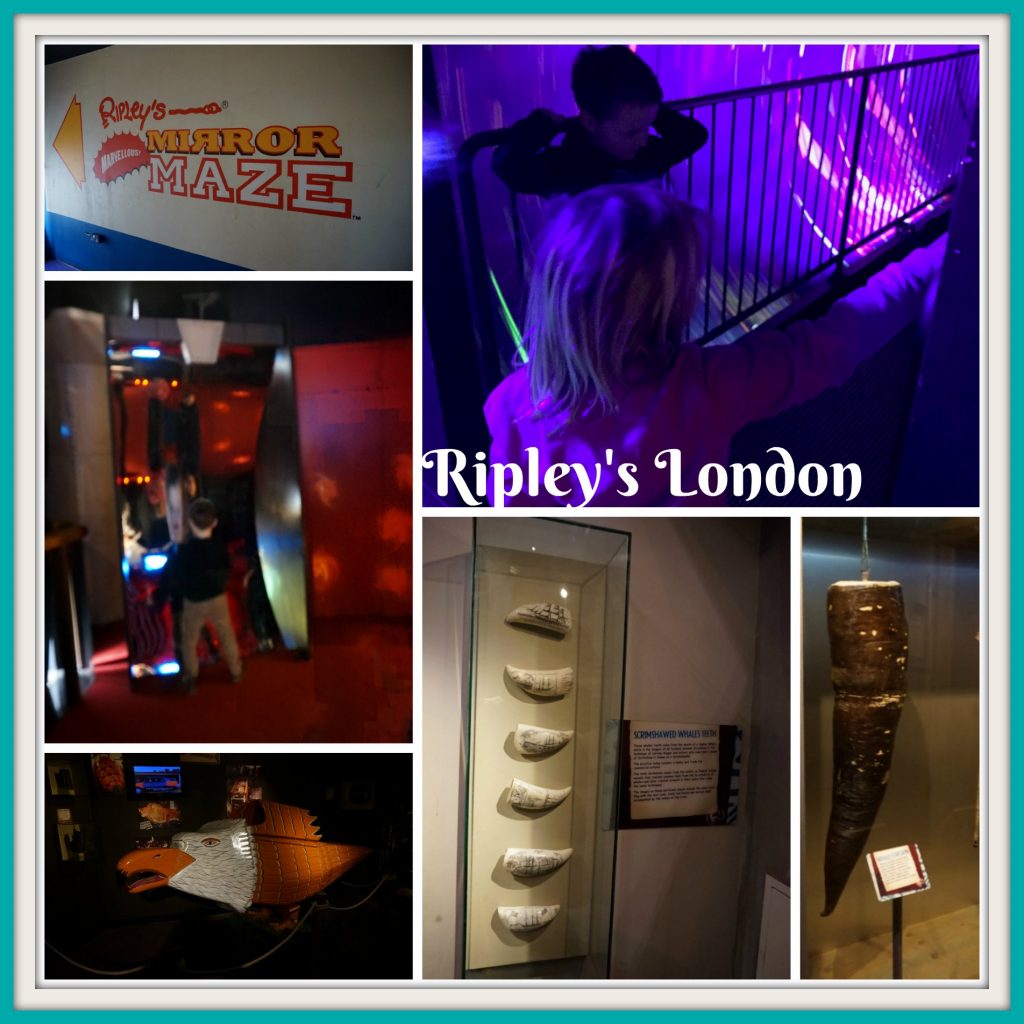 If you visit Ripley's I strongly recommend that you book online as you make a £3 saving per ticket making an adult ticket £23.79 and a child's ticket £17.48. They also have an amazing offer with Planet Hollywood for a two course meal and entry tickets for Ripley's for just £36.99 for an adult and £31.99 for children.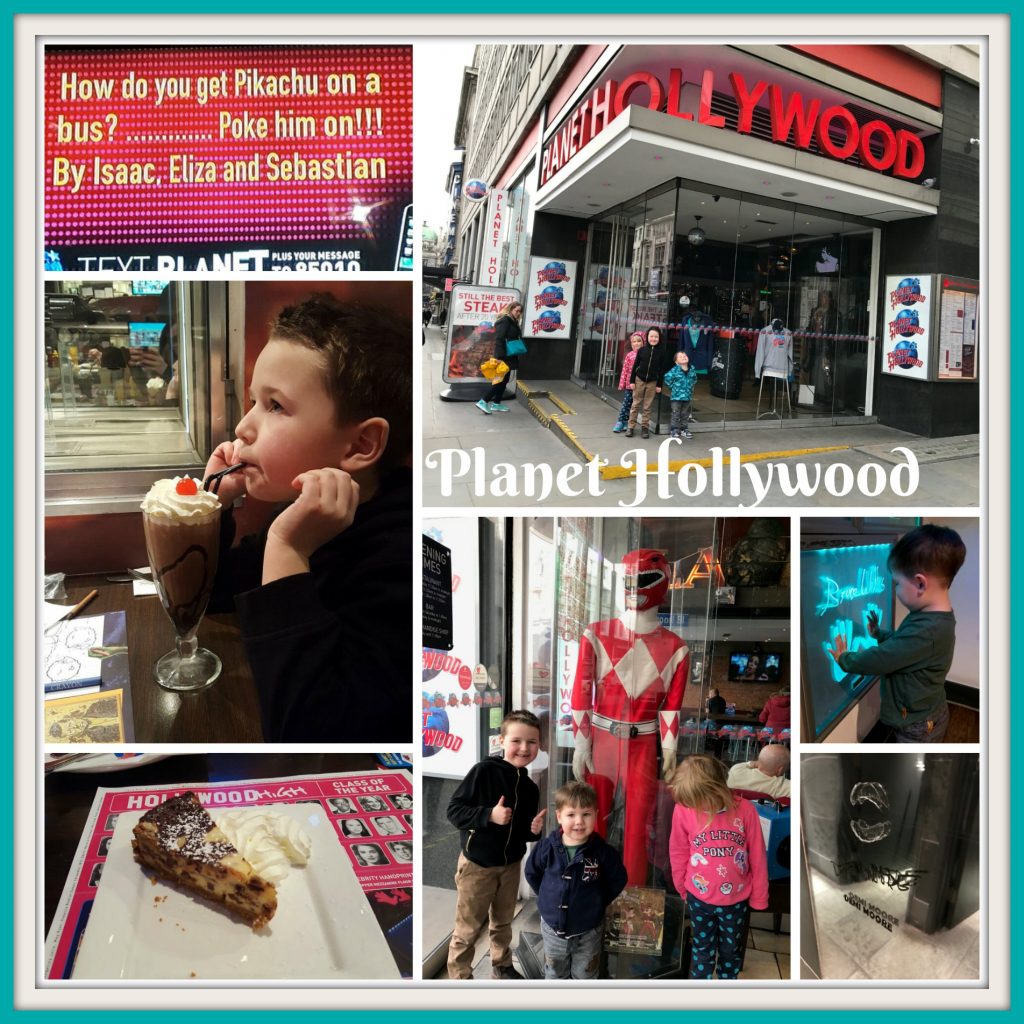 I highly recommend the Planet Hollywood offer as their food is amazing and it is such a fun place to eat!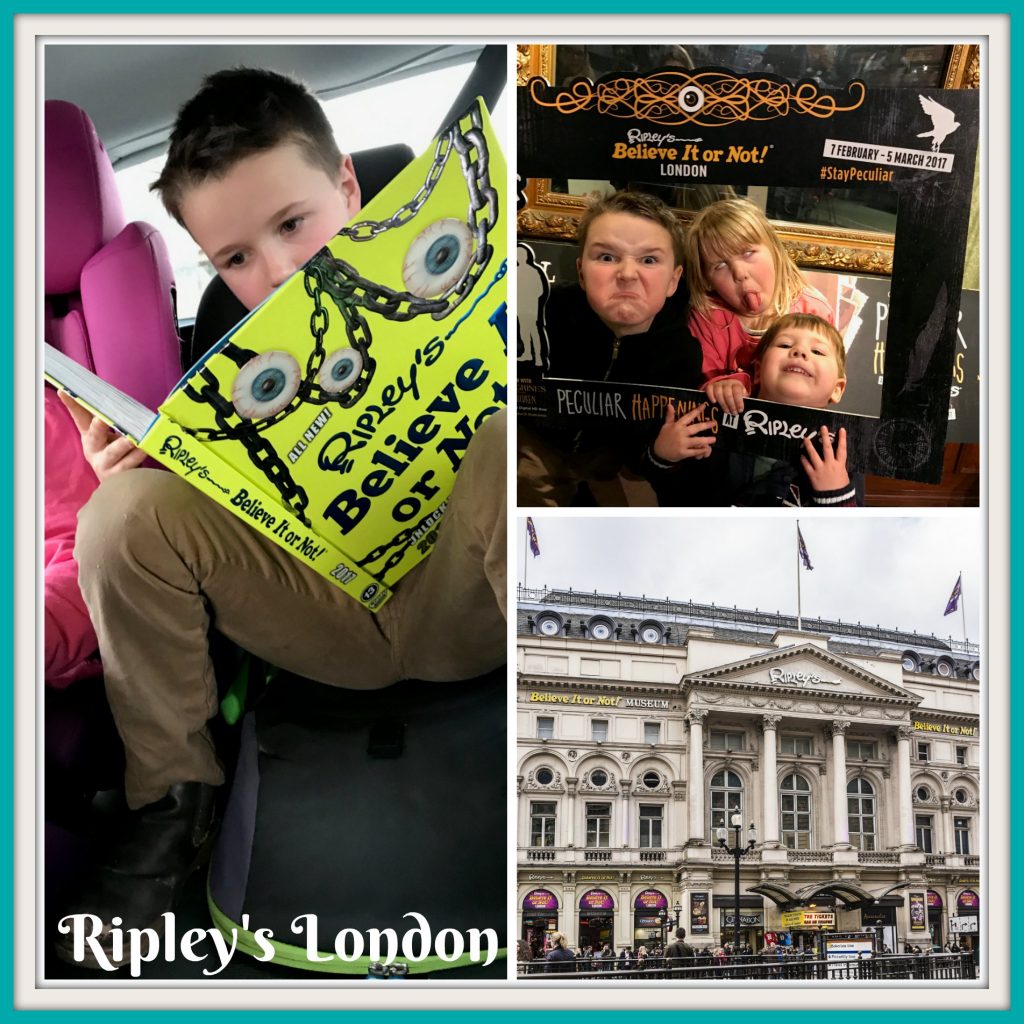 Thank you Ripley's Believe it or Not! for such a fun and educational visit. Isaac has barely put the book down since we got home!!