We last visited the National Space Centre a couple of years ago and the kids loved it.
The National Space Centre is a museum which covers the fields of space science and astronomy, along with a space research programme in partnership with the University of Leicester and is instantly recognisable as you get close by its 42m high Rocket Tower.
The museum has six interactive galleries, the UK's largest planetarium, a unique 3D Simulator Experience as well as the iconic Rocket Tower.
We arrived at opening time as that is when the centre is at its quietest, remembering this time that we needed £3 change for parking, although they have now installed machines that take card payments too.
Once inside we were given tickets for the We are Stars! show in the 360º Planetarium. This is the second time we have seen this and it didn't disappoint – in fact Eliza enjoyed it this time and both her and Isaac took away lots of facts from it. We explored the secrets of our cosmic chemistry, our explosive origins and discover what we are made of, where we come from and connect life on Earth to the evolution of the Universe.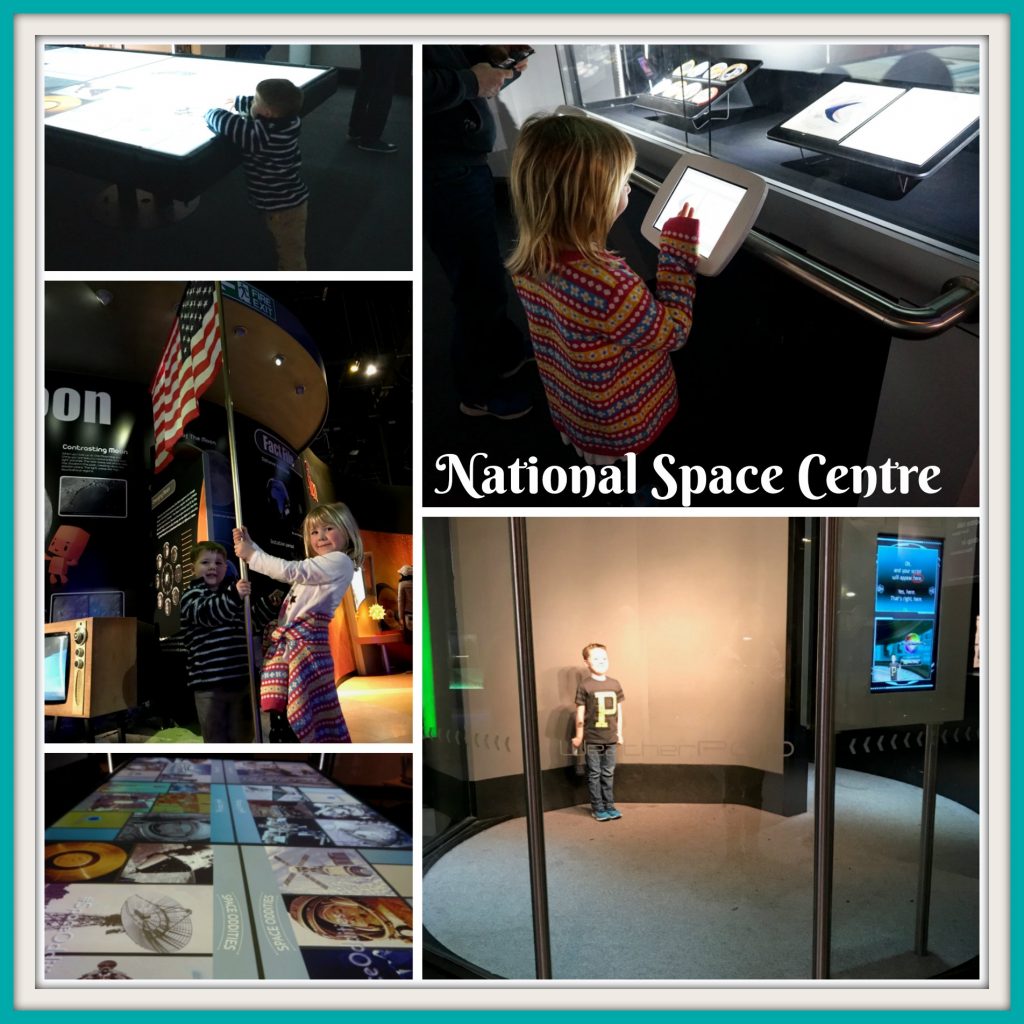 On our last visit Kian came with us but this time Hubby joined us and I think he was more excited than the kids, examining each exhibit with interest.
The first gallery we entered was Orbiting Earth where we learned about satellite navigation, weather forecasting, emergency disaster warnings and understanding the changes to our fragile planet. There is even a booth where you could record your own weather forecast and Eliza loved spinning the earth to see how it created weather patterns.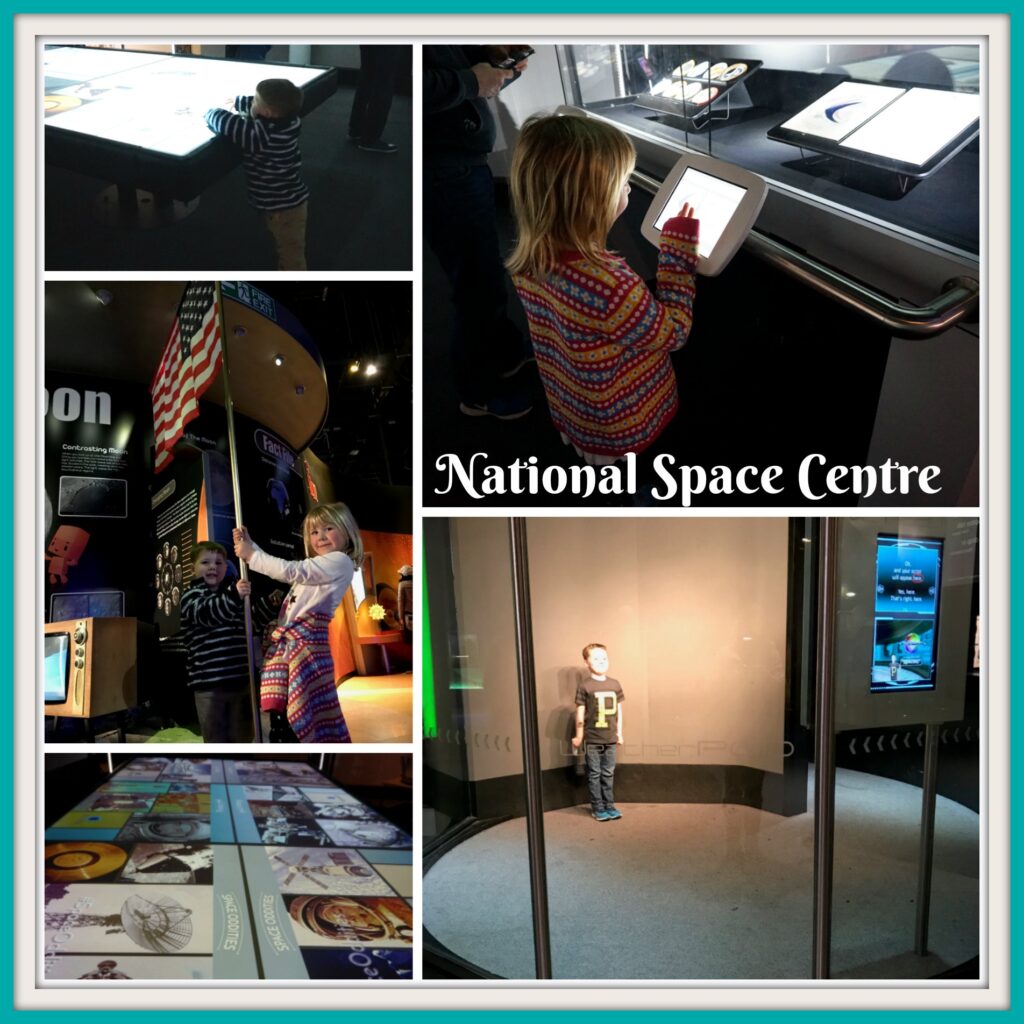 Next stop was the Planets where we got to walk through the gallery and stop off at Mercury, Venus, Mars, Jupiter, Saturn, Uranus and Neptune. Isaac was keen to drive a Martian rover on the red planet and certainly was much more successful on this visit in collecting a sample than he was last time and he loved trying to pick up the baked bean cans on each planet based in the Gravity Challenge.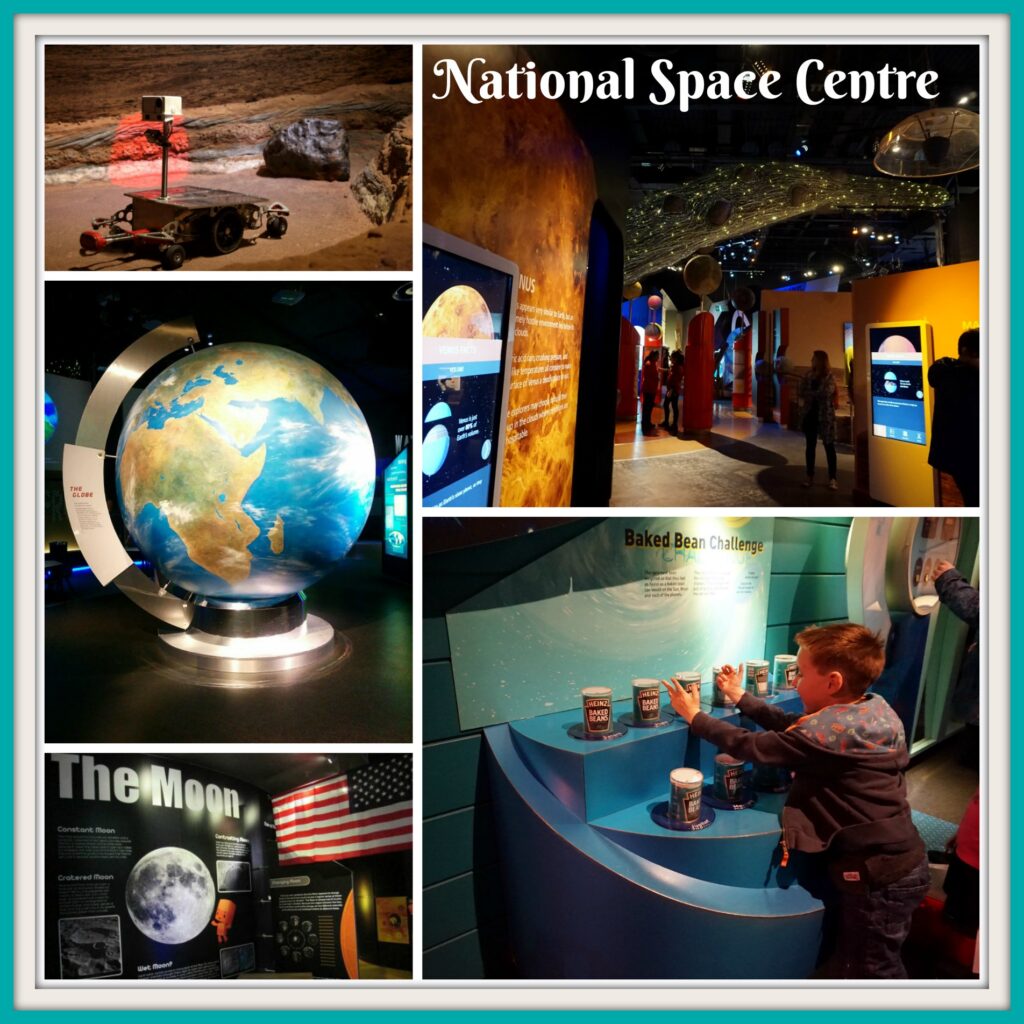 Into Space was fascinating as you get to walk through a mock-up of the Columbus Module from the International Space Station, you can dress up as aliens, astronauts or even a rocket ship! Also discover the answer behind the most asked question asked at the National Space Centre, how do you go to the toilet in space and test if you have fast enough reflexes to become an astronaut.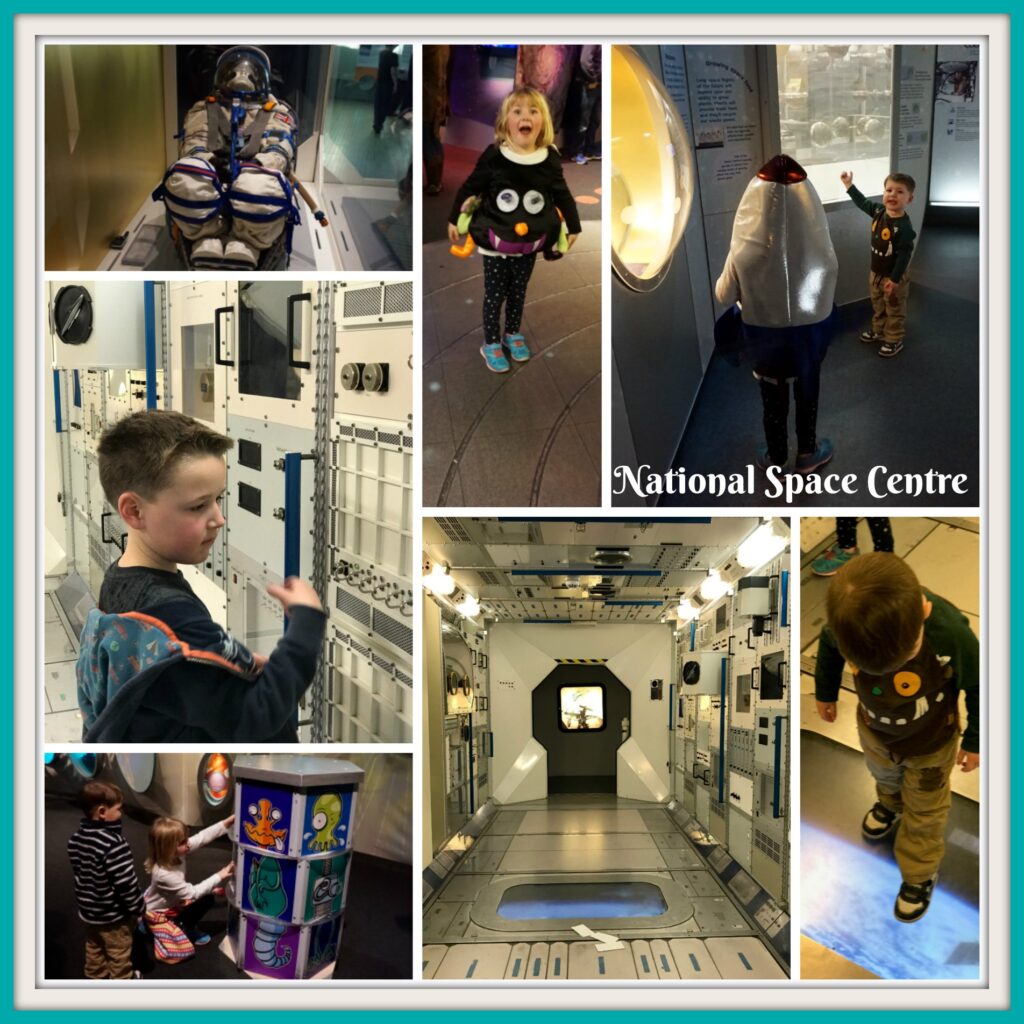 It was then time to head upstairs to the Rocket Tower which is home to Blue Streak and Thor Able rockets, as well as the Gagarin Experience, Apollo Lunar Lander and real Moon Rock.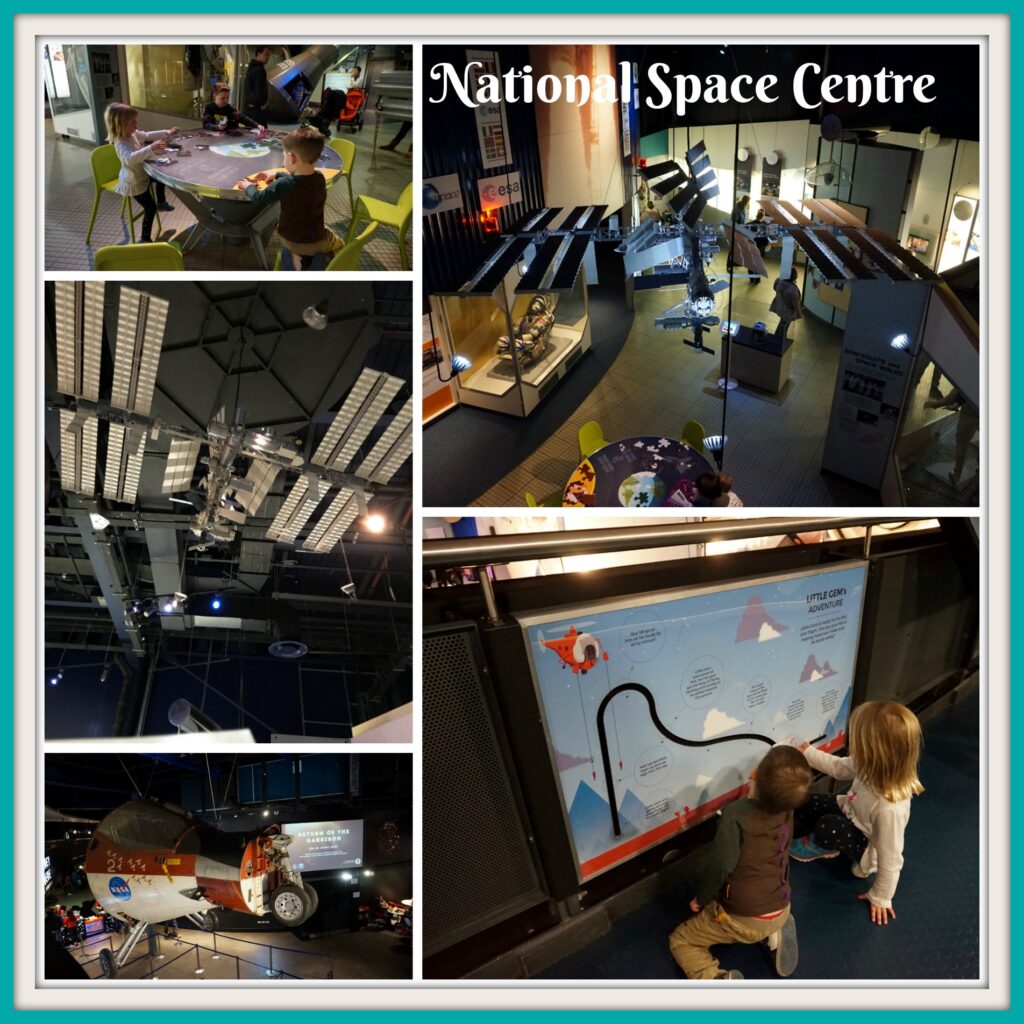 Starting at the base of the rockets you can watch the very first scifi film ever made and have a go at launching your own rockets into space before either taking the stairs of the lift up to the next level.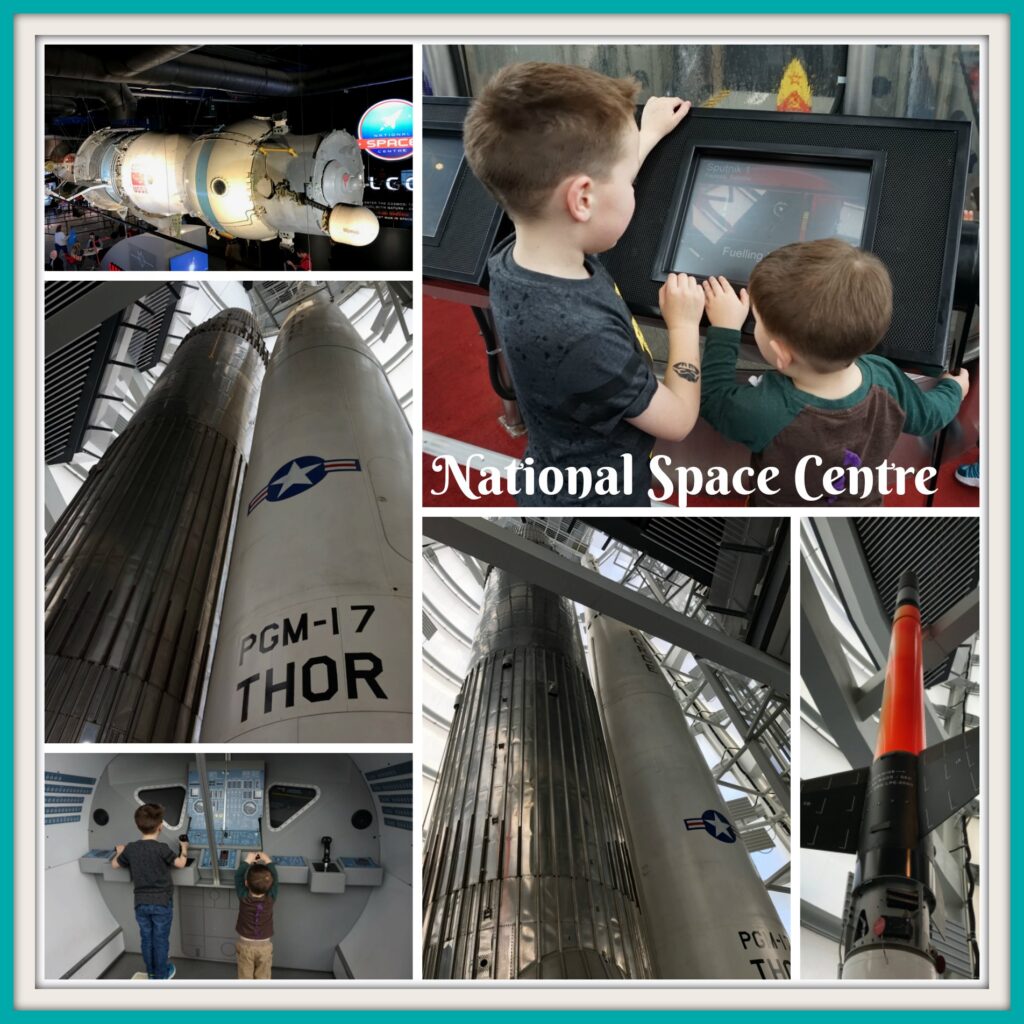 There was also a 60's inspired room to discover and the kids were fascinated by the old typewriter and TV and at the top of the tower is the Gagarin Experience which was by far the kids favourite experience of the day as they had to work together to send Daddy into space.  He was sat inside the Vostok capsule whilst they performed all the safety checks before blasting him off into space.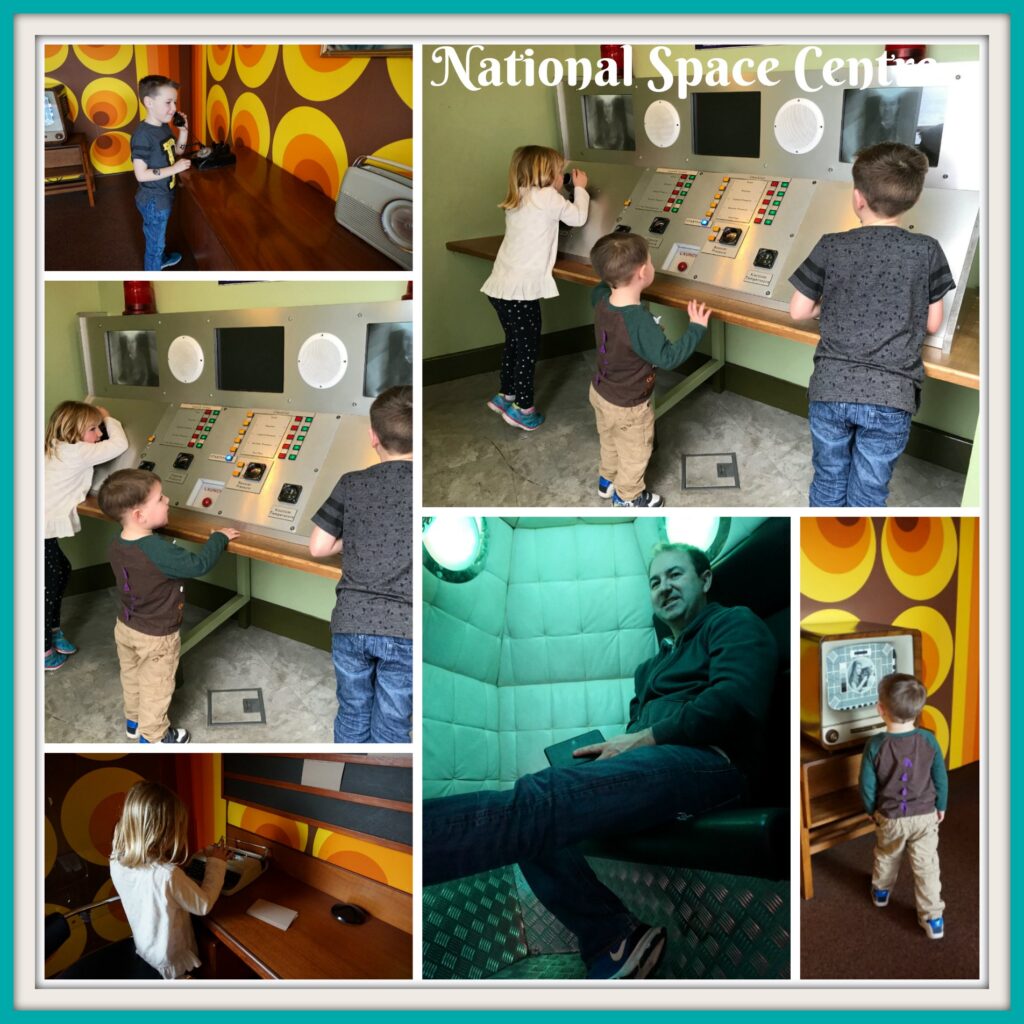 The kids then did some modelling in their space suits on the moon before we headed back downstairs to the tranquility base.
As soon as you enter Tranquillity Base, you become a trainee astronaut on a lunar base in the year 2025. You have to complete challenges which include loading up the shuttle with a good balance of supplies to send to the lunar base, mine through moon rock, control jet boosters on the Micro-G-Manoeuvre, before jetting off in a bone-shaking Spaceflight Induction Module (3D Simulator). All your results are stored on your own ticket as you have to scan your barcode before you do them.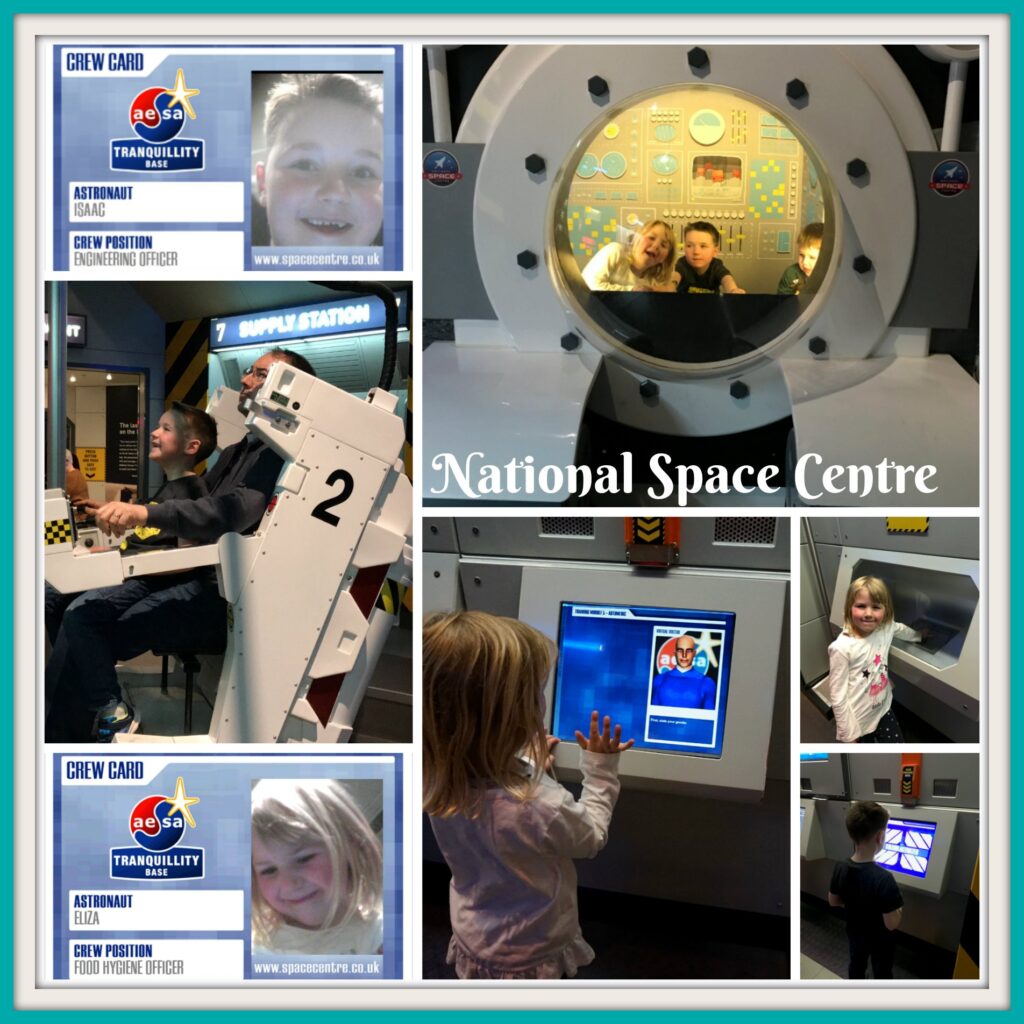 At the end of the tests you are assigned a role based on your results. Isaac is an Engineering Officer whereas Eliza is a Food Hygiene Officer.
We thoroughly enjoyed our visit to the National Space Centre and definitely got more out of it now the kids are a bit older and can take part in all the activities on offer.
We visited the National Space Centre as part of a Stay, Play and Explore short break in Leicestershire.
For just £149 (£159 during bank holiday weekends) a family of 2 adults and 2 children can visit any 3 out of 10 exciting attractions and enjoy overnight accommodation including breakfast at a choice of 4 star family friendly hotels and for larger families like ours you can buy an additional child ticket for £20.
The other attractions included are: Conkers, Twycross Zoo, Twinlakes Theme Park, Stonehurst Family Farm, Swadlincote Ski Centre, Leicester Outdoor Pursuits Centre, Bosworth Water Park and King Richard III Visitor Centre.
Read all about our visit to Twycross Zoo here.