Sebastian is dinosaur mad and had been requesting a dinosaur party for his birthday for quite some time.
After his request I looked up dinosaur parties in Dorset and was pretty limited for choice, until someone told me about Science Zone in Boscombe.
It was not somewhere I had heard of, but after a visit to look around I was sold – Sebby was going to love it!
Science Zone is hidden away in the Royal Arcade and the one thing that gives it away is a large dinosaur outside. It offers visitors access to science 'zones', where each zone has a variety of activities and features that will both stimulate and inspire children to learn more about the world around them.  From life-size dinosaurs, planetarium shows, musical bubble columns to digging for fossils and explosive experiment workshops, there is something for everyone – plus they do parties!
Sebby was so excited to have the place to himself when we arrived. The main room / party area is in the basement which was lovely and cool in comparison to the heatwave outside, which was a welcome relief and he busily started exploring all the fossils and playing the interactive floor projections.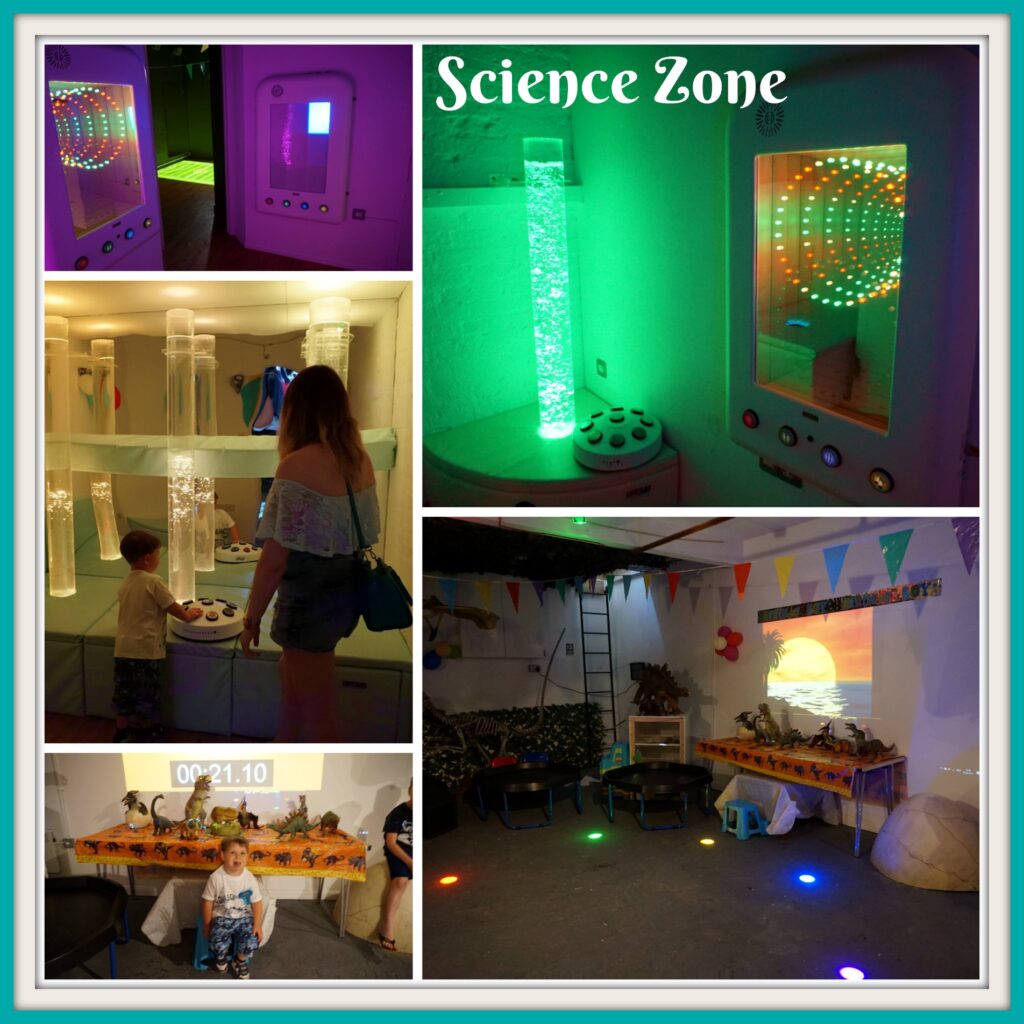 Our party host was Neil who is the founder of Science Zone and he is passionate about sharing the wonder of science with children. Once the guests had all arrived he took us on a journey back in time, some 250 million years ago and to meet the well-known prehistoric reptiles. He had toy dinosaurs set out on the table and the kids had to guess what they were and then had them all doing dinosaur actions and marching around in a circle, before holding a competition to see which group could find the dinosaur fossil in the sand first.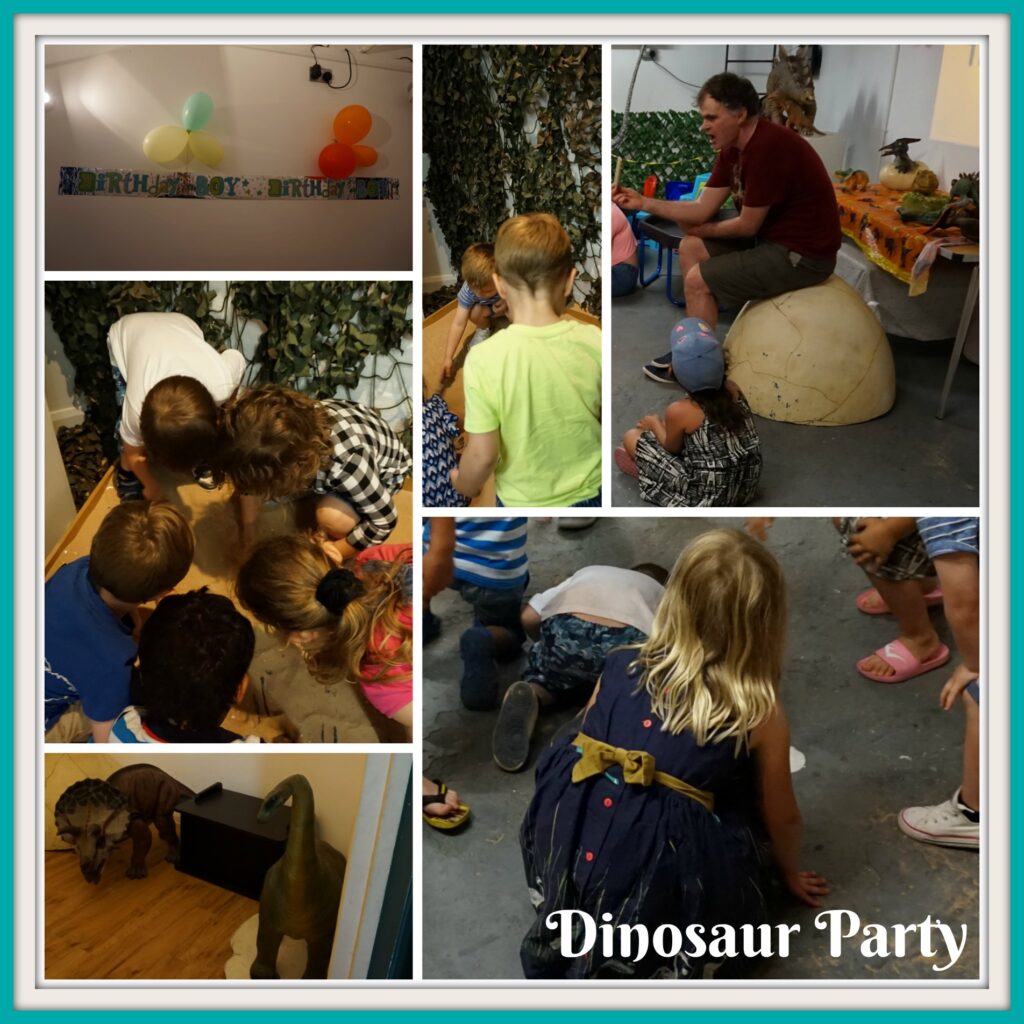 For the next part of the party we headed upstairs to the Science Dome, a fully digital mobile planetarium which was showing a film all about different types of dinosaurs, how they lived and how they were made extinct by a giant meteor. Most of the kids loved it, although a couple decided to sit it out and play the interactive games downstairs as we set up the food which was presented in dinosaur party boxes from Charliemoos.co.uk and plates and cups from Partyrama.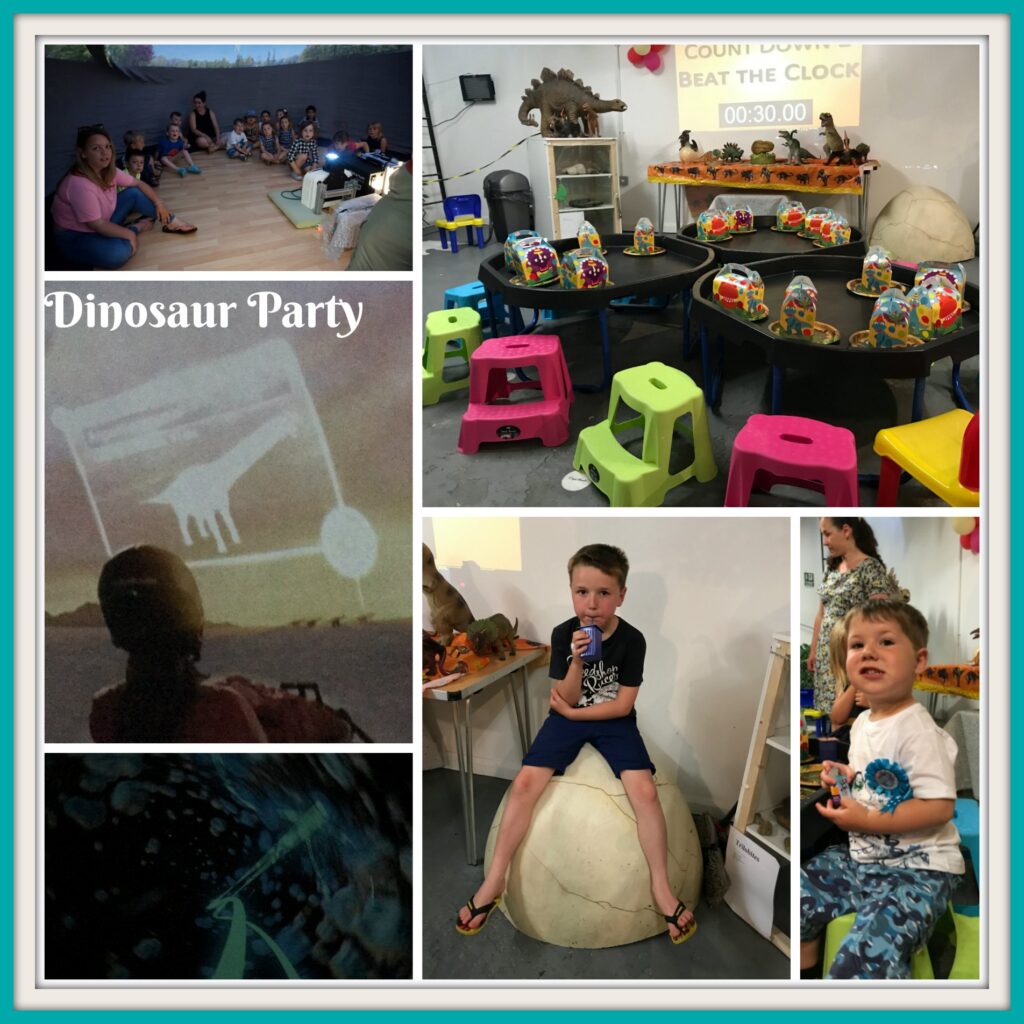 Food done and it was time for Sebastian's amazing chocolate dinosaur cake which was made by my very talented friend Michelle from Sculpted Bakes. Even the head was edible as it was made with rice krispies and chocolate.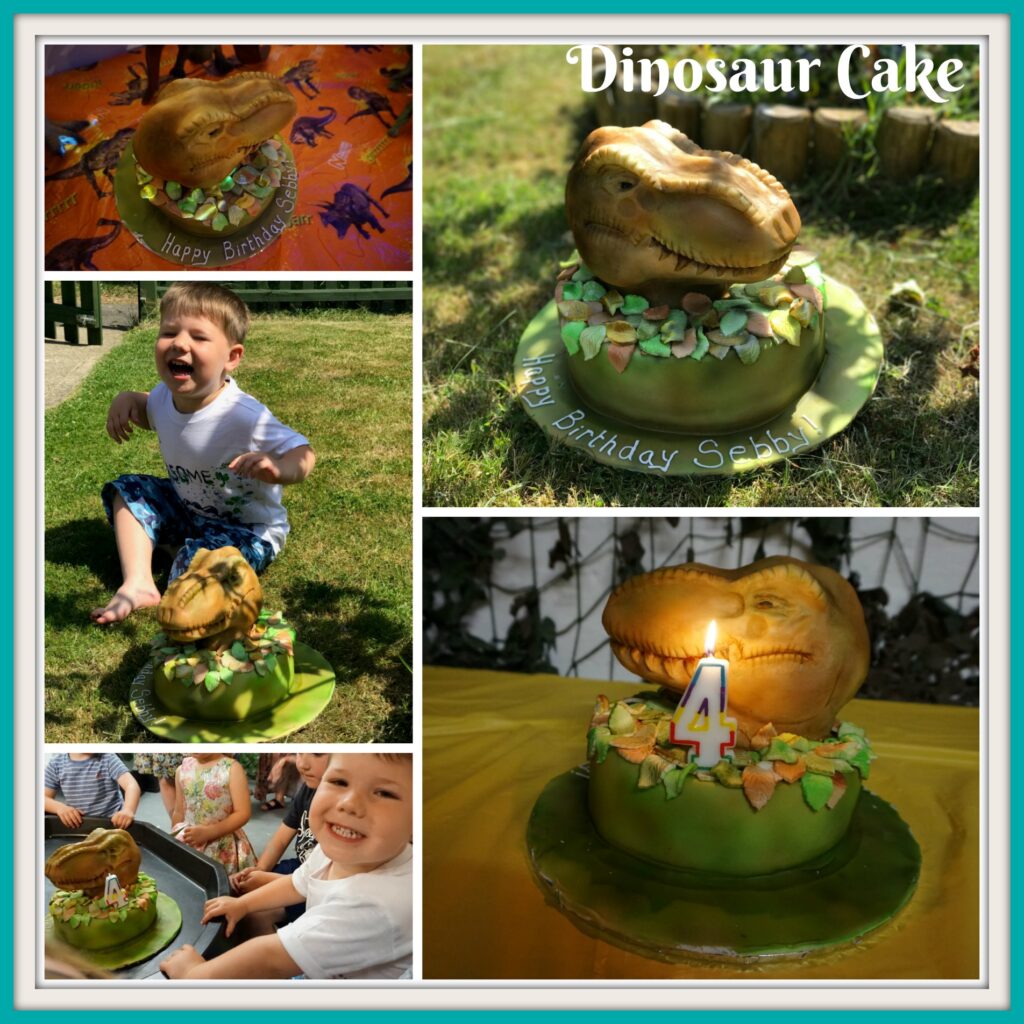 Once the kids had finished their food we finished the party with a game of pass the parcel before handing out the dinosaur themed fabric party bags which were filled with some dinotastic goodies as well as some yummy cake.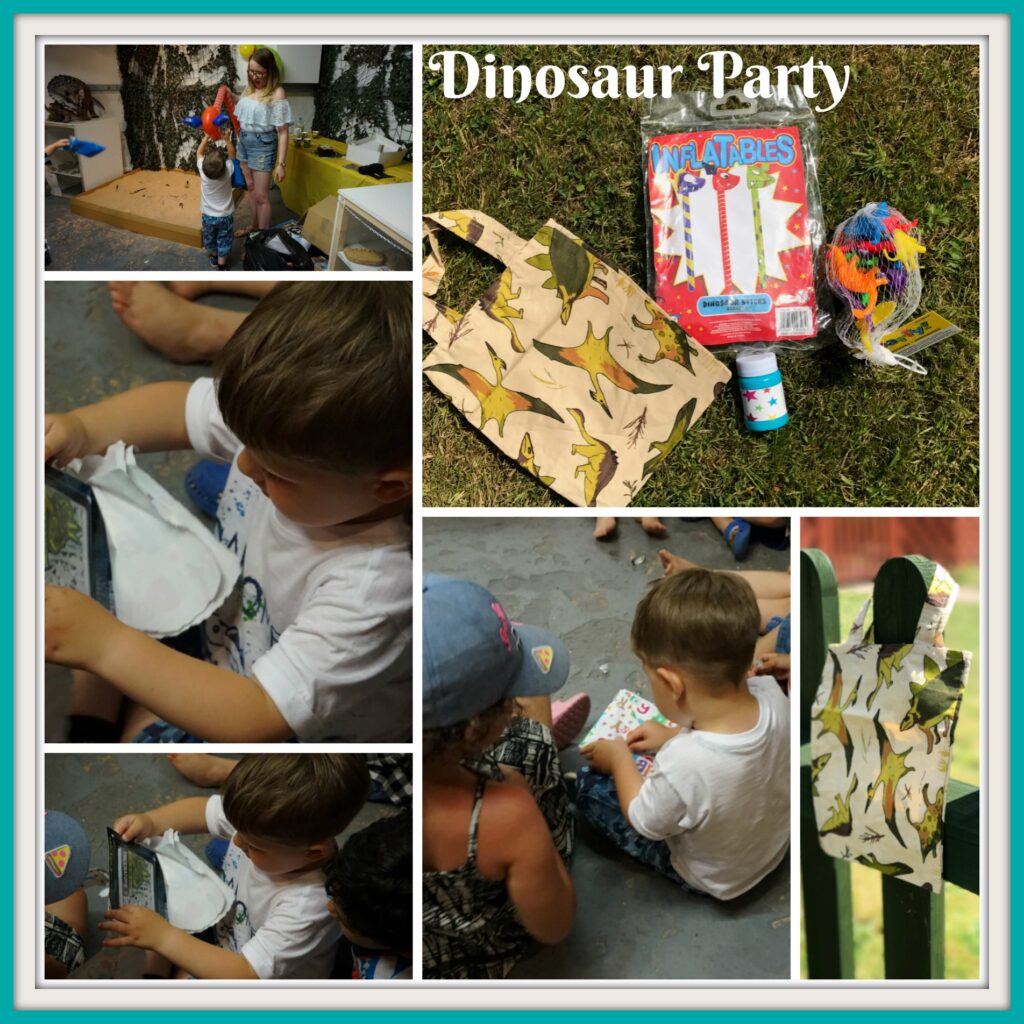 I cannot recommend Science Zone highly enough. The party rooms were all set up with everything we needed at no extra cost, it was aimed perfectly at the age group of age 4-5 and was so relaxed that the kids could go off and explore the sensory areas if they wanted a change of scenery. All parties (they also offer Space and Science) last two hours and include one and a half hours of entertainment with half an hour for food.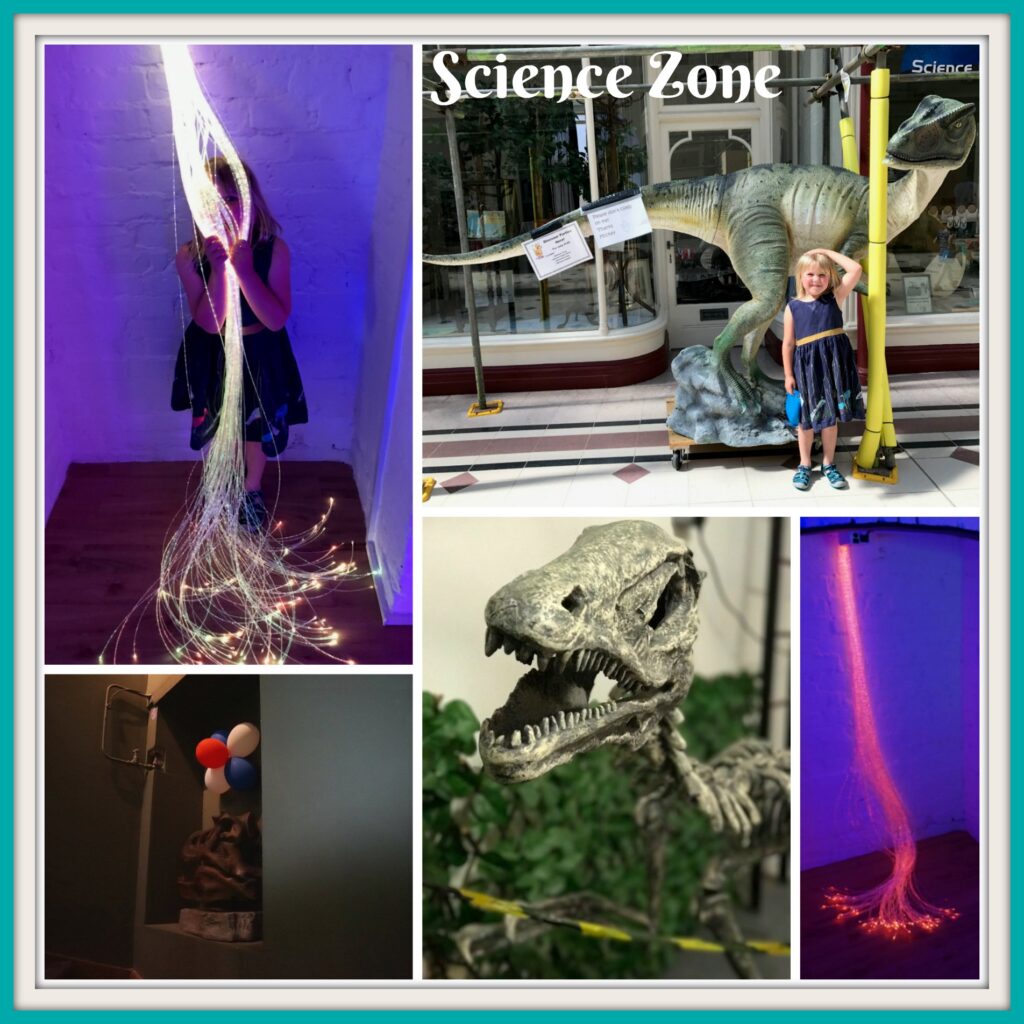 I cannot wait to head back with the kids for some of their science workshops in the summer – make sure you check out their facebook page for more details.