Isaac is 9 and had just started asking for his own phone as some of his friends have started getting them.
Personally I feel that 9 is too young and the age we gave our older children their own phones was 11, when they started secondary school.
On the other hand, Isaac is getting more independent, he walks to and from school on his own and is now trusted to go to the park with his friends. I did panic a couple of weeks ago when I couldn't find him, but it turns out he had gone to his friend's house over the road without telling me.
Now there is a solution which we are both happy with – the Oaxis WatchPhone, which is the first of its kind in the market.
The Oaxis WatchPhone is a smartwatch your child wears on their wrist which features GPS. Kids can use it as a conventional watch, whilst parents can log into a smartphone app to track their actual location in real-time. The WatchPhone app displays a lovely and clear map image, so you can check that they are where they should be and can set Geo-Fenced safety zones which highlight geo-locations on the map so when a child moves outside of this area, the nominated smartphone will be alerted.
The watch uses the 3G network to keep in touch which means you need a pay as you go SIM card to get started, but you can pick them up very cheaply these days and as the watch doesn't need data it won't cost a lot to run.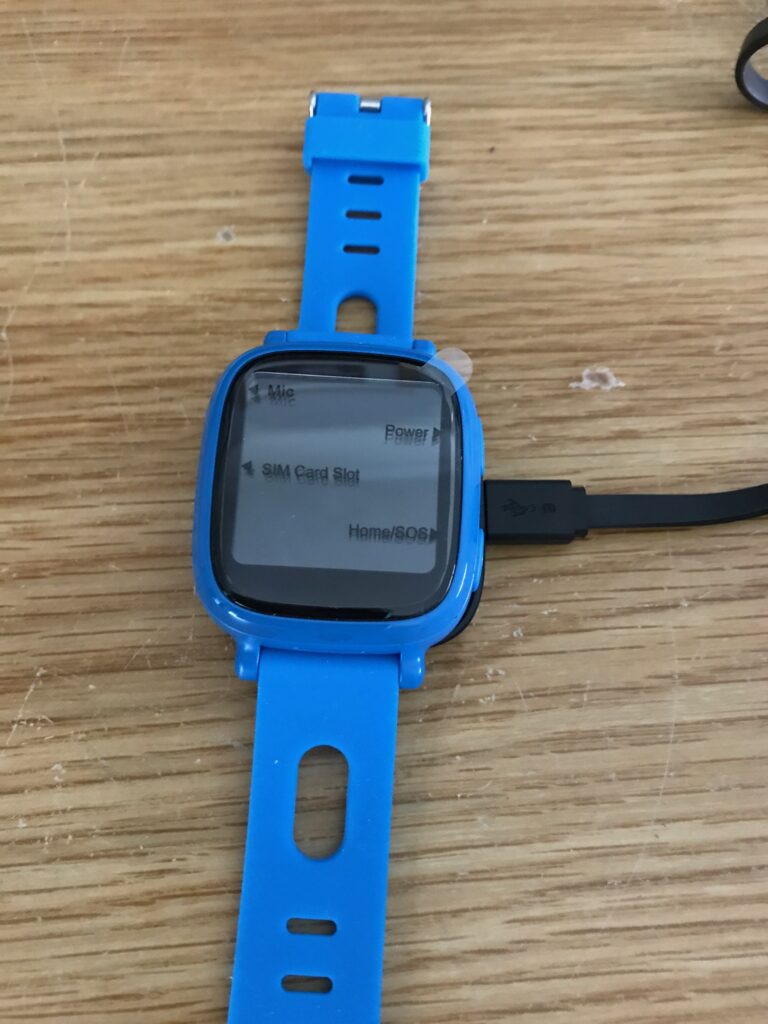 The Oaxis WatchPhone also features an SOS function which, when pressed, will immediately call the number programmed into it, and supply the parent's app with the exact location of of the watch.
If the SOS is activated, the nominated smartphone will receive information on the child's location and a 30 second voice memo automatically recorded on the WatchPhone and children can be sure help is on its way.
I have to admit I found it a bit of a faff to set up. You need to download the app (available on iTunes or Google Play) before the switch the WatchPhone on but the instructions were not clear. There was a QR Code to scan, to pair the watch with the app and I eventually found the place to scan it by swiping left on the app to reveal the screen.
Once I had done that, I had to fill in my details on the app and then played with the settings to see what each one did.
To call Isaac I just need to press the phone button, or to send him a text you need to click on the speech bubble. We can even track his steps from the app as well as his watch and set an alarm for the morning.
So what does Isaac think of it?
Being a tech lovely boy, he loves having his own WatchPhone and is using the built-in pedometre which tracks his daily steps.
The WatchPhone has an interactive touch screen which displays images which he loves and which are incredibly life-like. Isaac finds the WatchPhone easy to navigate and loves that he can call or text me at any time, although there is a classroom mode which silences the WatchPhone at specified periods to minimize distractions. It drowns out all notifications except for SOS function, which will still be usable.
I am also confident that all location data is protected and accessible only to me or my husband as the watch has a 128-bit encryption algorithm built into it.
The battery life could be improved as it needs to be charged on a daily basis, but it shouldn't be worn at night so Isaac pops it on charge when he goes to bed and the watch is only splashproof so shouldn't be worn in the shower or for swimming.
The WatchPhone is now available on Oaxis.com for a limited period at the special launch price of only £79.99 with free worldwide shipping.