Living by the sea, I feel that learning to swim is a vital skill and all my children have had swimming lessons at one point or another.
It is also worth bearing in mind that there are a number of differences between swimming in a pool and open water and just because you're a strong pool swimmer, doesn't necessarily mean you'll be good at open water swimming.
Whether in the sea, river or lake, the skills involved in keeping safe in open water are different to those in an indoor pool, where most swimming lessons take place.
For the second year running I signed Isaac up to take part in a Swimsafe lesson which are in lake and seaside locations all over the country.
The ASA and the RNLI run the Swim Safe programme of improver swimming tuition and water safety sessions for all 7–14 year olds that is FREE to attend for kids that can swim a minimum of 25m.
The first thing Isaac had to do was get kitted out in a wetsuit, a bright green rash vest and a swimming hat. Once he was ready he was introduced to his swimming teacher and allocated a group to join.
Eliza was itching to join in and at the age of 6 with no fear of the water, I was pleased that they let her join in with the Q & A session about beach safety, which included what the flags mean, the role of the lifeguard and some of the dangers of swimming in the sea.
It is also important to be dressed appropriately for open water swimming as the water temperature can vary depending on what month you swim. For instance throughout the UK in the sea, on average the temperature will not go beyond 18 degrees centigrade in the season with the hottest months typically August and early September.
For this session, Isaac's swimming costume was a long sleeved wetsuit but we tend to use a shortie version for our trips to the seaside.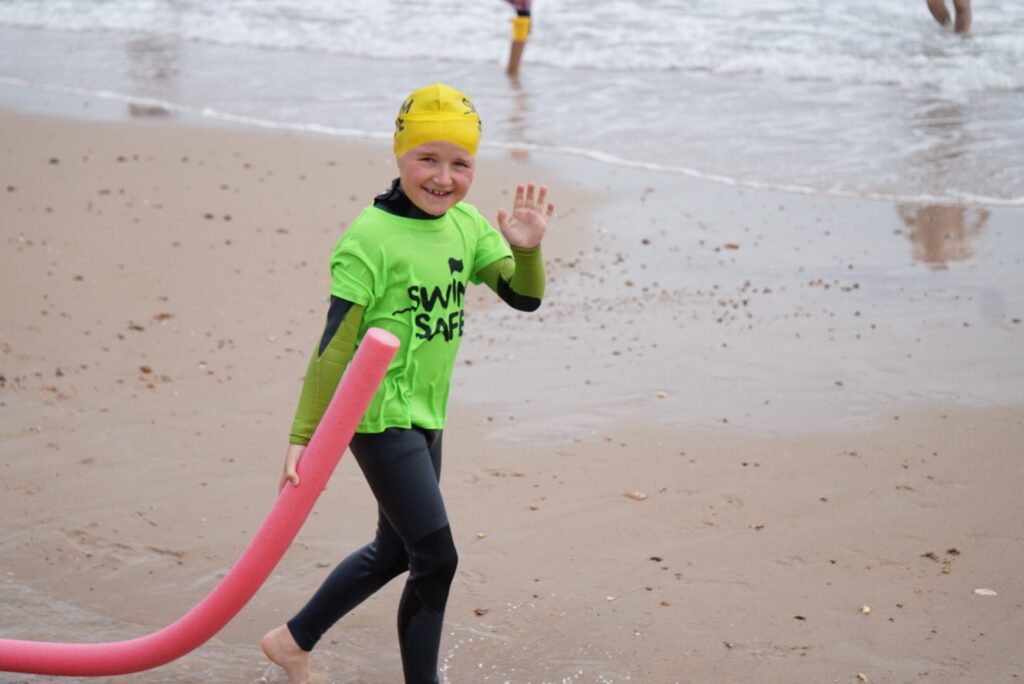 The kids then spent a good half an hour in the water learning about how currents affect the water and how to keep warm if the worst happens and they fall into the water.
The Swimsafe program has been so successful that this year they extended the program to a further 20 locations, but book early as they soon fill up.
Has your child taken part in the Swimsafe program?