We all lead busy lives these days and if you are anything like me, sorting out my personal finance always gets pushed to the bottom of the to-do list.
Having recently had increases in our gas and electricity bills and our car insurance fall through the letterbox this month, it has pushed it further up the list. It frustrates me no-end that as loyal customers we seem to bear the brunt of these price hikes in the hope we won't check.
I was invited to try Bean, a new way to find, track and manage your subscriptions.
The Bean app scans your bank accounts to find all of your recurring costs. From overpriced bills to unused gym memberships, they'll find where you could be saving and can even cancel anything you don't need. It can even keep an eye on your bills and help you switch if there's a better deal available.
The first thing you need to do is to connect the account/accounts you use for all your regular bills.  You simply click on the button to connect an account. I then added my internet banking details and the accounts were connected within a few moments.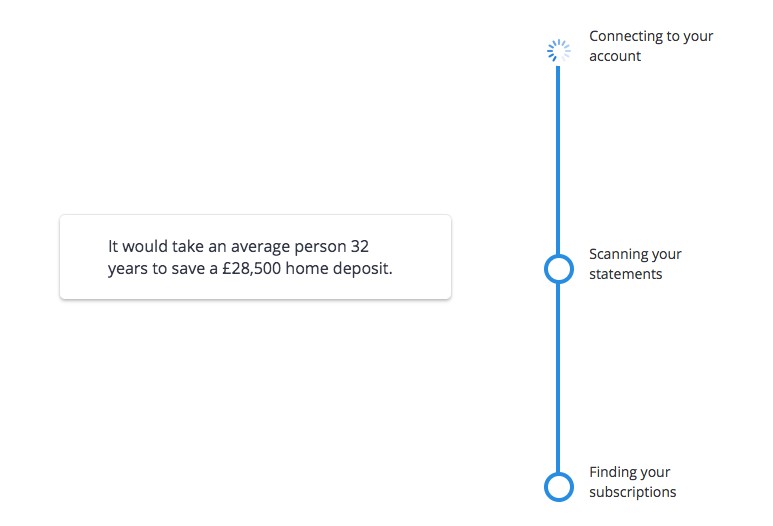 My initial concern was the security of Bean so before I linked my accounts, I checked their website and found a few useful articles on security. Turns out they never hold your full personal details so data could never be hacked and accessed. Bean are regulated and take security very seriously, to the point that its highlighted on their home page.
You can also delve into the detail of each direct debit. This one filled me with horror as we have spent so much over the past 12 months on broadband, landline and TV with Virgin. We don't really use many of the channels anymore as the kids watch their programs on Netflix and Amazon Prime, so have cut back on our TV package by taking the kids channels and Sky Sports off saving a whopping £60 per month, plus I have stopped using the home phone as I get free calls on my mobile.
The clever bit about Bean is that it shows your expenditure and the number of your contracts at the top of the screen and even when contracts end –  we purchased an iPad for Kian's birthday two years ago and I was wondering when the contract ended. Turns out my last payment is this month.
The only thing Bean hasn't picked up is my swimming lesson fees. For Isaac I pay with a monthly standing order but for Eliza and Sebby it is done by invoice and paid termly, so I have to manually factor those fees in.
Bean is a great tool for managing your personal finance and cutting back on the bills. I for one hate phoning people to cancel as they often influence you to stay, so Bean doing it for me is a real bonus and it really is hassle free.
Did you know?
£448 million is wasted on unused subscriptions every year in the UK.
84% of consumers reported subscriptions they weren't aware they had signed up for.
Changing one utility bill can save the average household around £200 a year.
Only 25% of eligible contracts are switched each year.
The average household is £13,000 in debt.
Over 2 million consumers have reported issues with cancelling a recurring payment. Of that:

53% weren't aware of how to cancel.
36% requested and were refused by the supplier, or continued to have payments taken after the cancellation was confirmed.
only 12% ever received a full refund.

17% of consumers avoid calling customer service because they fear being pressured to stay with a service.
Financial worries create a high cognitive load which leads to lowered decision-making abilities – essentially, the greater your financial worries the less likely you are to be able to solve them without help.
Financial problems are the greatest predictor of marital issues:

For every tenfold increase in debt couples were 7% more likely to split.

Personal finances are seen as the last taboo in society:

Consumers are less likely to talk about their financial problems than their physical health, intimacy issues and other family concerns such as grief.
Speaking about finances with a stranger triggers feelings shame and pain.
Is Bean a service you would benefit from?
Disclaimer: This post has been supported by Bean but all thoughts are my own