A campaign to encourage all babies to be taken for their first dental check by the age of one was launched at the BSPD's (British Society of Paediatric Dentistry) 65th Annual Scientific Conference in Manchester in September. 
As a committed supporter of babies' oral care since 1925, Bickiepegs Healthcare, which was a sponsor at the conference, has identified the key role Health Visitors can play in the education of parents of infants. 
To that end, Bickiepegs has launched an initiative to offer all Health Visitors a free Bickiepegs Finger Toothbrush & Gum Massager and a uniquely slanted Doidy Cup as part of their commitment to educating parents on how important a dental check by the age of one is to their children's long-term oral health.
NEW BICKIEPEGS FINGER TOOTHBRUSH AND GUM MASSAGER:
Bickiepegs Finger Toothbrush and Gum Massager is designed to gently clean a baby's first teeth and massage their gums.  Regular use of this new oral care product is a great way to introduce your baby early to the sensations of having their teeth and gums cleaned and morning and evening daily use will help maintain good oral hygiene. 
The Finger Toothbrush and Gum Massager is double-sided – with soft bristles on one side to ensure that any existing teeth are kept clean, and then a dimpled reverse-side which offers gums a soothing massage.  It is important to clean teeth from the moment they erupt and keeping a baby's gums clean will ensure that their mouths are in good condition – ready for the arrival of new teeth as they appear.
The Finger Toothbrush and Gum Massager is suitable for babies of 6-18 months.
THE FAMOUS DOIDY CUP: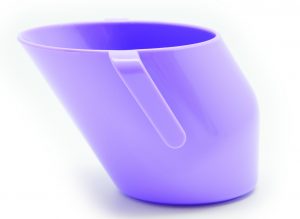 The Doidy Cup, with its small handles, has been scientifically designed with a unique slant that allows a young child to see the level of the liquid in the cup as they tilt to drink.  The Doidy Cup, which has been endorsed by Health Professionals including Doctors, Dentists, Midwives and Health Visitors for almost 70 years , helps to teach an infant to drink from the rim of an open cup rather than from a spout or teated bottle, which carries many benefits.  
This unique weaning cup encourages good oral movements and helps to develop chewing skills through encouraging use of the jaw, tongue and mouth muscles.
To celebrate the #DCby1 (Dental Check by One) nationwide campaign to encourage parents and carers to take their child to the dentist before their first birthday, Bickiepegs have offered the chance for five of my readers to win an oral health kit containing a Doidy Cup, Finger Toothbrush & Gum Massager and the famous (now 90 years old) Bickiepegs All Natural Teething Biscuits. Together they come to a gift of over £10.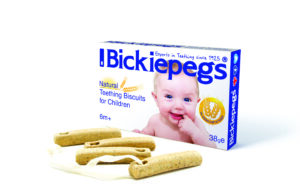 To Enter:
Fill in the Rafflecopter widget below to verify your entries
Please read the rules below
Closing Date: 4th February 2018
If there is no form hit refresh (F5) and it should appear
If still not working please check that your computer is running Javascript
Rafflecopter will tweet, like and follow on your behalf making it really easy to enter
Really want to win the prize? Come back every day for bonus entries via twitter
Terms and Conditions can be found in the Rafflecopter form below