ergoPouch, the Australian company renowned for their skin-friendly, and natural sleeping suits are launching a beautiful new summer collection of swaddles, sleeping sacks with John Lewis and Buggybaby.co.uk from March 2018.
Parents in the UK can finally sleep tight with the knowledge that their little one is tucked up cozy and safe in the finest fabrics and sleeping sacks which have been cleverly designed to work in harmony with sleeping pods. ergoPouch products reduces the risks associated with blankets and have been designed ergonomically to swaddle babies without restriction, offering freedom of movement – just like in the womb.
Because little one's love being in their ergoPouch products day and night, all ergoPouch swaddles, sacks and suits come in a diverse range of fashion forward prints and designs. Not only that, ergoPouch have designed their products with intelligence to make the lives of new parents just a little bit easier. All ergoPouch products offer a clever two-way zipper for easy nappy changing, and the ergoPouch Sleeping Suit comes with no-slip grip on the feet, converts into a sleeping bag and can even be used with a pram, stroller and car seat.
ergoCocoon Swaddle
The ergoCocoon Swaddle is aimed at babies aged 0-3 months and allows them to be swaddled with arms in to contain natural startle reflex.
Key Features:
3-12 months' transition from swaddle to sleep bag (arms out) with armhole poppers
Made with natural organic fibres
Breathable, skin friendly and eco friendly
Keeps baby warm without the need for blankets
Available in 3 tog weights to suit every season
Two-way zipper for easy nappy change
Offers excellent hip positioning and movement for optimum hip health
ergoPouch Cocoon has been recognized by the International Hip Dysplasia Institute
ergoPouch Sleeping Suit 
Aimed at babies and toddlers from 2 months – 4 years.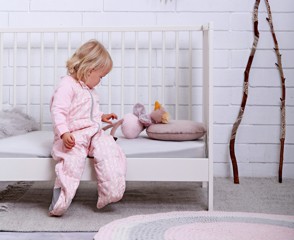 Key Features:
Transitions from Sleeping Bag to Sleep Suit with legs using zippers
Made with skin friendly natural fibres, including all fillings
Eco-friendly, no pesticides or chemicals
Grip pads on feet for little walkers
Cotton fleece sleeves (winter) with fold over mitts for warmth
Easy access for nappy change
Available in 3 tog weights to suit every season
Suitable for children 12+ months in forward facing car restraints.
Fits easily in pram or carrier.
Thanks to ergoPouch, I have a summer tog (0.2 – 1 tog) sleep suit or cocoon swaddles to giveaway to one lucky reader. Winner can choose which design, style and size they want!!
To Enter:
Fill in the Rafflecopter widget below to verify your entries
Please read the rules below
Closing Date: 29th April 2018
If there is no form hit refresh (F5) and it should appear
If still not working please check that your computer is running Javascript
Complete the Mandatory Entry: Leave a comment
Rafflecopter will tweet, like and follow on your behalf making it really easy to enter
Really want to win the prize? Come back every day for bonus entries via twitter