Like many younger siblings, Sebby is keen to follow in the footsteps of his big brothers and sisters.
Both Isaac and Eliza got watches for Christmas this year and Sebby was rather disappointed that he didn't get one as I thought he was too young.
We were sent the EasyRead Time Teacher Watch to review and it is perfect for teaching children to tell the time.
Available in two versions, the 'past and to' watch or a 24 hour watch, we opted for the past and to version for Sebby.
This Rainbow Past & To Wrist Watch is an ideal first watch to help your child learn to tell the time.  Its clear design and simple 3-step teaching system make it very easy for children to learn to read the time in terms of 'minutes past' and 'minutes to' the hour.
Step 1: 
Read the number at the end of the long hand.
Step 2: 
Say "minutes to" if it's pointing to the red side of the watch, or say "minutes past" if it's pointing to the green side.
Step 3:
Read the number at the end of the short hand.  Like this: 10…minutes to…2.
The watch has a 33mm diameter face which features a large clear dial. This shows every detail your child needs and the hands tell them which numbers to read.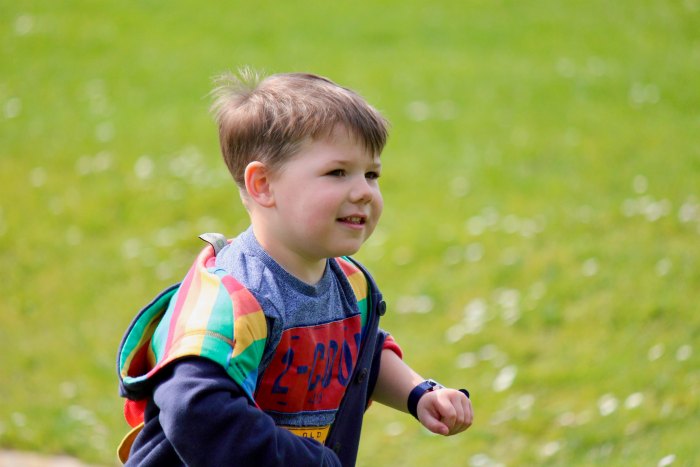 Our watch came with a blue nylon strap, but you can also purchase it with pink or grey. There is brighter coloured straps available to purchase for additional £4.95.
Sebastian is more proud of the fact he has his very own watch at the moment and telling the time is still work in progress, but he understands that the short hand tells the time of the hour.
He is always asking us to help him, so I have no doubt his enthusiasm will have him telling the time in no time at all!!
The EasyReader Time Teacher watch has an RRP of £19.95 and there are also clocks available to help re-enforce their learning.