Over the last few days since the hot weather arrived, I have seen numerous people sharing a post that advises people not to cover their baby's car seat or pram with a blanket, for fear of them overheating.
Whilst I agree that using a thick, woolly blanket is not ideal, exposing a baby to the sun's harmful rays is just as dangerous as children cannot produce melanin, needed to help prevent the skin from sun damage, until they are at least six months old.
I was a big fan of the SnoozeShade when my children were babies, as I used to get frustrated trying to adjust the angle of a parasol whenever the sun moved or we turned a corner. Snoozeshade is a sun and sleep shade designed for use with babies and toddlers that fits all single prams, pushchairs, travel systems and buggies.  You can also buy a double, car seat and even travel cot version too.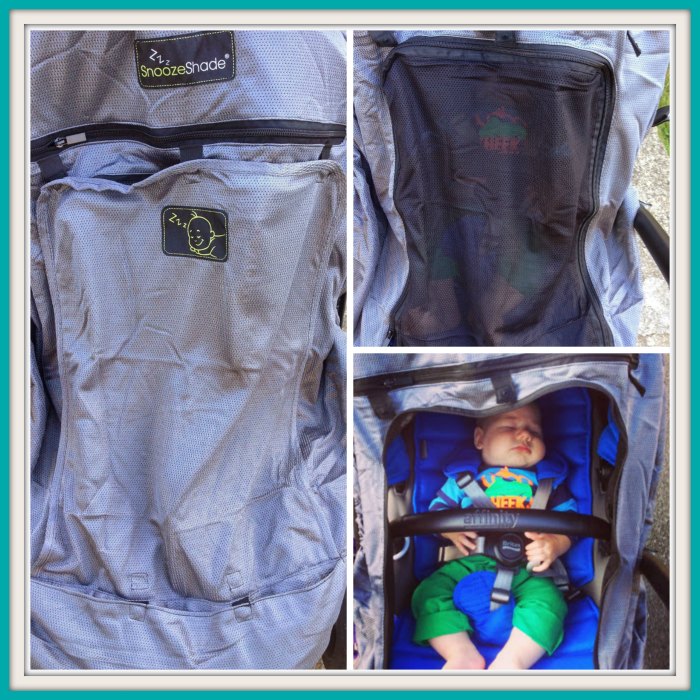 We used it for visits to the beach, holiday's abroad and even on sunny winter's days as it is a great blackout shade to help little ones get to sleep and protects from insects, chills and rain. All SnoozeShade products provide high level sun protection and, most importantly, help babies sleep when you need to be out.
After seeing the worrying post shared to a viral level, Cara – the inventor of SnoozeShade, took part in a facebook live video to help reassure about keeping their children safe in the sun.
In a nutshell, it is all about being sensible with babies and young children and keeping a watchful eye on them, especially when it is hot.
Top tips for keeping babies safe in hot weather
Babies under 6 months should be kept out of direct sunlight, so always try to keep babies and young children in the shade and use a SnoozeShade, sunshade or parasol attached to the pram if out walking
Give babies plenty of fluids – offer a bottle of cooled boiled water or use a medicine syringe to give babies water if they won't take a bottle
Dress your baby in cotton, loose-fitting clothing or if indoors, leave just wearing a nappy.
If indoors, cool the room with a fan, but don't aim it directly at the baby. Just having the air move around them helps to keep them cool
Make sure your child wears a sunhat with a wide brim or a long flap at the back, to protect their head and neck from the sun.
Apply a sunscreen with a sun protection factor (SPF) of at least 30 to your baby's skin once they are over 6 months old
Choose clothes with added sun protection – this is especially good for beach visits and paddling pools
About SnoozeShade:
The SnoozeShade protects from up to 99% of the sun's harmful rays, so it provides fantastic all round sun protection for your little one. It's made from breathable fabric that has been tested rigorously to ensure that it's safe for use in hot weather and ensures that air will circulate freely inside the pram / pushchair.
The SnoozeShade provides a universal fit, so it will work with any pram or stroller, including the small foldable model you might choose to take on holiday with you. It's fastened with stretchy tabs that you can place wherever you like on the pram to maintain a good fit and there is a handy sneak a peek zip which allows you to check on baby regularly.
Do you have any other top tips for keeping the kids safe in the sun?