I am well aware that as I have got older, the pounds are slowly creeping on and I need to do something about it.
We do a lot of walking with the kids, but as my GP kindly pointed out, walking at the pace of a four-year-old isn't going to get my heart pumping.
Suffering from arthritis in my feet, running isn't for me, but I used to love cycling and it is the perfect exercise for me to get back in to.
I was sent a G-Tech eBike to review and it is helping me to fall in love with cycling again.
I have to admit, the bike threw me a little at first as there are no gears, making it quite heavy to push-off from a standstill, but what it does have is a powerful lithium-ion battery and motor give you a boost whenever you need it.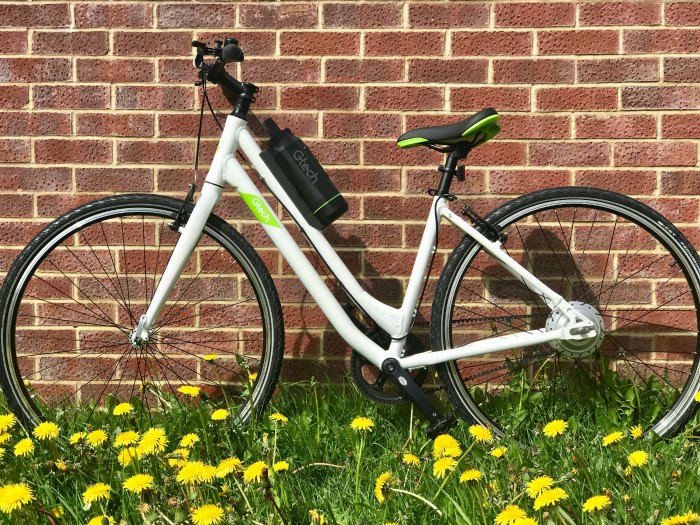 The idea is that you ride it like a normal bike, but as soon as you switch the battery on and pedal, you'll feel the difference as the motor kicks in for added push.
Before you start, you need to assemble the bike and charge the battery for 3 hours. The frame comes as is, you just need to fix the wheels, saddle and handlebars.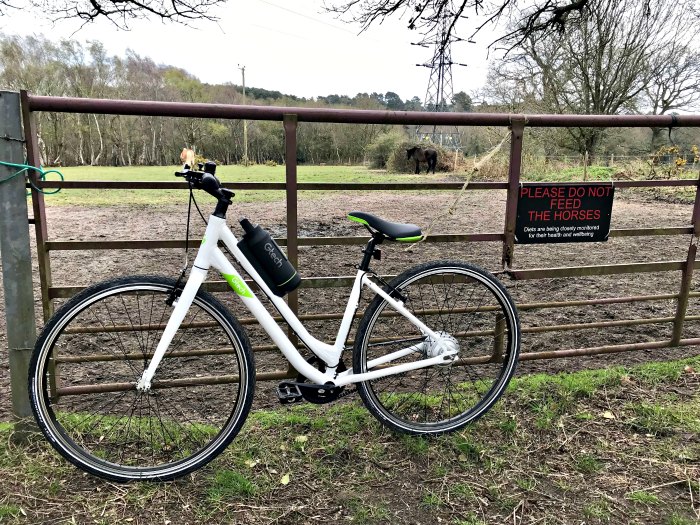 The battery has a life of up to 30 miles and I have to admit that I don't have it on all the time. I like to use it for an added boost when going up a hill, for when Sebby is on the back in his bike seat, or for when Hubby decides he wants a race.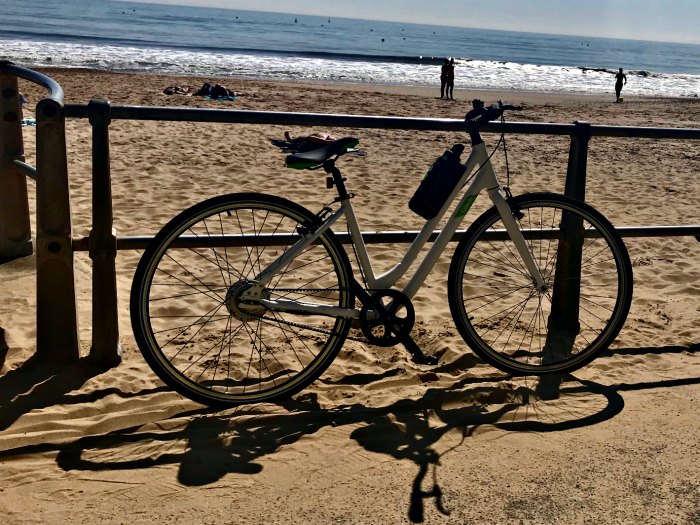 I have the e-Bike City model which is best for road cycling, but you can also get a sports and a mountain bike version for those that prefer to cycle off-road, although all frames feature puncture resistant hybrid tyres, giving you freedom of the road or open trail. You can check out scooteradviser.com's Ecotric fat tire bike. They are really good for mountain biking and the electric motor assists really well when you need a boost.
With the G-Tech electronic bike there is also no oily chain to worry about,  they've replaced it with a clean carbon belt drive as used on high-performance motor cycles.
The battery has an easy to read LCD display, to tell you exactly how much charge you've got remaining and which mode it's in; ECO or MAX. The built-in computer continually measures your pedaling, smoothly adjusting the power to give you a boost when you need it. Everything in the electronic bicycle is automatic; if you pedal, the bike will help you up to 15mph, but you can pedal harder if you like and go faster and when you break you naturally slow down. You really feel the power of the electric bike most when you reach a hill and start to slow down.
My idea of starting cycling gently saw me doing a couple of local half hour rides, before tackling something longer. Hubby was determined he was going to get me riding along Bournemouth promenade, which is a lovely flat ride and we attached the bikes to the back of my car using our Thule Bike Rack.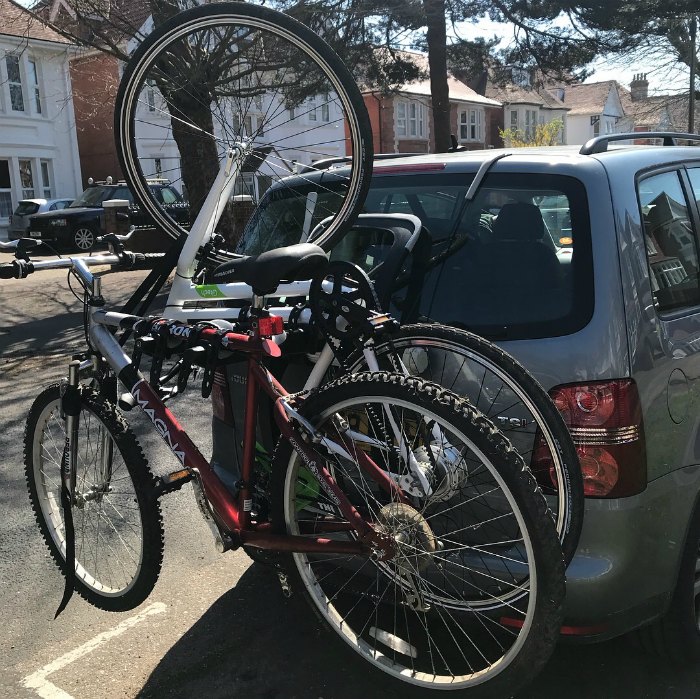 I had visions of cycling a couple of miles to the pier and back again, but he had other ideas and we ended up cycling to Sandbanks and back – over 11 miles in total!!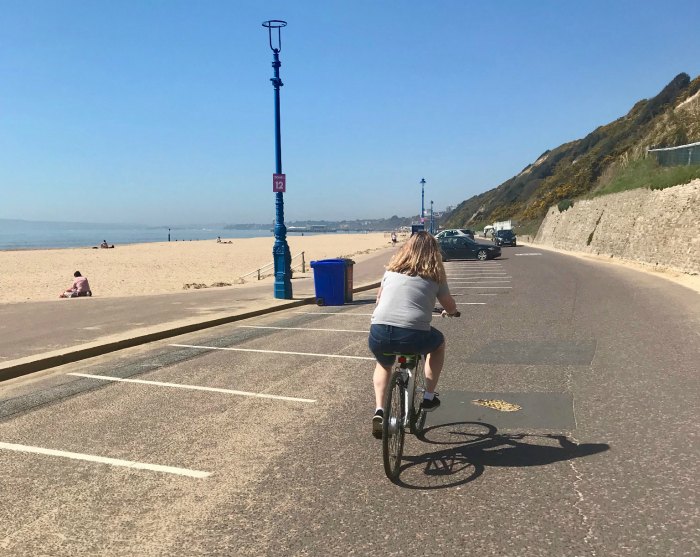 We both suffered a little once we got back to the car, but having a bit of additional assistance when I needed it, definitely helped, but I rode 90% of the way under my own steam. I cannot wait to start taking the kids out on bike rides now, knowing that I will easily be able to keep up with them.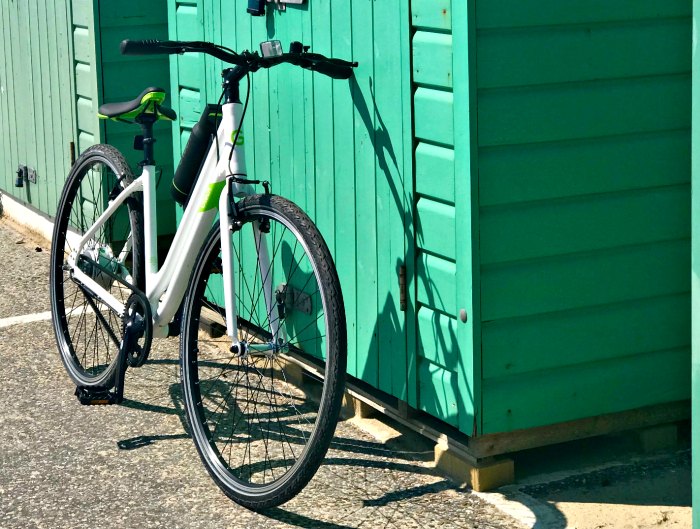 If you are looking to kick-start your fitness resolutions, or just enjoy cycling but not the hills, then this is the perfect bike for you.
Have you ridden an e-bike before?