Last October Eliza was one of the lucky few to get her hands on the new Luvabella doll to review and it has been her favourite doll ever since.
Iris is treated like a real baby and often comes on car journey's with us, regularly gets taken for a walk and is lovingly tucked up in bed with Sebastian's old baby blankets every night.
Now Iris has a sister – Elena, a new darker haired Luvabella Doll, but is there any difference to last year's hit toy?
The interactive Luvabella dolls are the first of a kind and have 500 unique responses with each doll giggling, talking and responding to affection and falling asleep. Through touch and play she, and her brother Luvabeau, affectionately responds to your love, but there is NO update or anything new from last year that I can obviously see.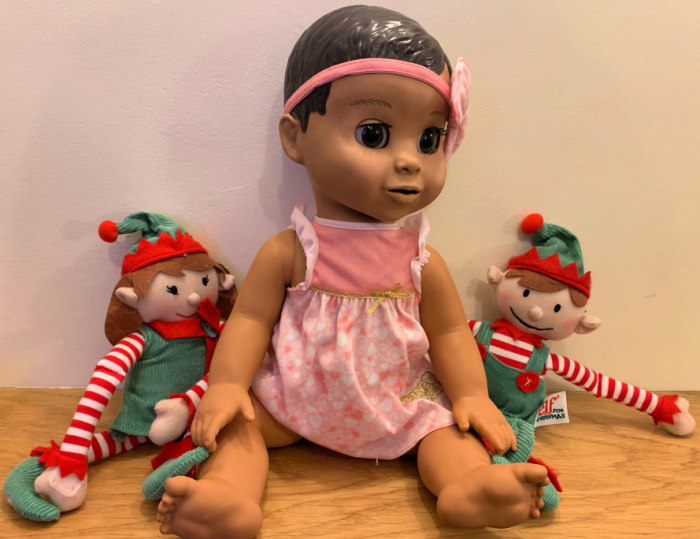 In the Box:
Luvabella doll
1 Removable Dress
1 set of Removable Bottoms
1 Removable Bow
4 interactive accessories: Spoon, Bottle, Soother, Lamb
Instructions
You will need:
4 x C batteries required
How does Luvabella work?
Cover his / her eyes for a game of peek-a-boo, tickle her tummy and toes to make her giggle, or place a hand on her chest to gently listen to her heartbeat. You can even hold her feet to hear her say "mama" and begin to babble!
What do I need to know about my Luvabella™?
Luvabella comes in four different looks, African, Dark Haired, Light Haired and Luvabeau and all have Light Sensing Eyes which know when it is light or dark and touch sensors on her feet, stomach and back.
She's made of a soft plastic that's durable and allows her to sit up and stay in position. Her face is made of a softer, more flexible plastic that produces true to life facial expressions, and as your child interacts, she learns to say words and phrases. She expands from babble to over 100 words and phrases through the course of her learning.
She also has naturally baby instincts. Your child can feed her when she's hungry by placing the bottle in her mouth and listening to the real feeding sounds. After, your child can burp her and then soothe her to sleep with her pacifier. Sometimes, she fusses like a real baby, requiring your child to problem solve to get her to sleep. Once she's asleep, you can put your ear to her chest to hear her heartbeat.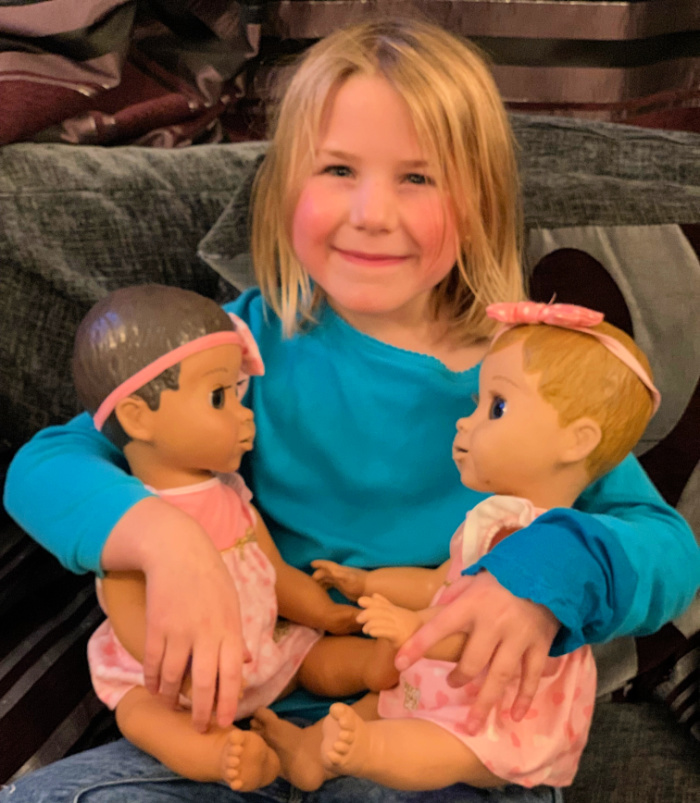 The more you play with them, they more they learn but disappointingly, they don't seem to interact with each other.
My only other feedback is that the plastic on their faces it quite delicate in comparison to the rest of the body, so if you child doesn't look after her, it has the potential to get damaged.
Luvabella has an RRP of £59 and is available from all good toy shops.