With most of us stuck at home due to the Coronavirus pandemic, thoughts have turned to finishing all those DIY projects in the home.
We have a fair few on our list, which mainly include painting and decorating, but are also looking to upgrade some of the technology in our home, to drag it kicking and screaming into the 21st century.
As people that travel regularly, I am more conscious of home security and by upgrading to a smart home, some of our worries when travelling can be quelled with a quick glance at a smartphone or tablet.
One way of improving security of your home, is to install Aura Locks.
Keeping tracking of house keys can be a real pain, I am forever losing mine in the bottom of my bag, but it is worse when we have been on holiday, as I can never remember which case they are in. With a lock from Aura you literally never have to worry about digging in your luggage or bag ever again.
Aura Locks employs maximum security technology used by governments and security firms, which allows you to use your fingerprint to open and unlock it, plus you also plug in fingerprints for your whole family as well – no more keys lost on the way home from school.
The lock is kept offline, so there is no chance of it being compromised and also has 1-year battery life. These locks also auto lock the door for you, it will detect when a door has closed and automatically lock it after 3 seconds, so no more worrying whether you've locked up the house or office.
For just a few hundred pounds, you can have your new security in place for your home or business easily. This means that you can protect your valuables easily by installing this on your front door. These locks can be installed at home in minutes, with no need for a locksmith or technician, just follow the full fitting instructions in the box.
All of Aura's smart locks are made from durable materials and are impossible to break with physical force and there are four smart locks to choose from: AURA, VETI, ACTIVA and HERMES.
Activa are smart locks with fingerprint recognition. They unlock your door instantly when your finger touches the handle and lock automatically after closing to ensure your home is always secure.
Veti lock is a fingerprint smart lock which also features a key lock, passcode and bluetooth unlock recognition.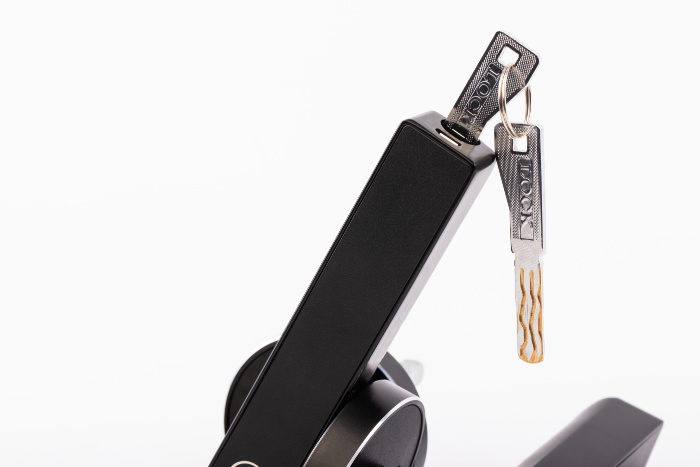 Aura is a smart lock which works using fingerprint recognition, passcode, bluetooth or app functions to unlock your door.
The Hermes is a versatile smart lock and the flagship design from Aura. It features fingerprint recognition and all of the benefits of Trixod and Activa, as well as Bluetooth technology and advanced encryption. Activa allows for remote lock control without online access, eliminating the possibility of interference by hackers. Hermes is available in three colour options – Black, Grey and Gold.
For more information, visit https://auralocks.com
Would you consider installing a smart lock in your home?