Are you seeking to add some improvements to your home to increase its value? Then, this article has got you covered. When it comes to essential home improvements and remodelling, there are two main factors to take into consideration. First, whether you want to make your home more valuable to you, or second, whether you want to make it more valuable to others (that is if you're planning to sell). Either way, the worth of your home should increase in proportion to how much money you spend on it.
Yard And Garden Improvement
That's right. Improving your home does not only involve the interior. A considerable amount of effort must also go into giving the exterior the needed facelift. One place you should pay attention to when it comes to the exterior of your home is the backyard or garden. Aside from a touch of floral beauty, a wood deck addition will do a lot to boost your home's value and look. If you have enough backyard space, a modern garden room or office will make a world of difference. A quick search online will provide you with more info concerning the latter.
Basement or Attic Conversion
If you have an empty, unused room in your house, you're sitting on a golden opportunity to add value to your home. Attics and basements often end up as storage areas where people leave their junk to gather dust. But this is a monumental waste. By converting an unused space, you will not only increase your home's selling price but you'll gain a whole new living space to enjoy at leisure. Turn it into an extra bedroom, a second lounge, a home gym or a private study. The choice is yours. 
Renovating an existing basement or loft can take a lot of work. You may need to completely overhaul the flooring, add insulation, and rewire the electrics. But the value added from expanding your home's square footage can pay dividends in the long run. Consider hiring loft or basement conversion specialists to help you out
Garage Door Replacement
This may not sound very exciting. But an upgraded garage door replacement will yield for you over 94% in costs recouped. However, this figure could go up significantly in certain specific areas. If you're looking for value for money, then a 'simple' upscale garage door replacement cannot be overlooked. If you're wondering what will constitute an upgraded garage door, think of doors made from durable materials such as aluminium, steel doors, refurbished wood, etc., as well as materials that are resistant to weather changes.
Exterior Stone Veneer Installation
Just like the upscale garage door replacement, exterior faux stone veneer comes with so many benefits that help to give you value for money. Just to be clear, an exterior veneer stone is not a real stone. It is manufactured using composite materials and is shaped in molds to look just like real stones. You may be wondering how this will improve your home. It helps to boost the exterior appeal of your home. You only need to install them in a small portion around the frontage of your house to reap over 90% return on your investment.
The Kitchen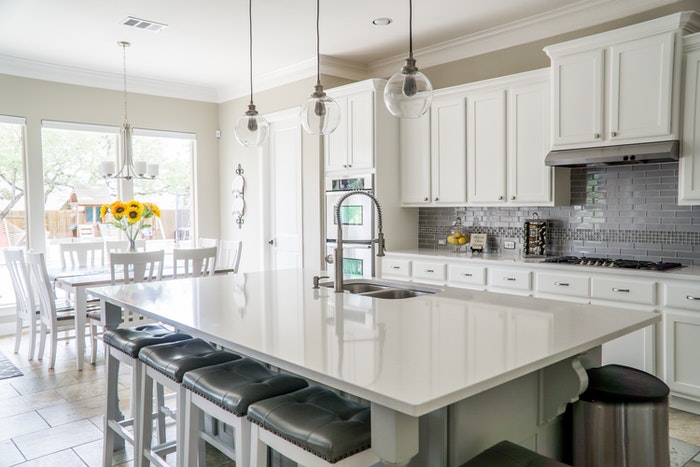 Let's go indoors for a bit. Most people agree that a kitchen upgrade offers one of the best values when it comes to home improvement. A lot of homebuyers pay attention to the kitchen, and it is usually one of the first places they visit to inspect a potential home. Most homebuyers do not want to spend extra money to upgrade the kitchen after purchasing a new home. So, what are some of the upgrades worth adding to your kitchen? For starters, invest in energy-saving appliances. Stainless steel appliances also add an extra touch of class. Changing the out-dated countertops for new ones and repainting or changing the cabinets is another effective option. Unlike what most people think, kitchen renovations do not require a heavy investment to get great returns. A moderate kitchen upgrade, for example, is enough to rake in about 80% in value.