We can't go out and explore right now, so let's bring the wonders of the world to the kids at home with an
interactive, creative map!
Maps International offer a range of fun, affordable maps that bring joy to the home school, whilst educating children
about the magnificent world around them.
Available in a variety of delightful, interactive designs for all ages, they are a great way to involve the entire family and can be proudly displayed on the wall to provide on-going learning
opportunities at home.
Check out their selection of maps below for some action-packed geography lessons at home. Then use the questions
at the end to make each session interactive and fun!
Doodle Map
Maps International Doodle World Map is the perfect way to teach children about the World in a fun and engaging way.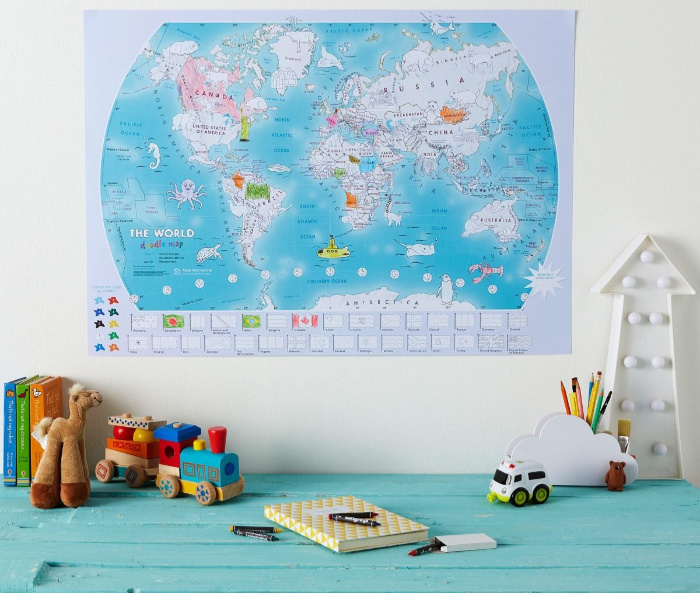 Filled with wonderful cartoon illustrations of animals and landmarks from around the world, it combines learning and activity by letting your children interact with the wonderful world we live in. Colour in country borders, animals and landmarks around the world to create a unique piece of art! There are even have some stunning country flags at the bottom of the map, designed with colour by numbers. Available from £9.99
Scratch Off Kids Animals of the World Print
The Scratch Off Animals of the World Print is a thoughtful, fun and educational map gift for kids that love nature and exploring the world.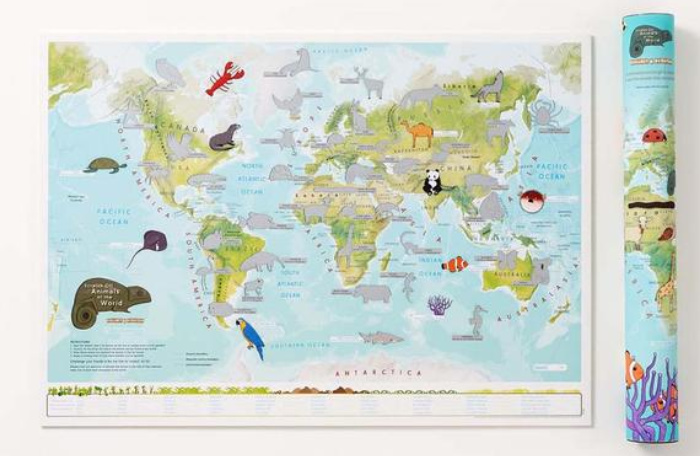 Whether it's a flamingo at the zoo, a rhino on safari or a beautiful bee in your back garden, when you spot an animal, grab a coin and scratch it off the map. See how many you can scratch off in a single year, and compare the map with your friends. The Scratch off Kids Animals of the World Print has 50 stunning illustrations of animals in nature, to observe and scratch off your list and has an RRP of £15.99
Scratch the World Map
This A1 sized Scratch the World Map is a brilliant way for children and young adults to mark out where they've been and plan new adventures for when the world opens up again!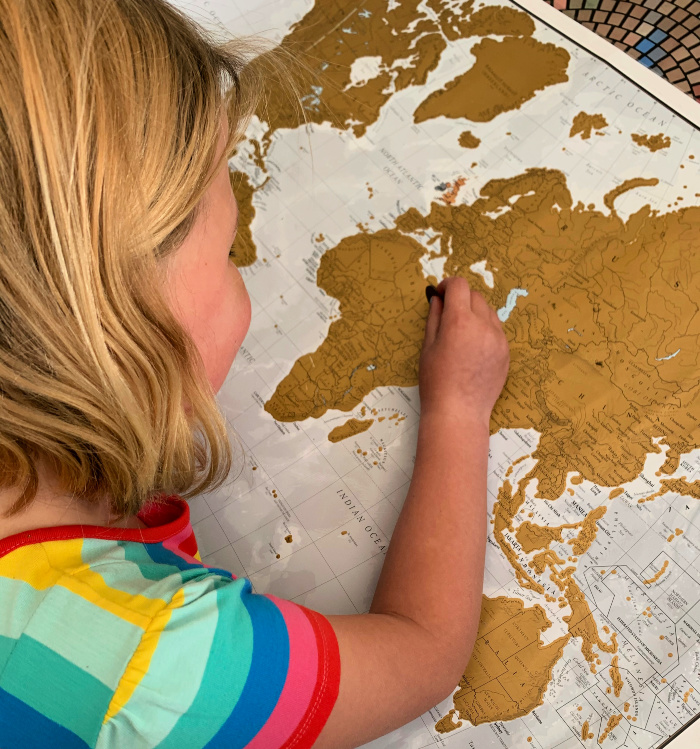 A visual feast for the eyes, children (and adults) of all ages can use the map to identify the continents, countries & cities they've visited and scratch them out to reveal your own personal travel footprint. The kids were really surprised at just how little of the world we have actually travelled to.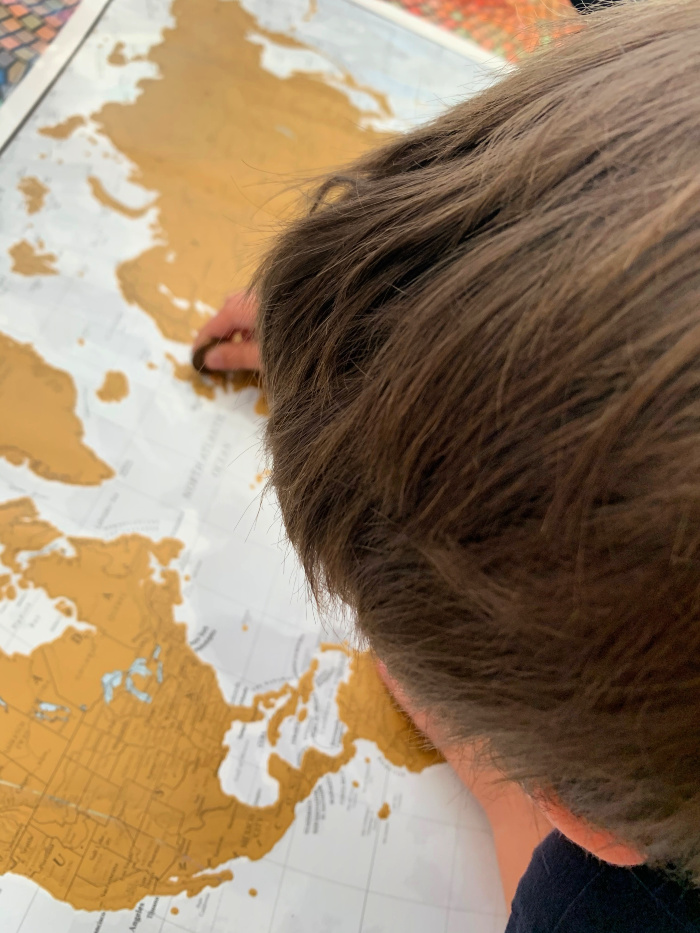 They also enjoyed finding names of places they have seen and heard on TV and films, or the names of family and friends.
Beautifully styled, this map contains the kind of detail you only find with high quality cartography and makes a wonderful keepsake for all ages to enjoy. Available from £15.99
Another idea for keen travellers is to get a cork board to attach your map to to add pins to show where you have been. You can also buy these maps ready made, why not check out this North America Push Pin Map for inspiration.
Visit www.mapsinternational.co.uk for more great kids maps ideas!
Great questions to inspire a love of the world using maps:
What is your favourite country and why?
Which cities do you want to visit?
What is the largest country in the world? Let's learn five facts about it!
And the smallest? Can you find it on the map?
Do you know what language they speak in America, India and China?
How many continents are there and can you name them?
In which country would you find the Eiffel Tower?
Where does your favourite animal come from?
How many oceans are there and can you name them?
In which country would you find Mt Everest?
Thanks to the team at Maps International, I have a Scratch the World Map to giveaway to one lucky reader.
To Enter:
Fill in the Rafflecopter widget below to verify your entries
Please read the rules below
Closing Date: 21st June 2020
If there is no form hit refresh (F5) and it should appear
If still not working please check that your computer is running Javascript
Rafflecopter will tweet, like and follow on your behalf making it really easy to enter
Really want to win the prize? Come back every day for bonus entries via twitter